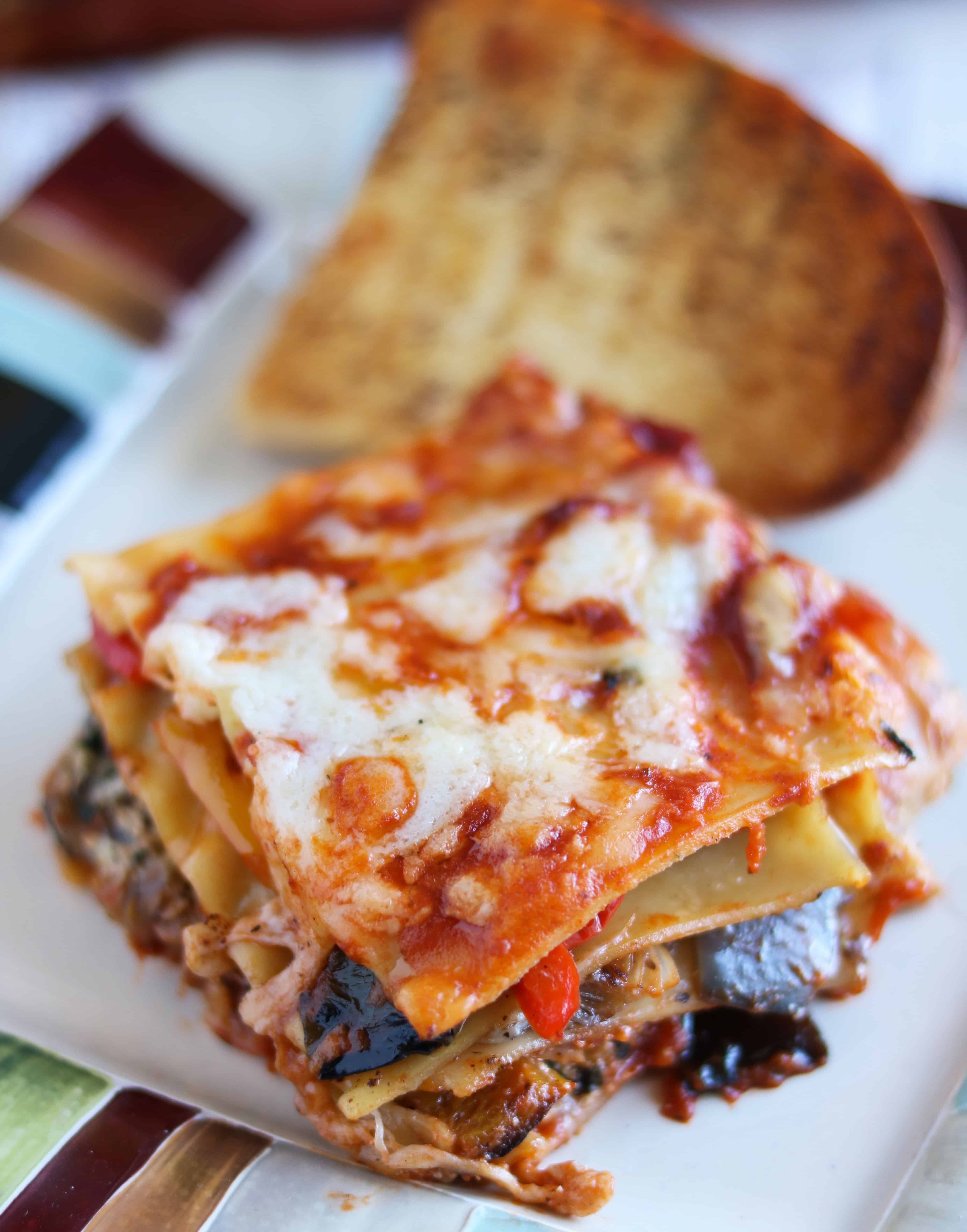 Looking for a veggie lasagna recipe? This is not only a healthy recipe but the taste is amazing. The grilled vegetables take this from being a basic vegetable lasagna recipe to something so much better.
I absolutely love the flavor of food cooked on the grill. This is a whole new twist on an old favorite. Veggie Lasagna has always been my go-to versus ones with meat, but this one with veggies from the grill takes the top spot! The flavor of veggies off the grill is like no other and when added to lasagna is amazing. A dish that might not be super healthy for you since it is pasta just became that much better. This vegetarian lasagna recipe is jam-packed with veggies like squash, kale, eggplant and mushrooms (just to name a few!). The more veggies the merrier I say!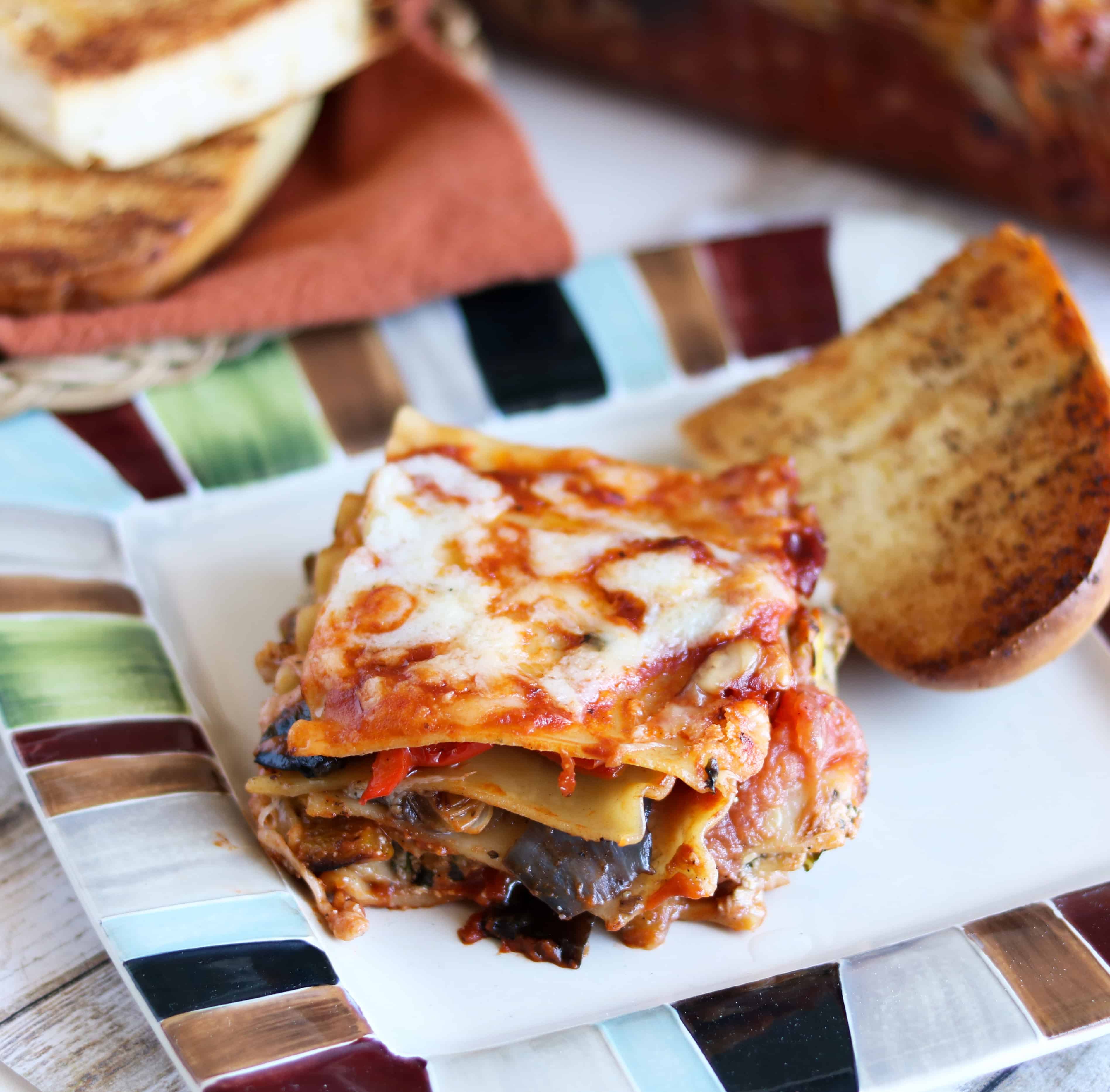 Scroll to bottom for printable recipe card.
Variations to Vegetarian Lasagna Recipe
While this is a great lasagna, there are always to change the recipe. You can make this recipe to fit your own taste buds. Many families have a problem with getting their children to eat veggies. Many kids love this recipe because they can not "see" the veggies on their plate. If you know your kids or family do not like certain vegetables, you can leave them out or add in vegetables they like.
While this is a vegetarian lasagna recipe, you can add meat if that is something you want. Ground beef or chicken would taste amazing in this recipe.
Another option is to switch from the red sauce to a white sauce. Vegetable Lasagna with White Sauce is another delicious way to serve this recipe.
What to Serve with Eggplant Lasagna Recipe
This recipe is the perfect dinner recipe just the way it is. It has everything you need right inside. Well, maybe everything. A delicious dinner needs a great tasting dessert. It is just a perfect fit. Here are some of our favorite dessert recipes.
How to Store Roasted Vegetable Lasagna
Once this veggie lasagna is baked and enjoyed, you will want to store the roasted vegetable lasagna in the refrigerator. It needs to be wrapped well with plastic or stored in an airtight container. It will last several days in the refrigerator. When storing the roasted vegetable lasagna, be sure to wait for it to cook completely before putting it in the refrigerator.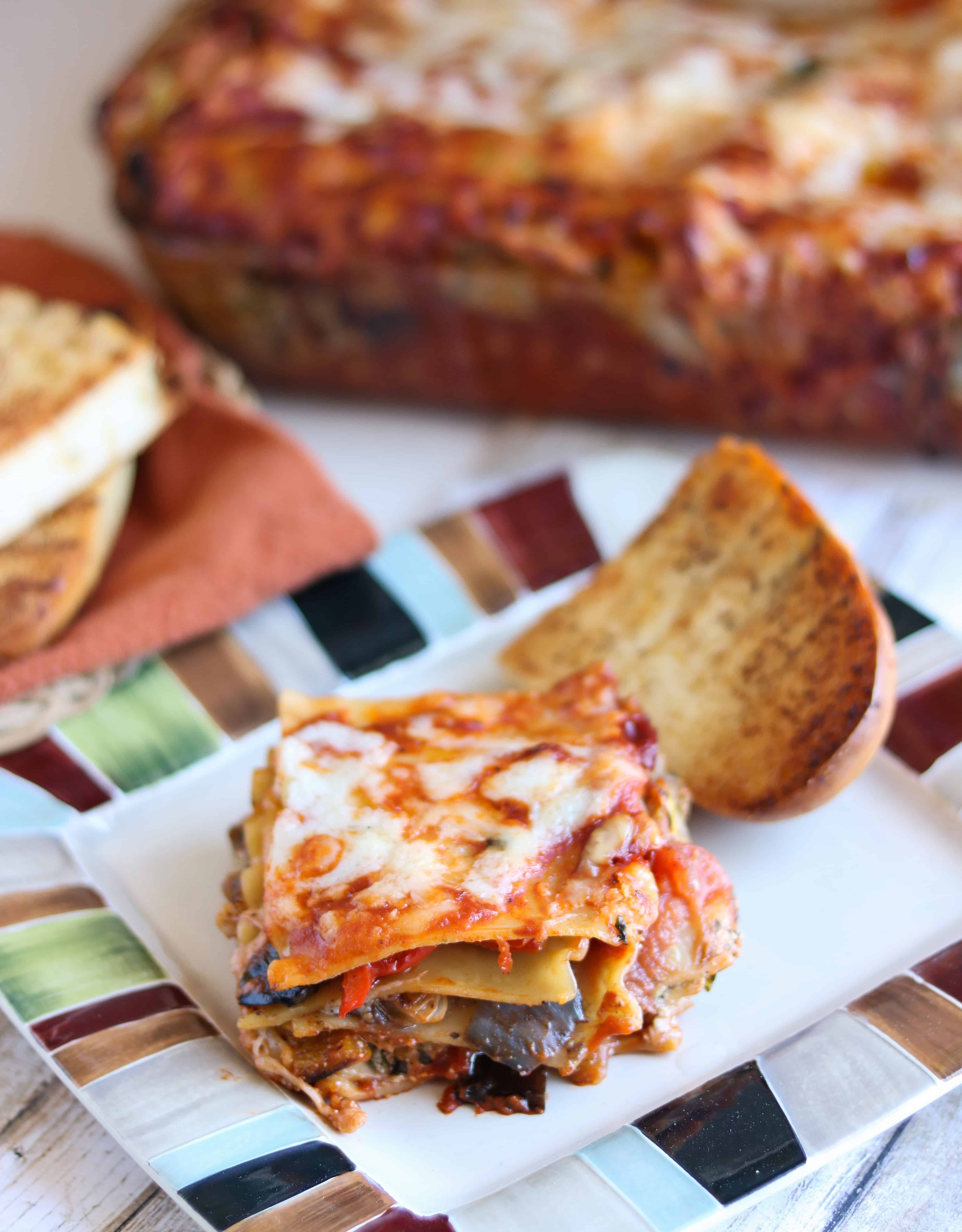 Can Eggplant Lasagna Be Made Ahead
What I love with this veggie lasagna is that I can make grilled vegetables for dinner the night before. Then I can use the leftover roasted vegetables and make this lasagna. It is a great way to enjoy the great taste of grilled vegetables without any extra work.
Can Veggie Lasagna Be Frozen
This makes a great freezer meal. Make a double batch of grilled vegetables so that you can make one of these veggie lasagnas for dinner and the other can go in the freezer for another night. Be sure to wrap the lasagna well. I recommend using plastic wrap to wrap the tray and then wrapping again with foil.
If you are freezing already made veggie lasagna, consider freezing it in individual portions. This makes for easy grab and heat meals.
How to Reheat Vegetarian Lasagna
If you are reheating the entire leftover lasagna, you will want to heat it in the oven. This is the easiest and tastiest way to reheat the lasagna. It heats the lasagna through without drying half out while leaving the other have cold. When we are heating individual servings of this vegetarian lasagna, it is usually heated in the microwave. This is because it is a much smaller portion and it will heat thoroughly without drying out the leftovers.
If you find that the lasagna tastes dry, add more sauce. While it gives a great taste to the noodles, the pasta will soak up the sauce and can cause it to seem dry.
One More Reason To Love Veggie Lasagna
Many families have a problem with getting their children to eat veggies. This is because they know that there are veggies on their plate. They can really see them if they are separate from the rest of the meal. A total plus to this Grilled Veggie Lasagna is that the kiddos won't be able to tell with all the amazing flavors that they are getting their fill of veggies. Can I get a huge shout from parents everywhere?! This is a total win.
Ingredients in Grilled Veggie Lasagna Recipe
lasagna noodles
pasta sauce
Ricotta
eggs
fresh mozzarella
parmesan
kale
squash
eggplant
tomatoes
garlic
peppers
red onion
mushroom caps
Olive oil
How to Cook Lasagna
Grill onions, eggplant, and garlic.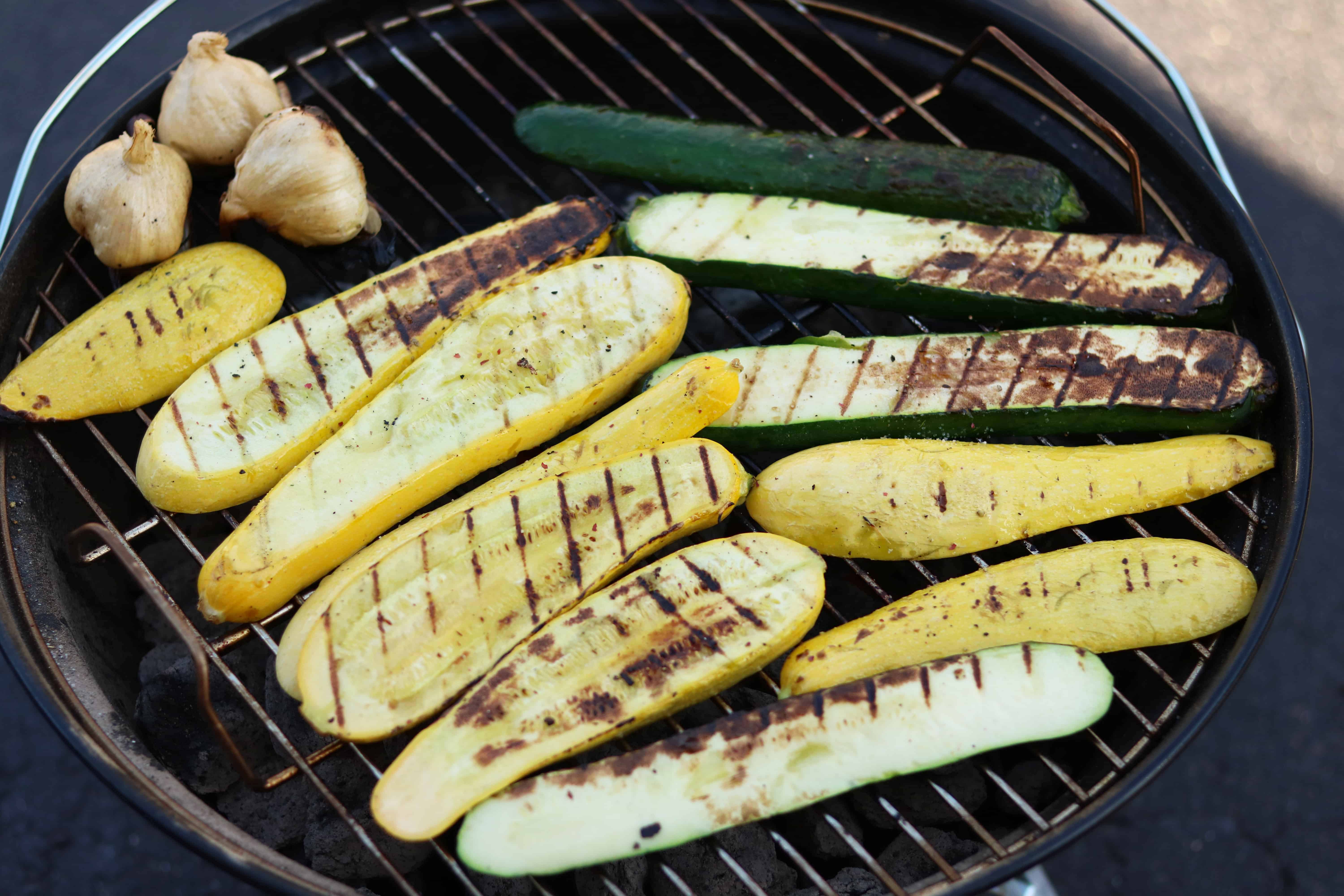 Next, grill zucchini.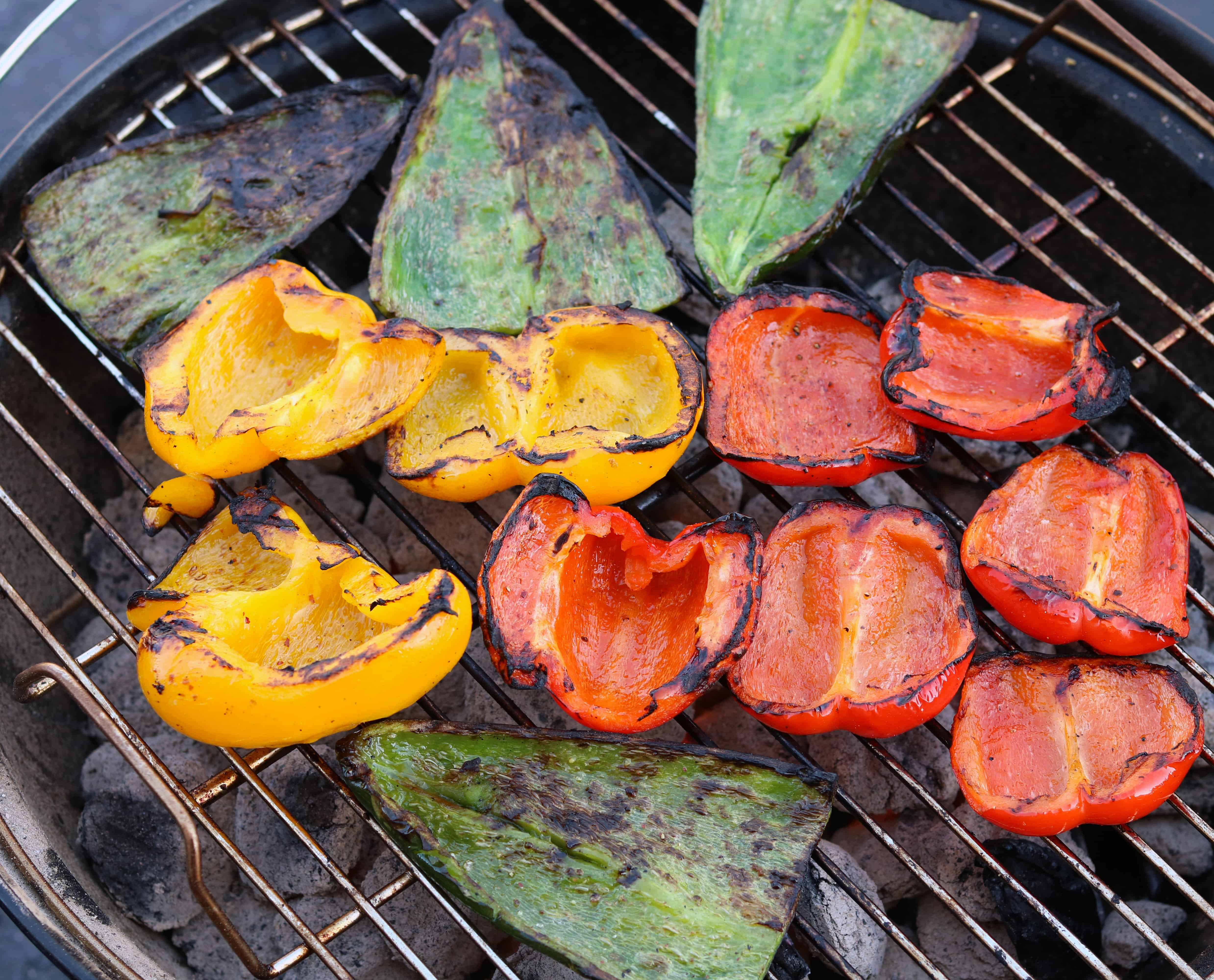 Then, grill peppers.
Now, grill tomato.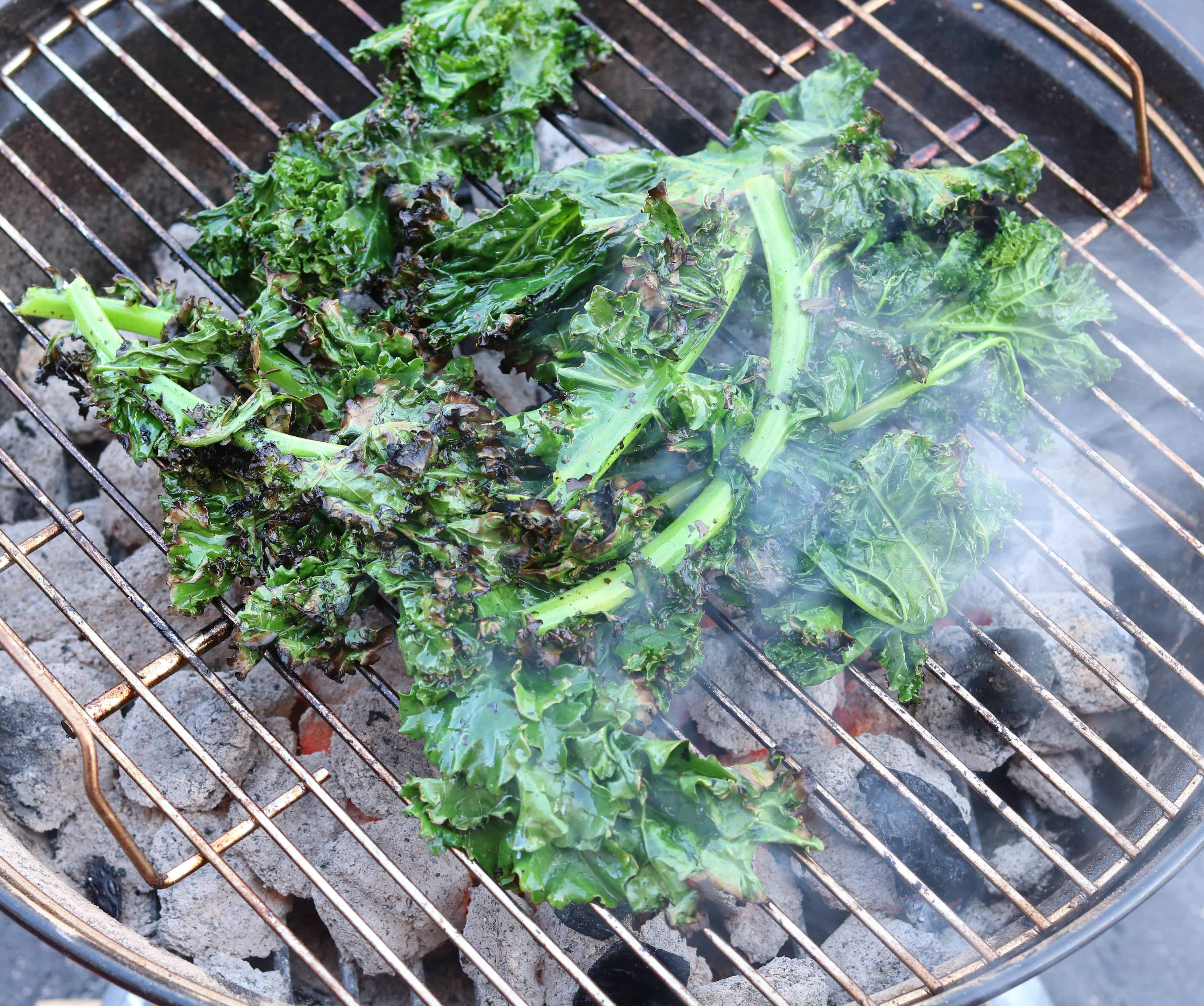 Grill kale.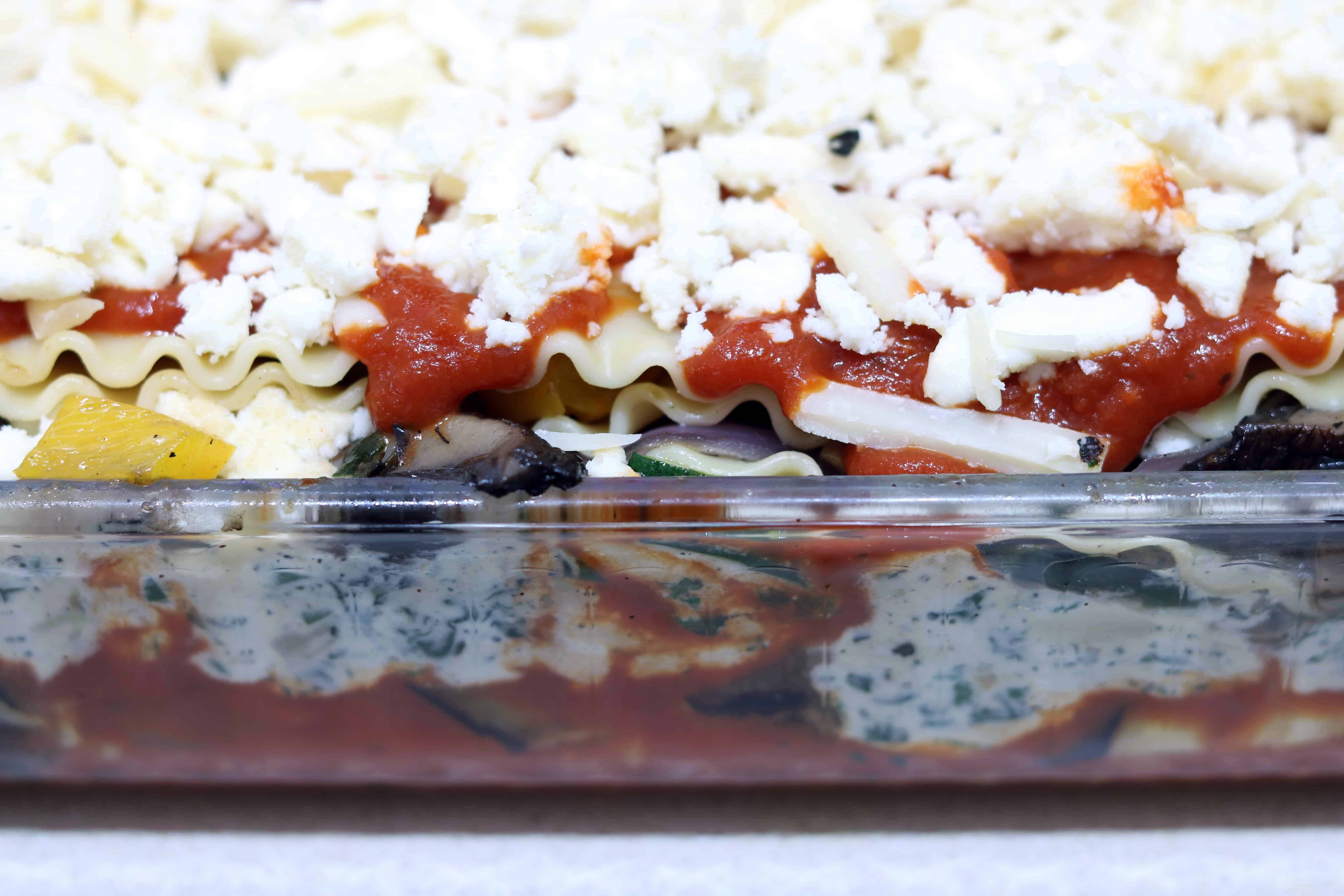 Layer all grilled veggies in a pan with cooked lasagna noodles, sauce, ricotta, and cheese. Bake. Serve hot.
Enjoy!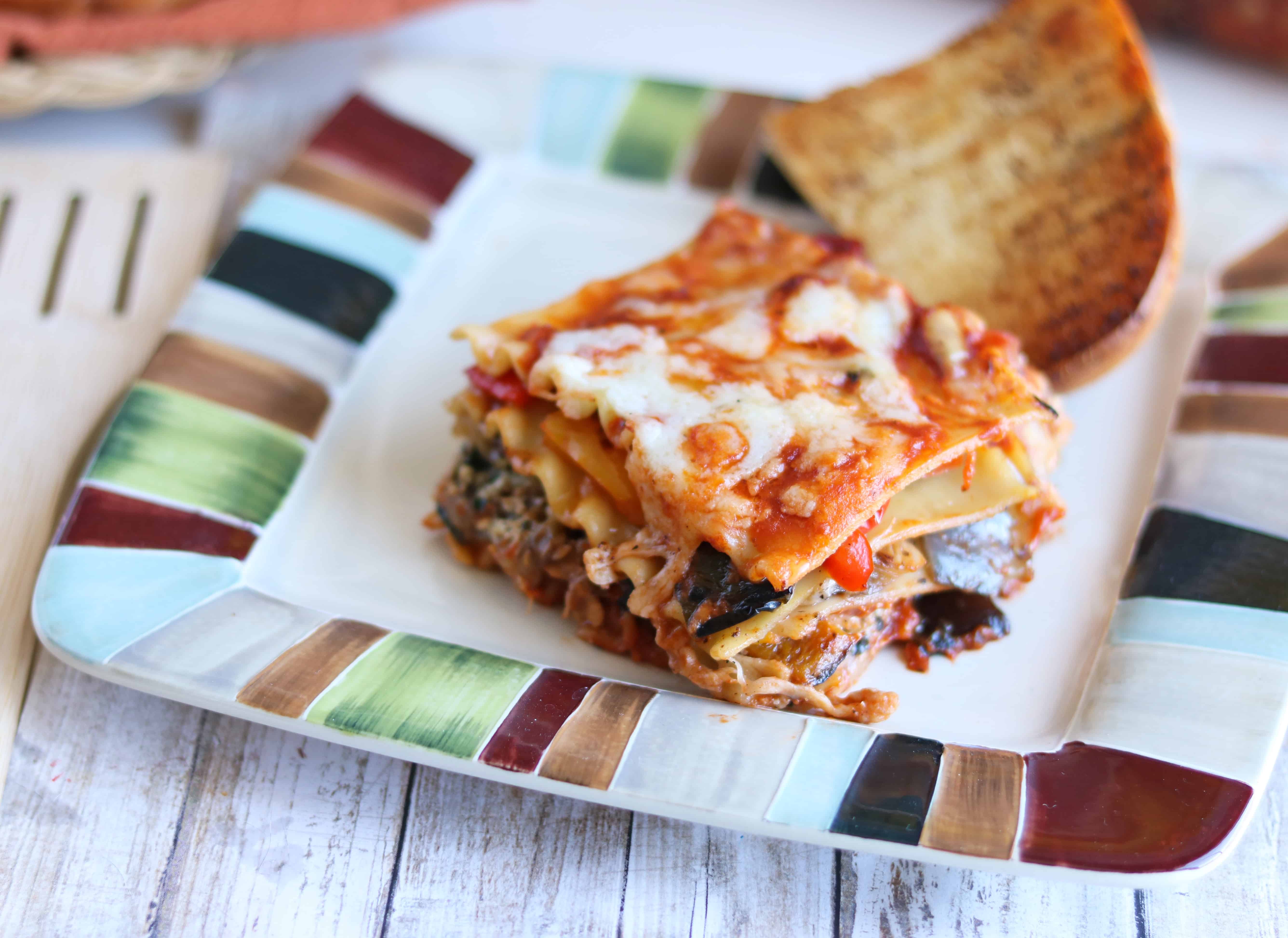 Now, remember to save this recipe on Pinterest for later 🙂

Pin this recipe now to remember it later
Grilled Veggie Lasagna
Looking for a veggie lasagna recipe? This is not only a healthy recipe but the taste is amazing. The grilled vegetables take this from being a basic vegetable lasagna recipe to something so much better.
Ingredients
16

ounce

box lasagna noodles

1

pound

fresh mozzarella

,

shredded

8

ounces

parmesan

,

shredded

4

squash

,

green and yellow

4

peppers

,

mix of yellow, red, poblano

6

large mushroom caps

,

portabellas work well
Want to save this recipe? Enter your email below and we'll send the recipe straight to your inbox!
NOTE: By saving this recipe, you agree to join our weekly recipes newsletter.
Instructions
Cut veggies into 1/2" slabs, leaving kale and garlic heads whole.

Toss in 1/4 cup olive oil, salt and pepper to taste.

Prepare lasagna noodles per package instructions.

Grill the veggies until charred and beginning to soften. The garlic should stay on at the edge of the grill for about 20-30 minutes, until soft. The kale will cook quickly, tossing and turning with tongs continuously for about 2 minutes will provide just enough charting at the edges, and soften the ribs.

Chop the grilled veggies into roughly 1/2" cubes, keeping them in separate piles for layering. Finely chop the kale.

Cut the tops off the garlic and squeeze out the cloves -they should be firm enough to squeeze out whole, yet soft enough to mash.

Combine the ricotta, eggs, Parmesan, finely chopped kale, and garlic.

In a 9" x 13" lasagna pan, spread a thin layer of sauce then a layer of noodles. Finish layering as follows: squash and onions, noodles, ricotta mixture and portabellas, noodles, eggplant and tomatoes, noodles, peppers, noodles, sauce, then top with mozzarella.

Bake at 350 degrees for 45 minutes.
Follow me on Pinterest for daily delicious recipes!
Check Out More Dinner Options:
Chicken Caprese – 30 Minutes or Less Meal is a surprisingly simple meal that's perfect for any night of the week.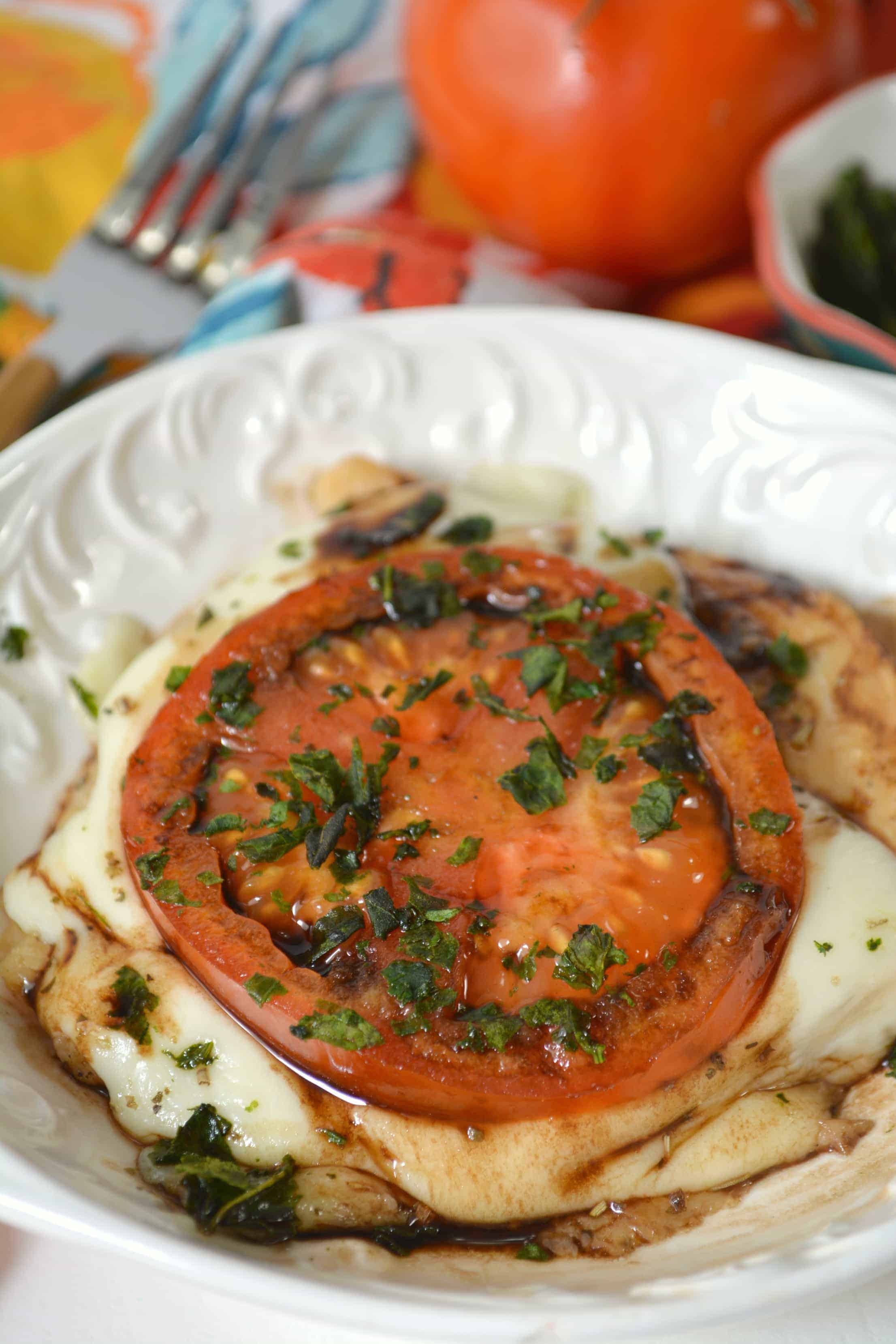 Shrimp Pesto Pasta – This Shrimp Pesto Pasta is a quick, healthy, and easy shrimp and tomato pasta recipe.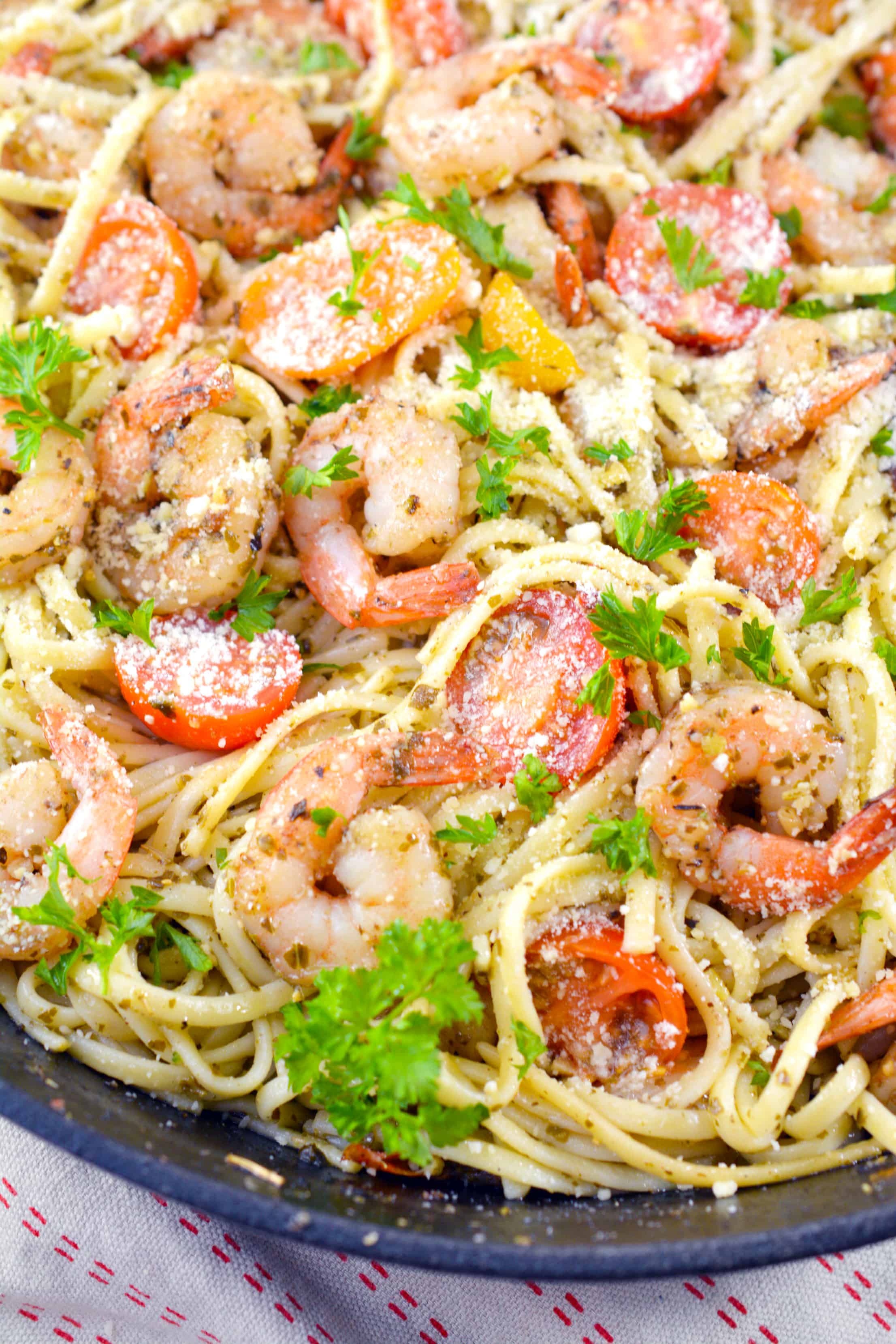 Sheet Pan Chicken Fajitas – Once the chicken fajitas hit your tongue, your taste buds will be begging you for another bite!
Loaded Buffalo Chicken Fries – Crispy oven fries topped with roasted chicken, freshly grated cheese, ranch dressing, and a sprinkling of chives.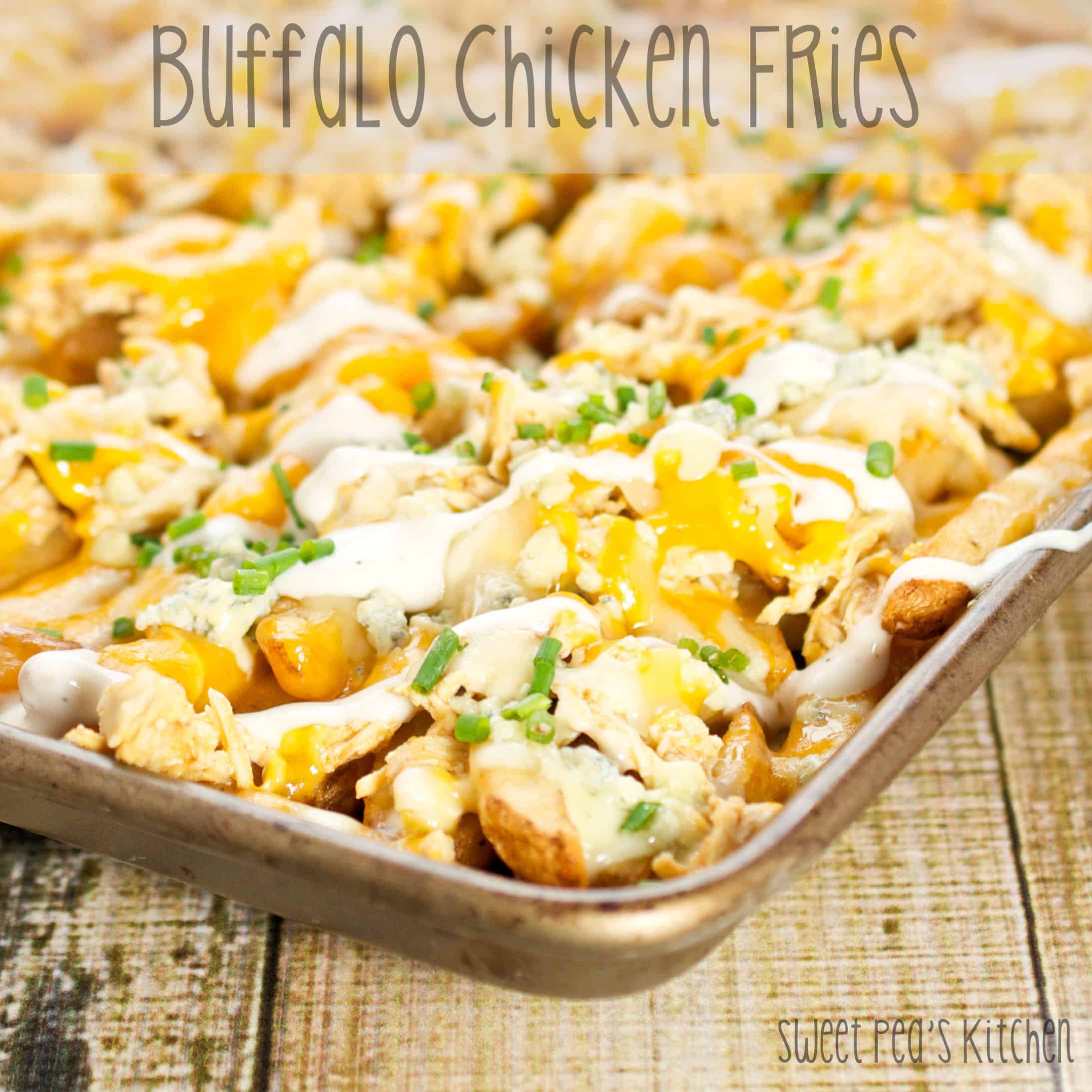 Get new recipes weekly plus our FREE ebook!