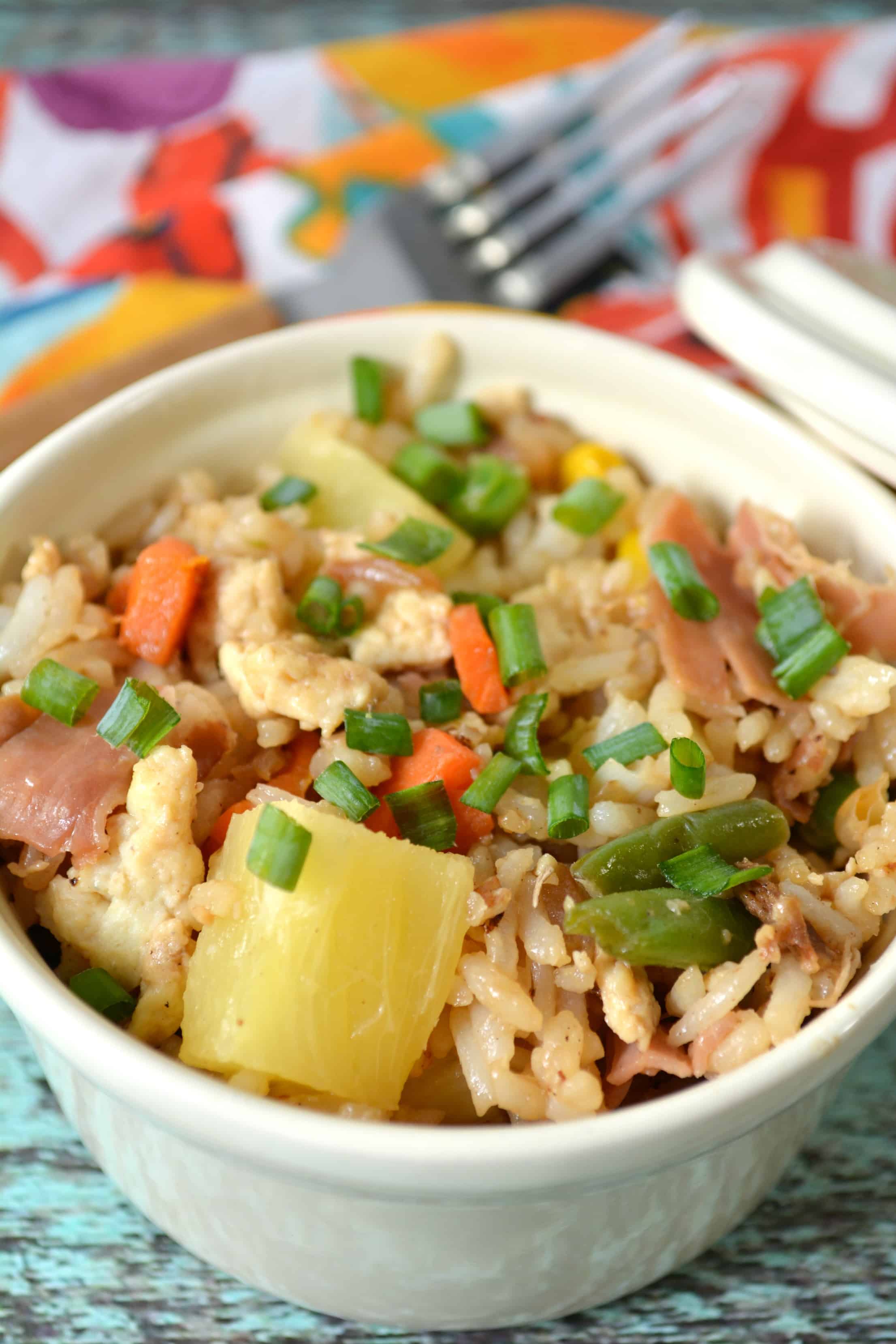 Hawaiian fried rice is the perfect side dish for many meals! This Hawaiian style fried rice has a little bit of everything. Chunks of pineapple, vegetables, prosciutto, and more. We all love rice at our house, no matter how it's prepared. But, this fried rice with pineapple is by far one of our favorite Hawaiian recipes because it's so flavorful and easy to make.
Add this Hawaiian pineapple fried rice to your meal planning rotation, and you will always have something yummy to eat. Oh, and the best part is, this is kid-approved. Because it has prosciutto in it, you and the kids can even eat it as a main dish too.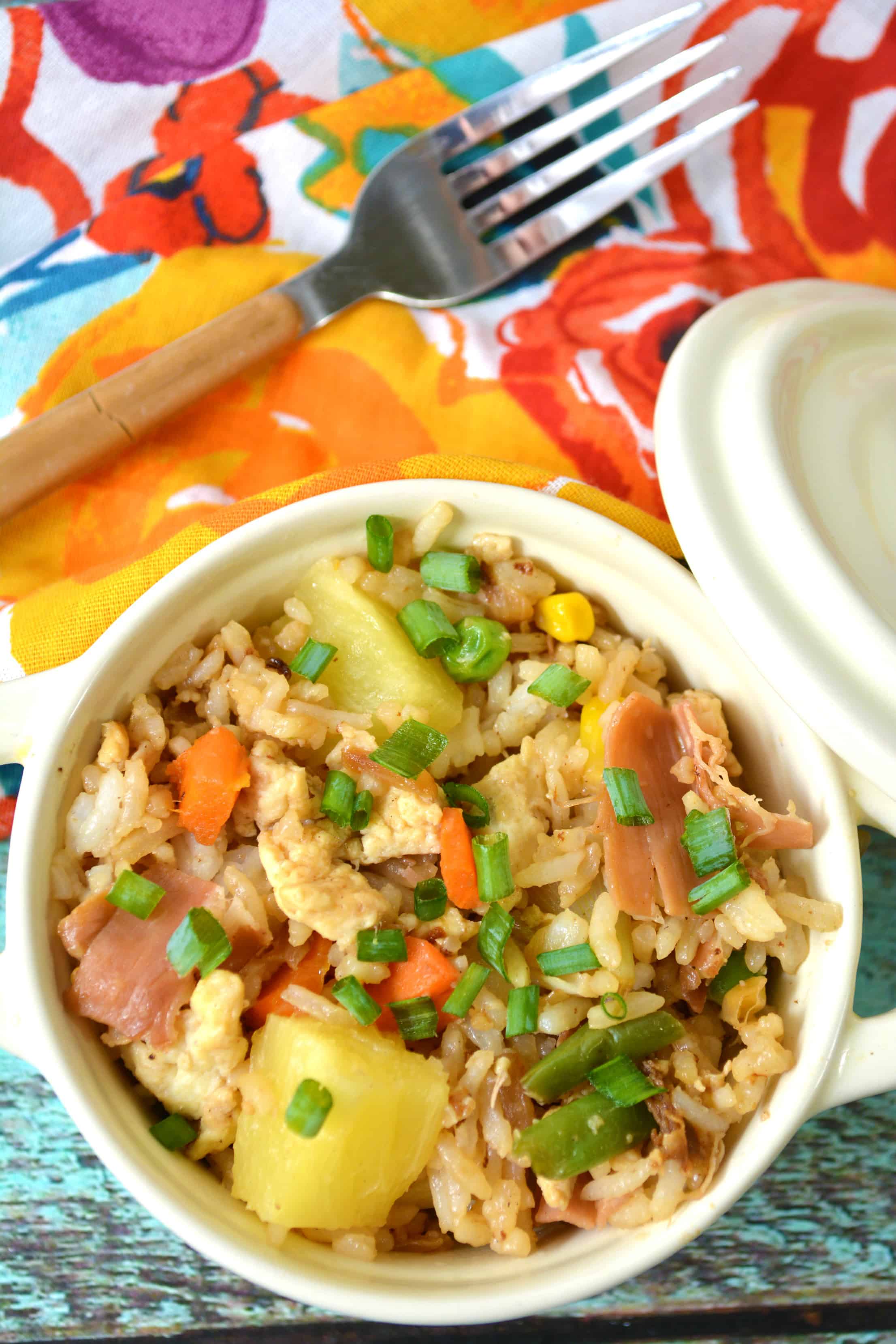 Scroll to bottom for printable recipe card.
How To Make Hawaiian Fried Rice
This isn't your typical rice recipe that is plain and lacks a lot of flavor. This Hawaiian rice is out of this world amazing and doesn't take much effort to throw together. Take a look at how easy these steps are:
First Step: Begin by adding 1/3 cup of soy sauce into a small mixing bowl. Add 1 tablespoon of sugar and sesame oil each. Follow the directions on the package and begin cooking 4 cups of white rice.
Second Step: Whisk in the rice vinegar into the soy sauce mixture. Stir until ingredients are mixed well. Set aside.
Third Step: Add some sesame oil to a skillet and heat it with medium-high heat.
Fourth Step: After the oil is hot and the pan is ready, toss in the chopped onion and cook until they are fragrant, softened, and have browned.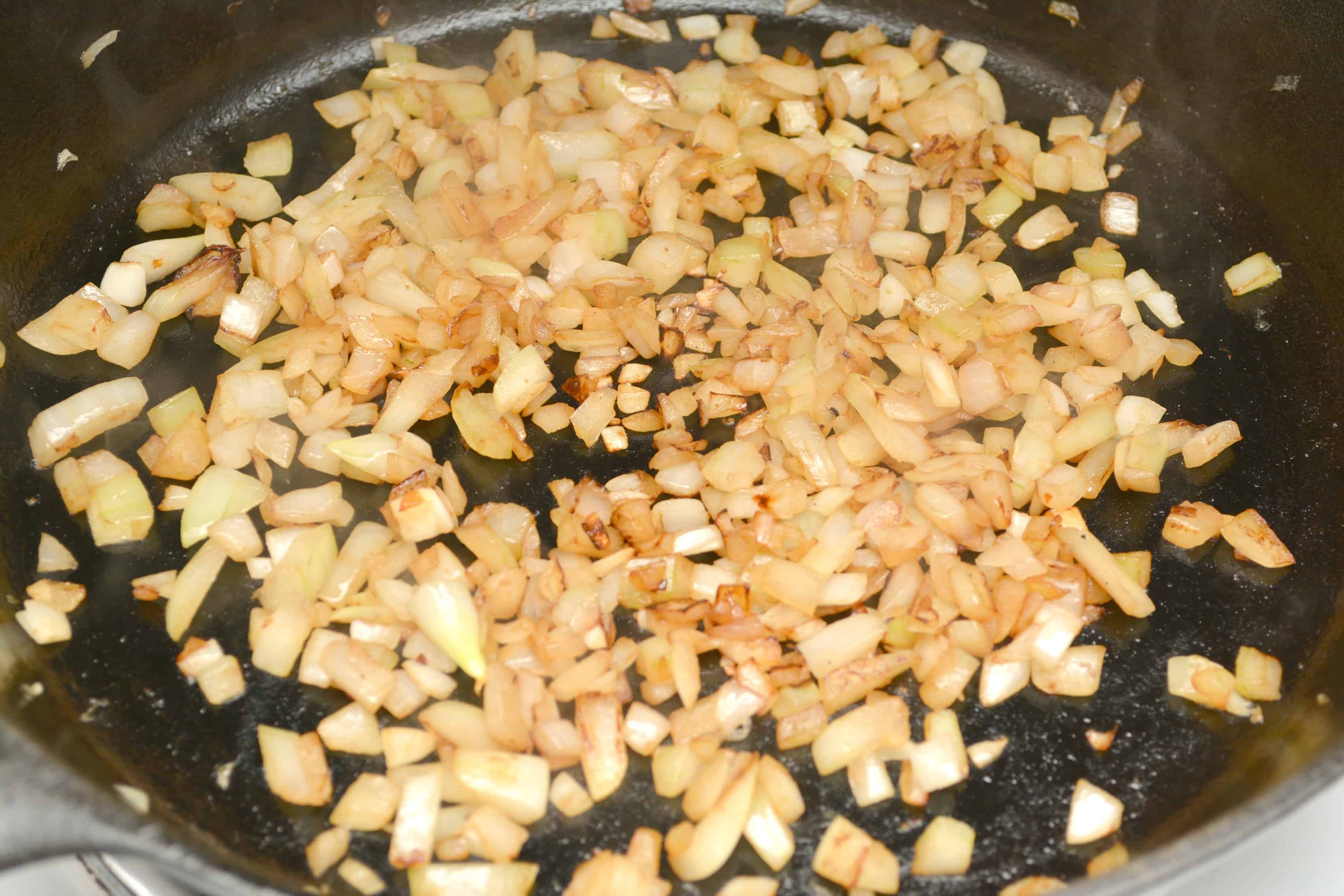 Fifth Step: Add cloves of garlic and mixed veggies. Stir frequently and continue cooking for 1-2 minutes.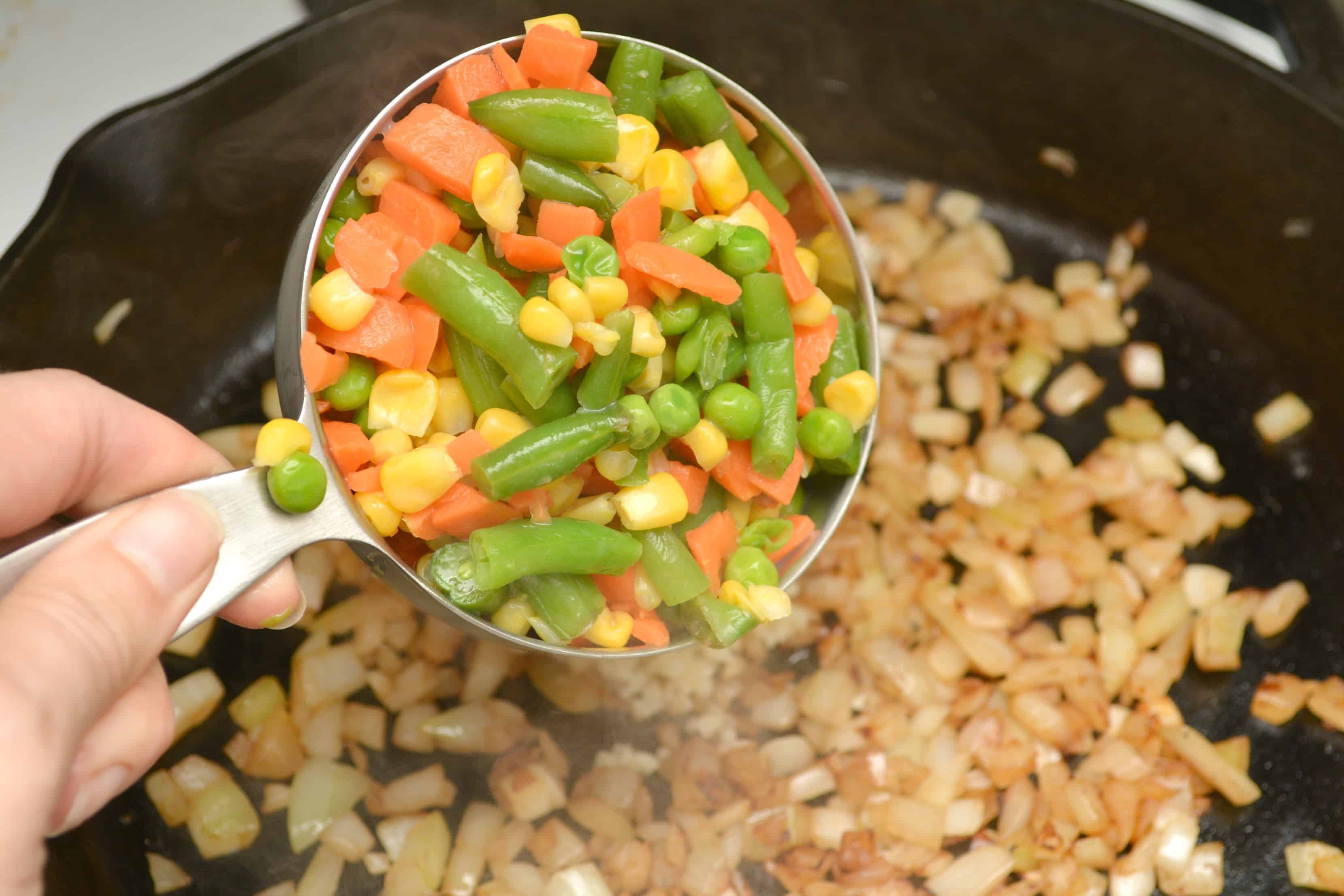 Sixth Step: Chop prosciutto into bite-sized pieces and add to skillet.
Seventh Step: Beat 2 eggs in a small bowl. Then move the ingredients of the one side of the skillet. Pour in the beaten eggs and scramble until they are done. Then stir the eggs and veggies together.
Eighth Step: Put 4 cups of cooked white rice in the skillet and combine.
Ninth Step: Add sauce to the rice mixture and cook for 1-minute. Stir frequently, so the sauce gets mixed in well.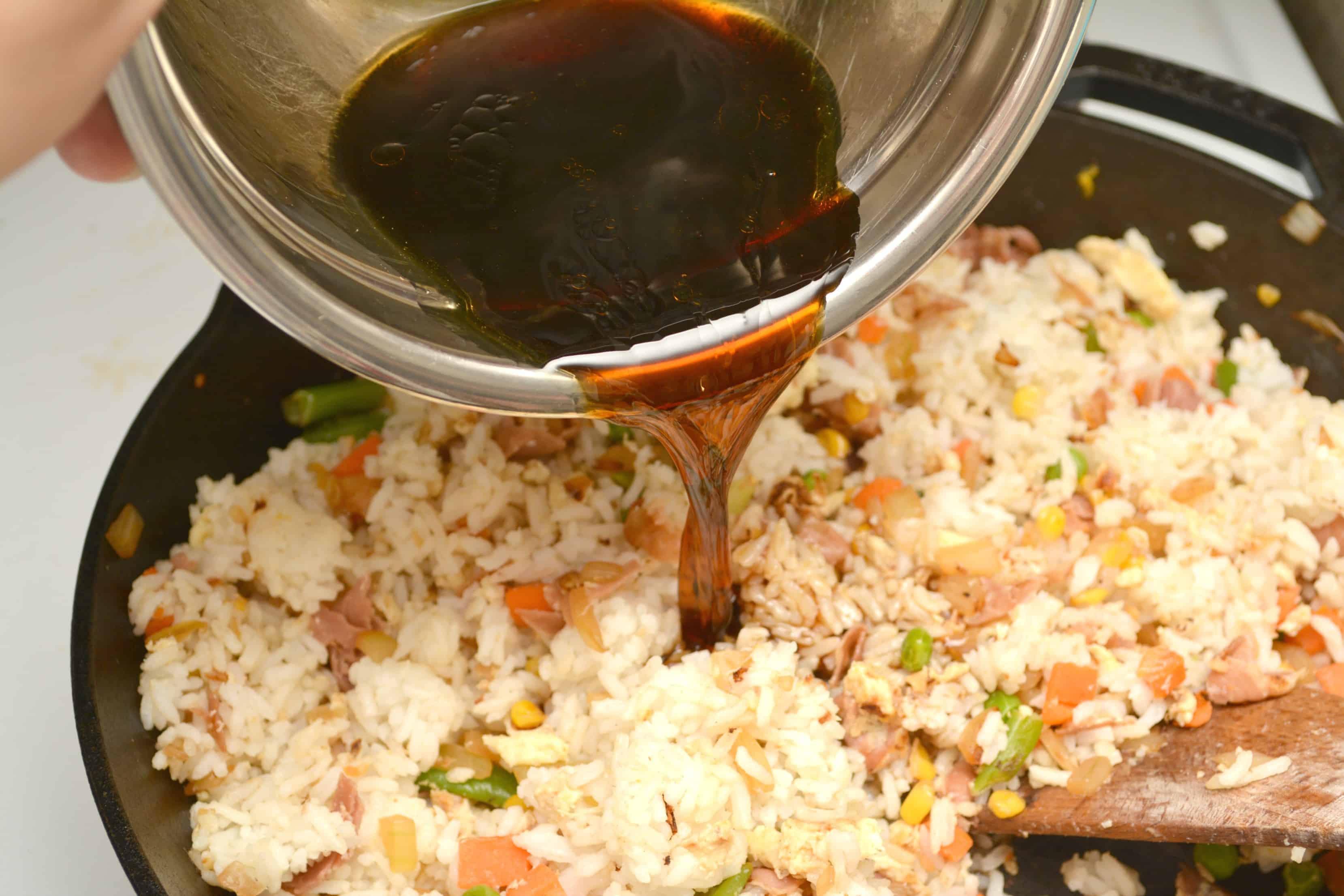 Tenth Step: Put the pineapple chunks into the pan and stir until it's hot. Remove from heat and serve.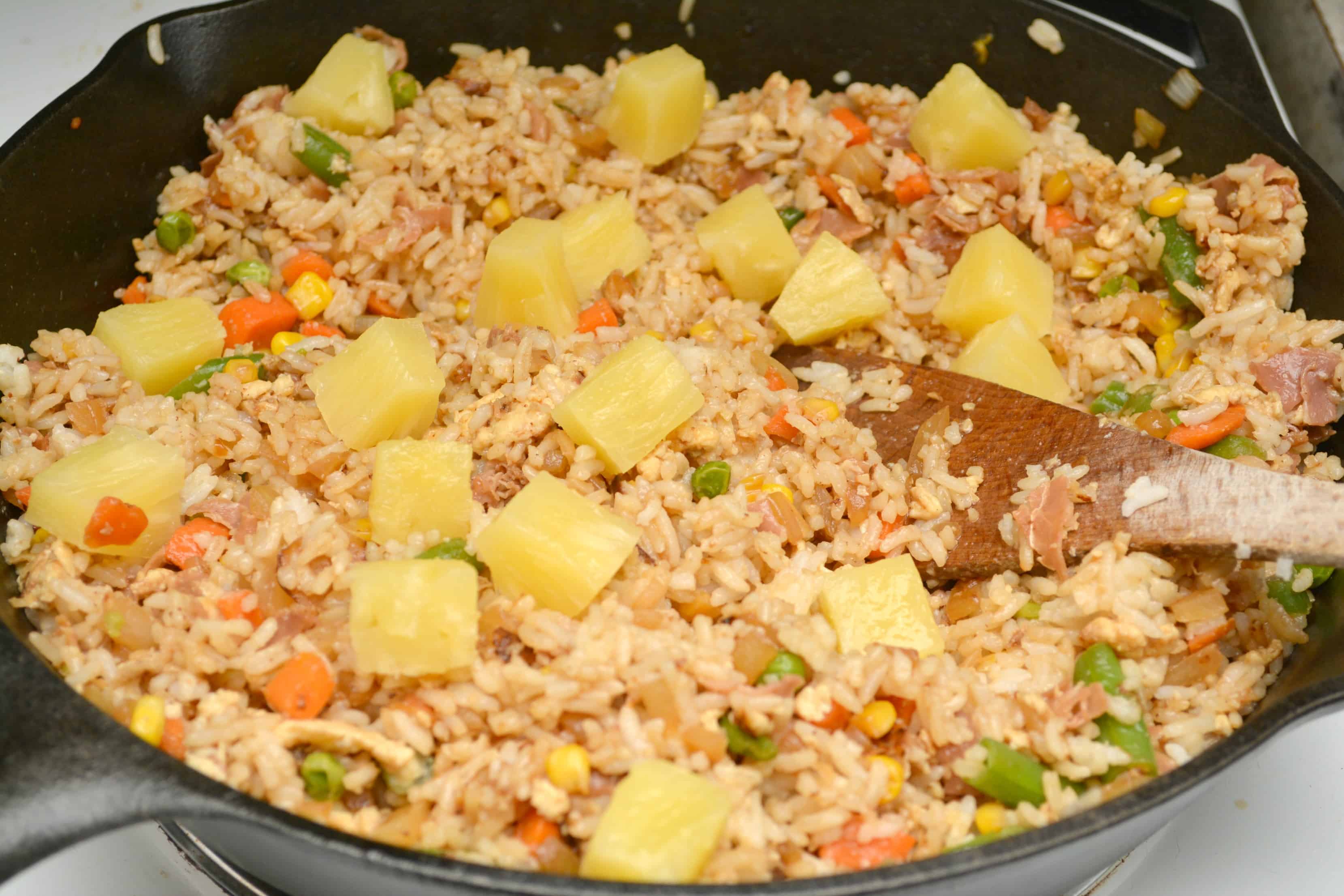 Hawaiian Pineapple Fried Rice Variations
This is one of my go-to Hawaiian recipes because I know I can easily adjust it. If I feel like changing things up depending on what I have on hand, it still turns out wonderful! How amazing is that? Here are some scrumptious ways I have served it that you should consider:
Shrimp – If you aren't a prosciutto fan or don't have it on hand, try some shrimp instead. Shrimp and rice always go well together. Hawaiian recipes go with seafood perfectly too!
Jasmine Rice – Never tried Jasmine rice before? You are in for a real treat when you do. It adds almost a floral and sweet flavor to the dish. So good!
Ham – You can cut or cube up pieces of ham to add to this Hawaiian rice. It's salty, full of flavor and has a nice texture that goes well with the rice.
Broccoli – Either replace the frozen veggies with some broccoli or use a combination of both. I love the flavor of broccoli, so I think it's an excellent addition.
Red Bell Pepper – It gives the rice and an extra little bit of sweetness. Plus, red bell pepper adds nutrients to the dish too.
Ginger – Add a teaspoon or two of freshly grated ginger. Make sure you make it super fine and toss it in the sauce mixture. It's a home run for sure, and I am confident it will become one of your favorite Hawaiian recipes.
Do I Need Fresh Pineapple?
No, you don't have to use fresh pineapple for this fried rice recipe. You can choose between diced fresh pineapple, canned pineapple, or even frozen if you want. If you go with frozen pineapple, you should let it defrost for a little bit before adding it to the recipe. All pineapple is delicious in most Hawaiian recipes.
Should The Vegetables Be Defrosted?
Yes, you should either use defrosted frozen vegetables or fresh veggies. If you put them in the skillet when they are frozen, they will take forever to cook, and the most significant advantage of this recipe is how easy it is to make. One fast way to defrost the frozen vegetables is to place them in a colander and run cold water over them. It will just take a few minutes, and they will be good to go.
How To Store Hawaiian Pineapple Fried Rice
You can store this Hawaiian pineapple fried rice in the refrigerator for best results. If you are meal planning or just keeping the leftovers, you can store the fried rice in one big container or single servings. Either way, it needs to be kept in an airtight container. It doesn't matter if it's glass (but that is the easiest to clean), zip lock bags, or a plastic container. You should discard leftovers if they aren't eaten within three days. Otherwise, bacteria will multiply rather quickly.
If you notice that the easy fried rice has a strange odor or looks watery, dry or moldy, then it should be thrown out.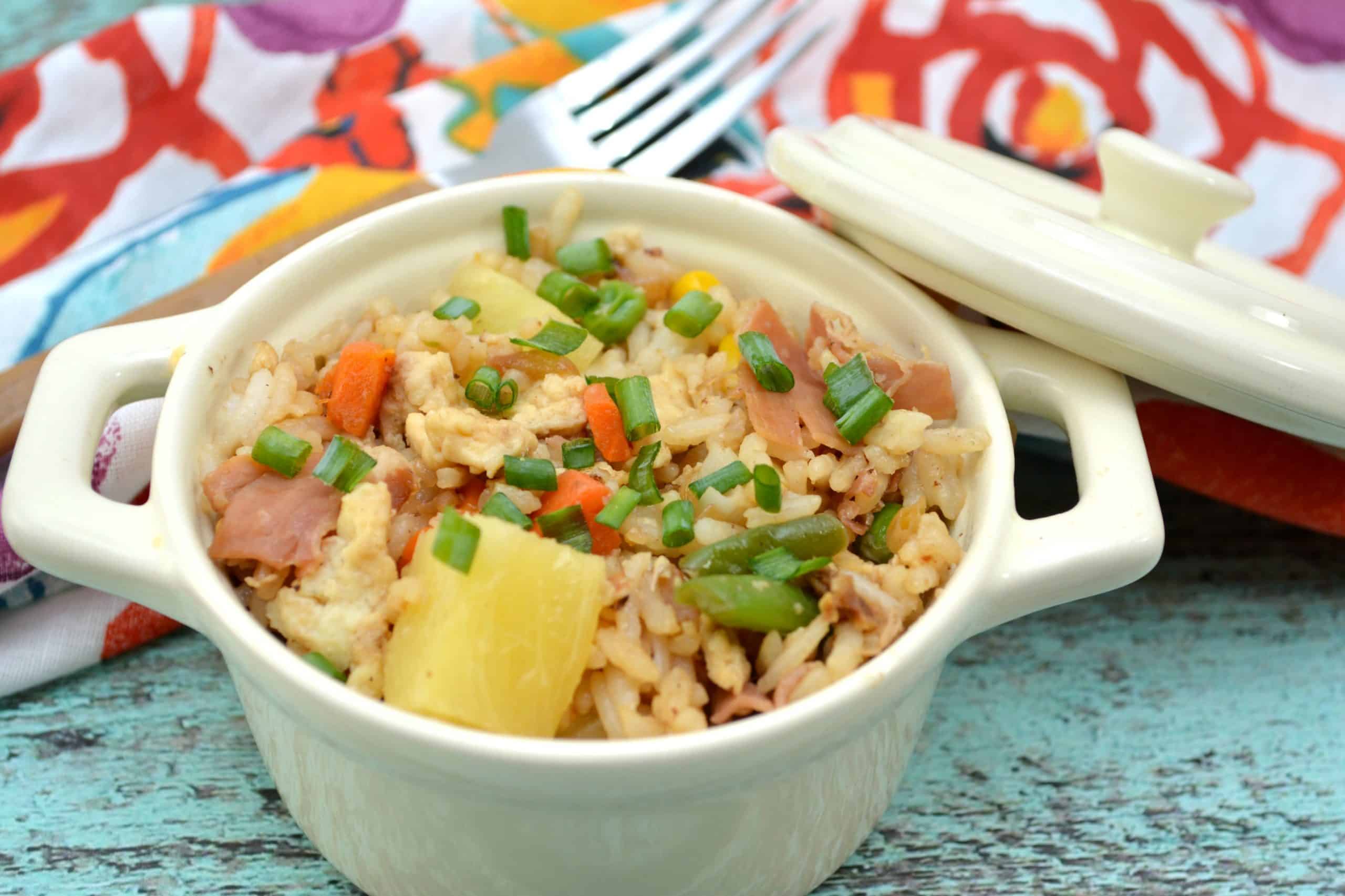 Can You Freeze Hawaiian Rice?
Yes, you can freeze this sweet rice dish. I recommend placing it in freezer bags because then you can lay it out completely flat and it takes up less space. You could also freeze it in any other airtight freezer-safe container you have. It will last for around 6 months.
How Do I Reheat The Hawaiian Style Fried Rice?
You can reheat the fried rice in the microwave. I recommend using a microwave-safe bowl, placing the rice inside and adding either water, broth, or even some pineapple juice to it. Don't go crazy, just 1 tablespoon should be enough. The liquid is just used to keep it moist and add some steam while heating. Cover with a paper towel loosely and heat until it is completely hot all the way through. It should be steaming to kill any germs on the rice.
Heating the leftover rice in a skillet with a little bit of olive oil is another option. Just heat the oil with medium-high heat and stir frequently until it's hot all the way through. Then serve!
Enjoy!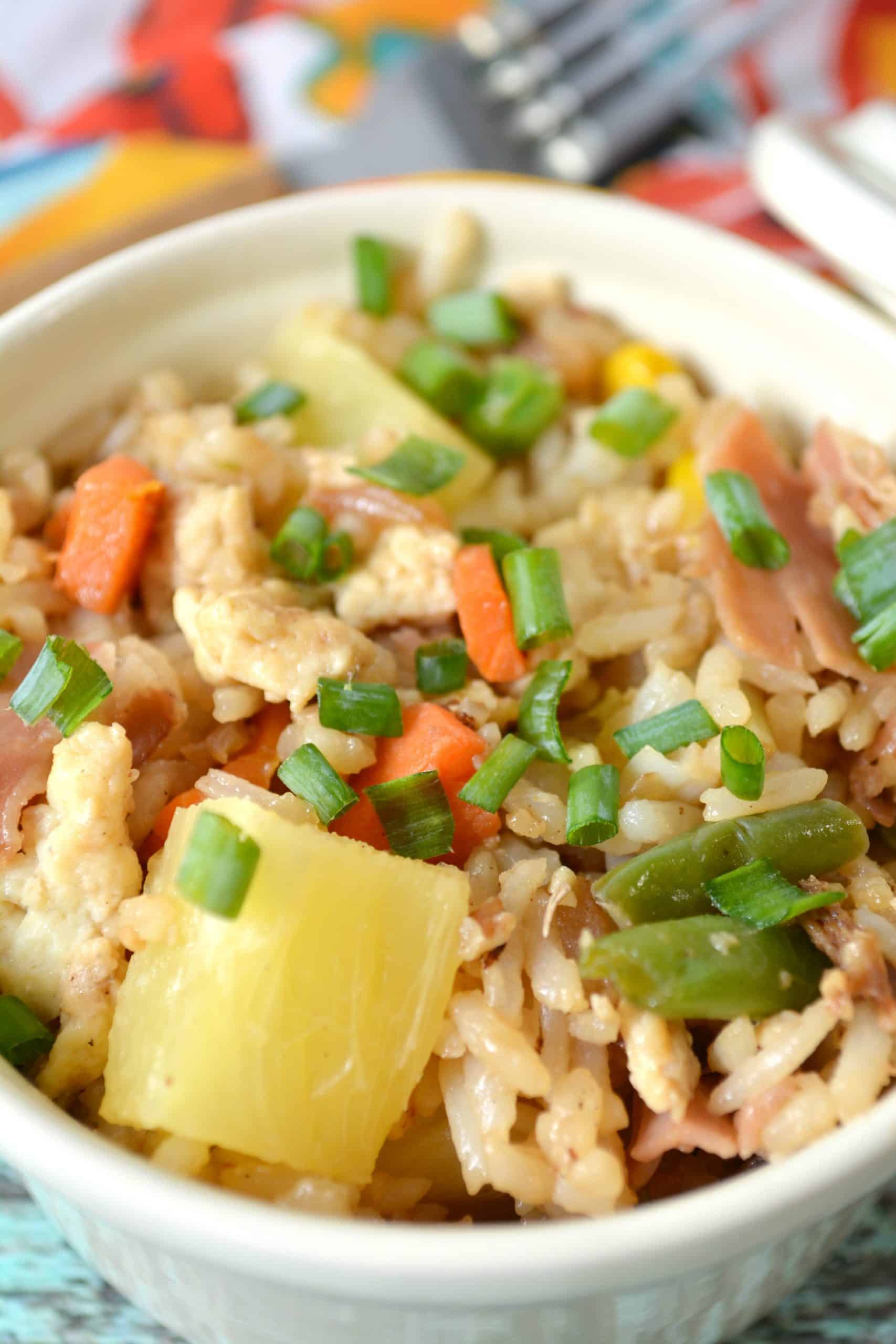 Now, remember to save this recipe on Pinterest for later 🙂
Pin this recipe now to remember it later
Hawaiian Style Fried Rice
Easy Hawaiian Style Fried Rice is a sweet and savory dinner option! Quick homemade fried rice.
Ingredients
1

c.

Frozen mixed vegetables

,

defrosted

6

Thin slices prosciutto cut into bite-sized pieces
Want to save this recipe? Enter your email below and we'll send the recipe straight to your inbox!
NOTE: By saving this recipe, you agree to join our weekly recipes newsletter.
Instructions
Place ⅓ cup of soy sauce into a small mixing bowl.

Add in 1 tablespoon of sugar and 1 tablespoon of sesame oil.

Place 1 tablespoon of rice vinegar into the mixing bowl. Whisk the sauce to combine the ingredients, and set it aside for later use.

Place 1 tablespoon of sesame oil into a large skillet over medium high heat.

Once heated, add 1 chopped onion to the skillet and cook for several minutes until the onions are brown and have softened.

Add in 2 cloves of garlic and 1 cup of frozen mixed vegetables that have been defrosted. Cook 1-2 minutes stirring often.

Mix 6 thin slices of prosciutto that have been chopped into bite-sized pieces into the skillet.

Move the vegetable mix off to one side of the skillet, and pour in two beaten eggs. Scramble the eggs well, and then mix them into the vegetable mixture evenly.

Add 4 cups of cooked white rice into the skillet, and stir to combine.

Pour the previously made sauce over the rice mixture in the skillet, and cook for 1 minute longer while stirring to incorporate the sauce.

Toss 1 cup of pineapple chunks into the fried rice mixture, and stir to combine while removing the skillet from the heat.

Serve the Hawaiian style fried rice topped with freshly chopped green onions.
Follow me on Pinterest for daily delicious recipes!
Make sure you check my best Appetizer Recipes below:
Instant Pot Apple Pepper Jelly Recipe – Looking for a pepper jelly recipe? If you love the taste of Apple Pepper Jelly, you are going to love how easy it is to make at home. This jelly would be perfect to serve with crackers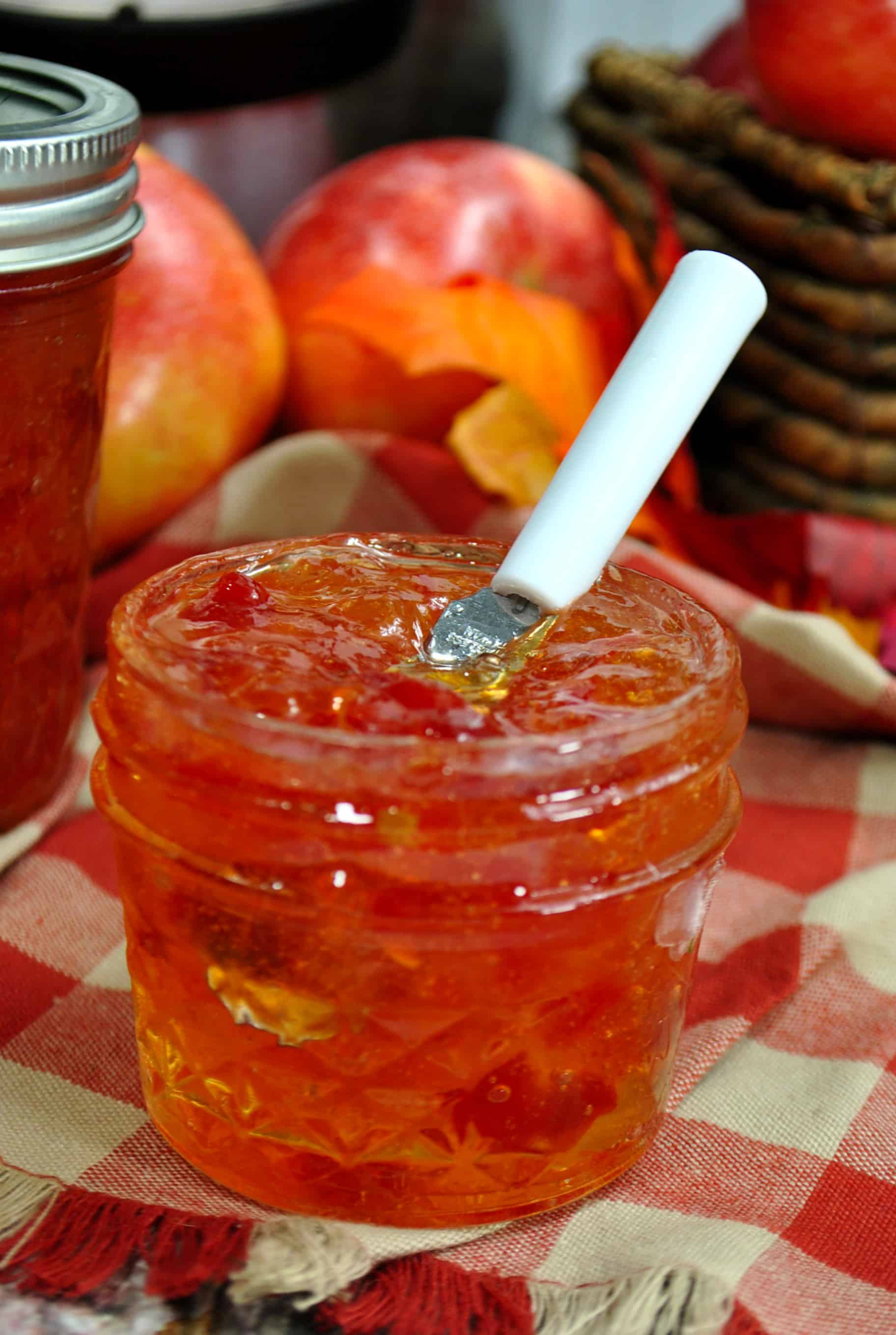 Three Cheese Pizza Nachos with Pepperoni – Looking for the best pizza nachos? Don't worry about calling for take out, with this easy nachos recipe, you can make Italian nachos at home whenever the craving hits.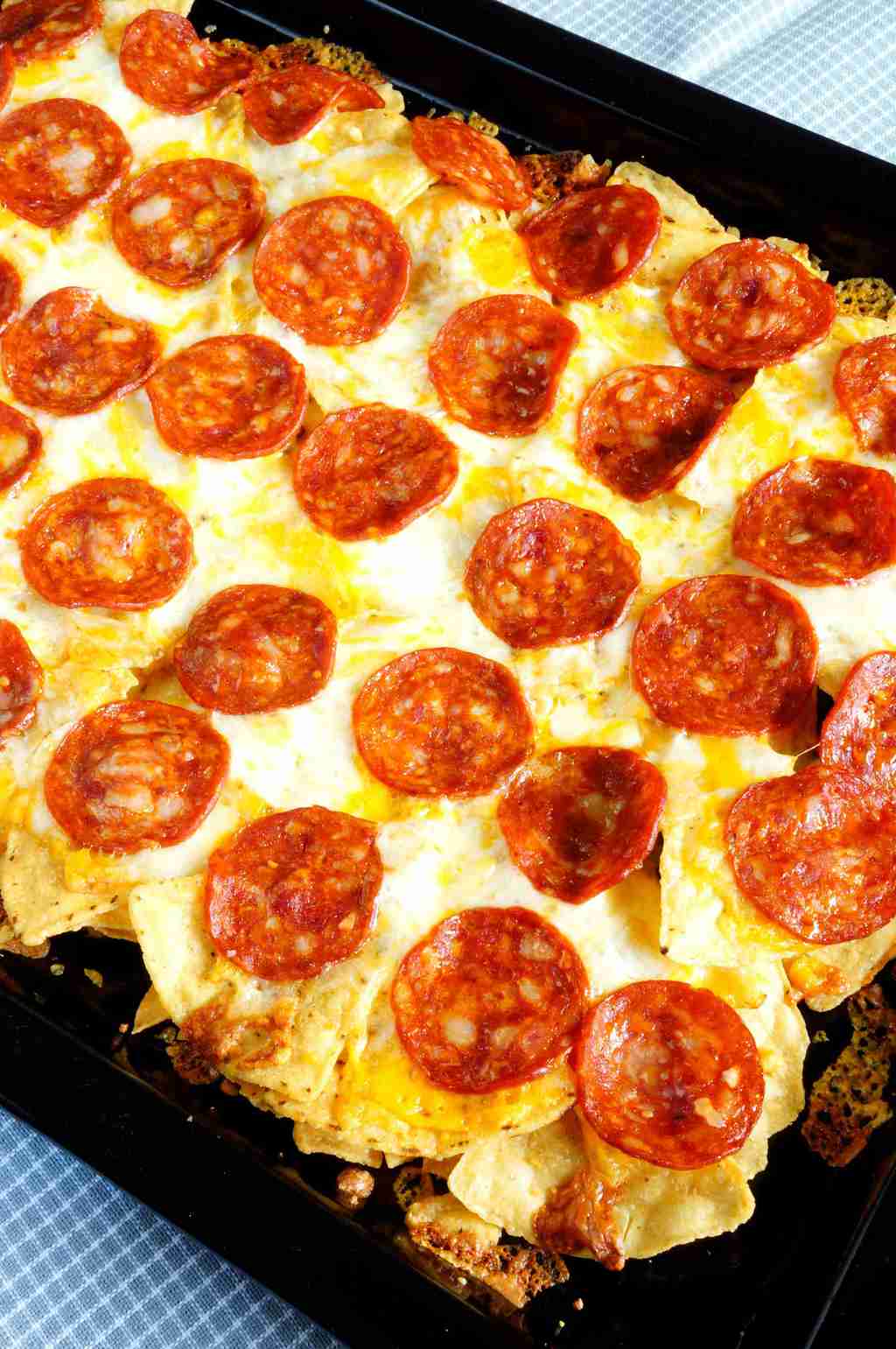 Gooey Bacon Cheese Dip Recipe – Want the best bacon cheese dip recipe? Wait until you try Gooey Bacon Cheese Dip Recipe! Filled with real bacon and cheese, this dip is perfect for game day, pot lucks, or anytime you just want an ooey gooey cheese dip.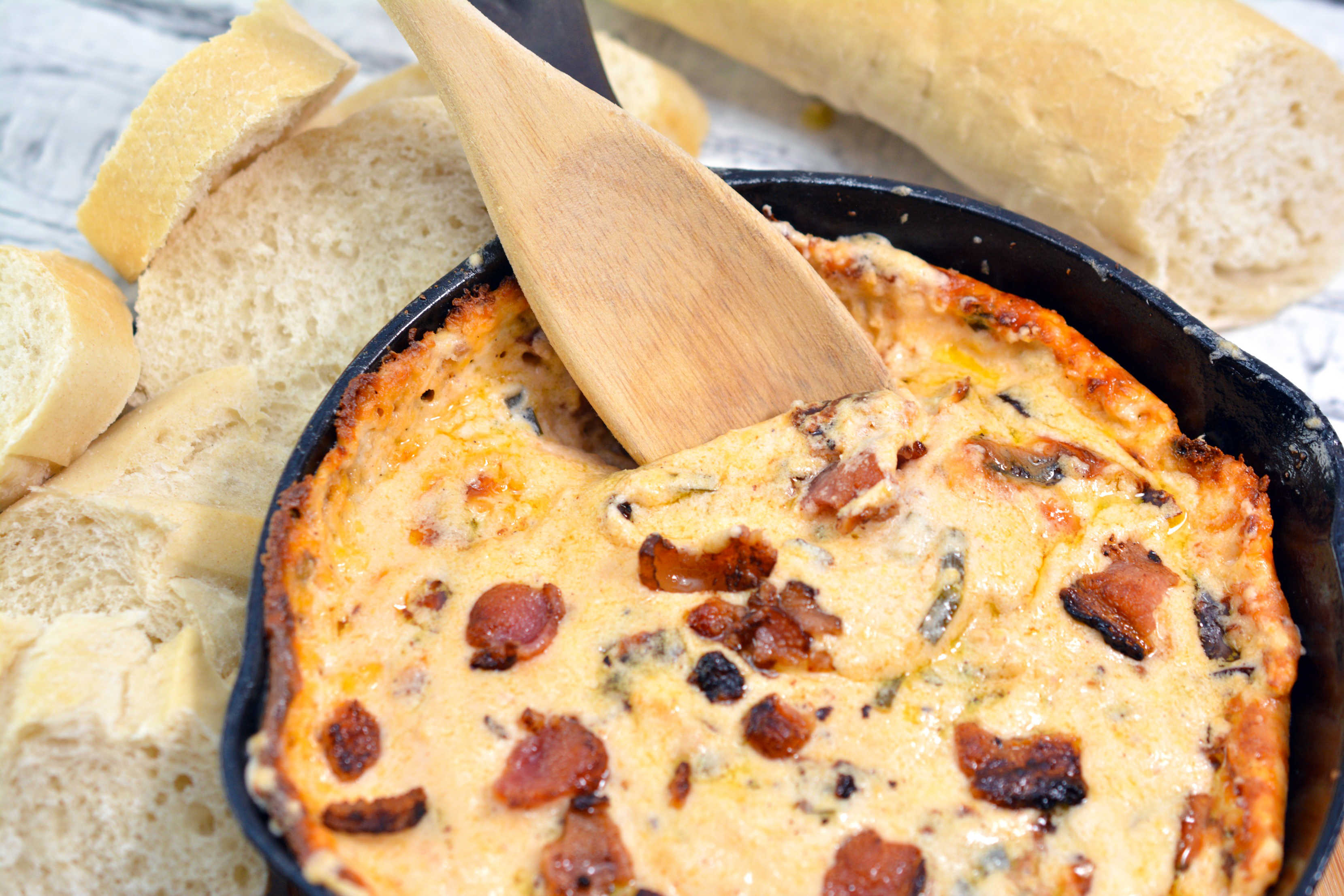 Buffalo Shrimp Recipe -These Baked Buffalo Shrimp are a quick and easy shrimp appetizer that's perfect for holiday parties, game days or even a light dinner! Give this buffalo shrimp a try today.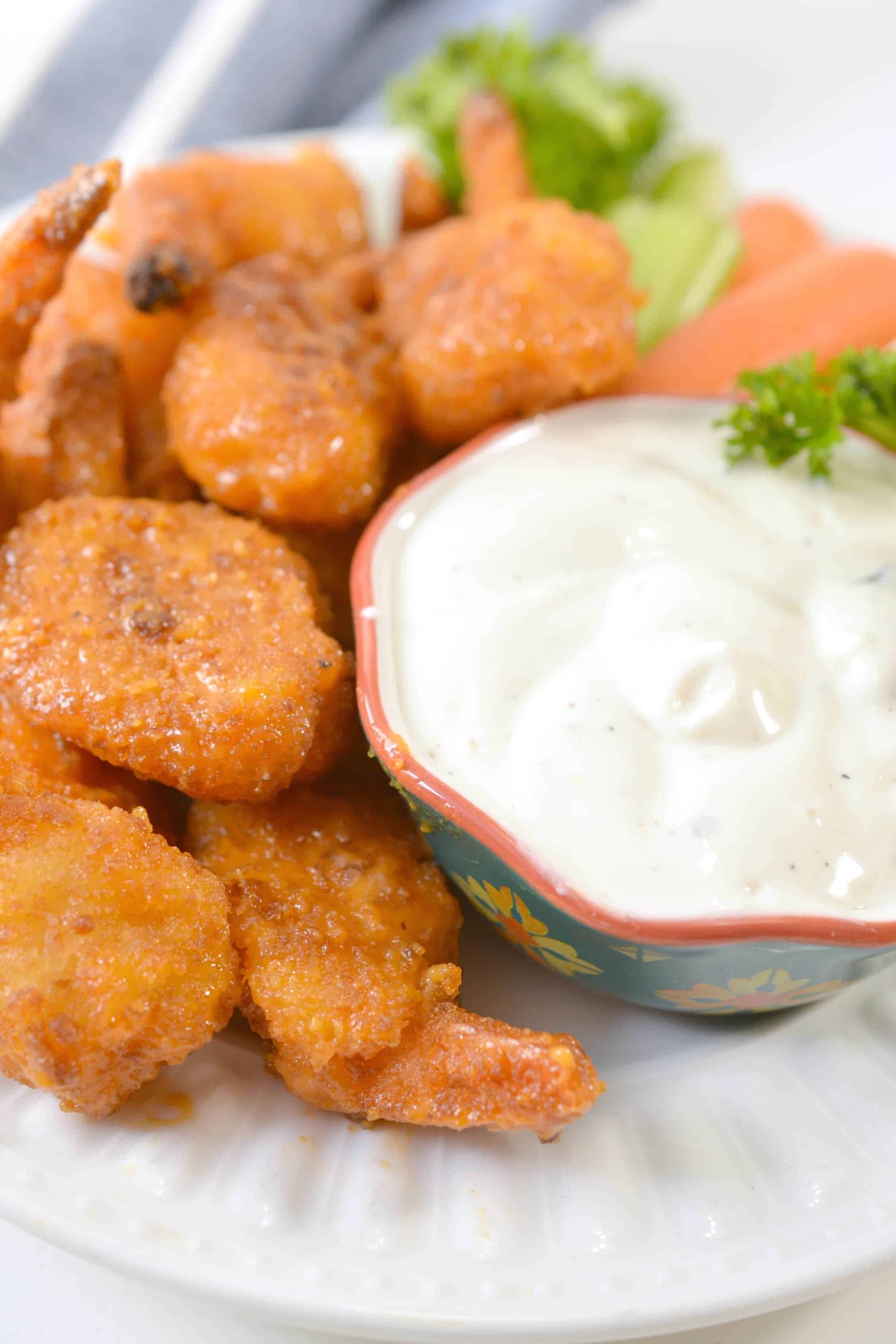 Mini Pizza Bites Pretzels – Love pizza pretzel bites and want to make them at home? This is the perfect recipe. These mini pizza bites pretzels are delicious and easy to make.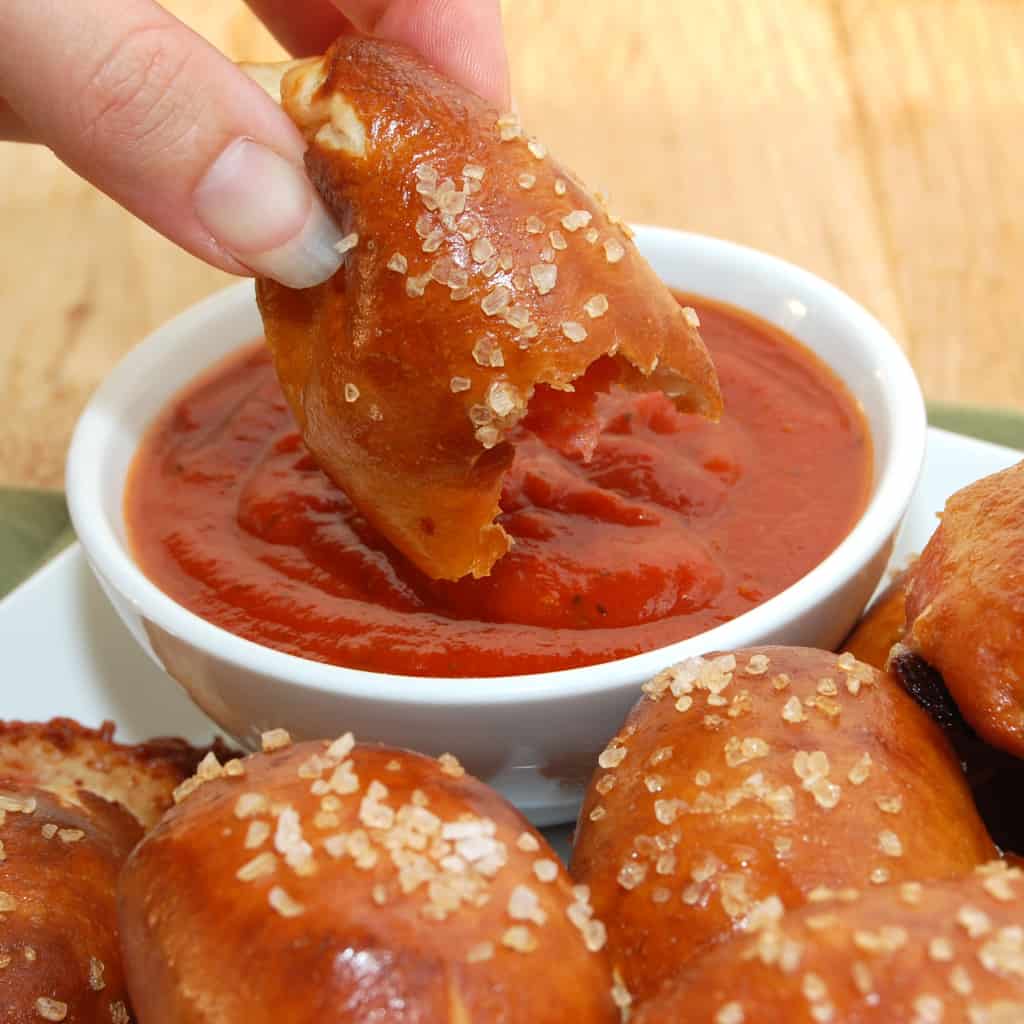 Get new recipes weekly plus our FREE ebook!