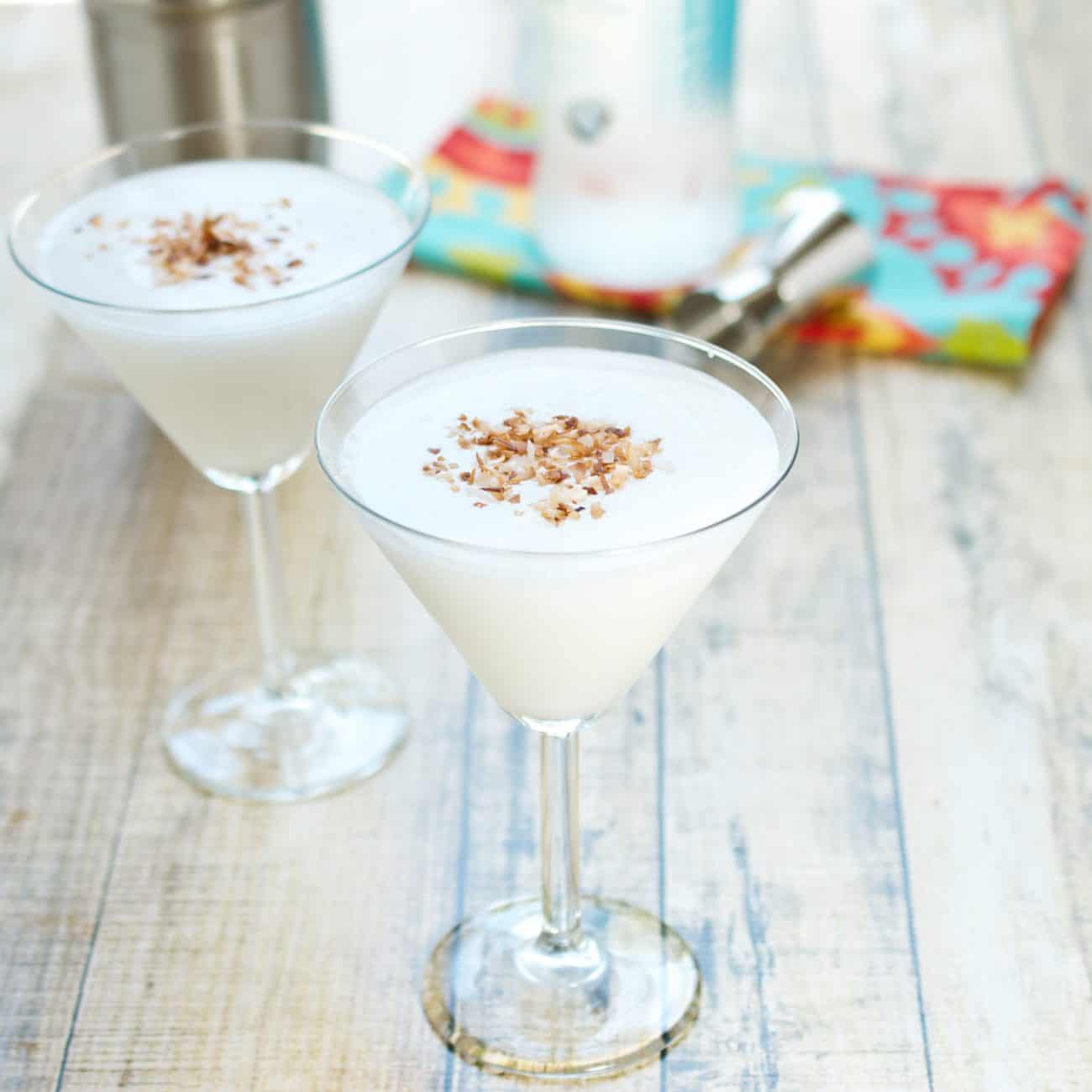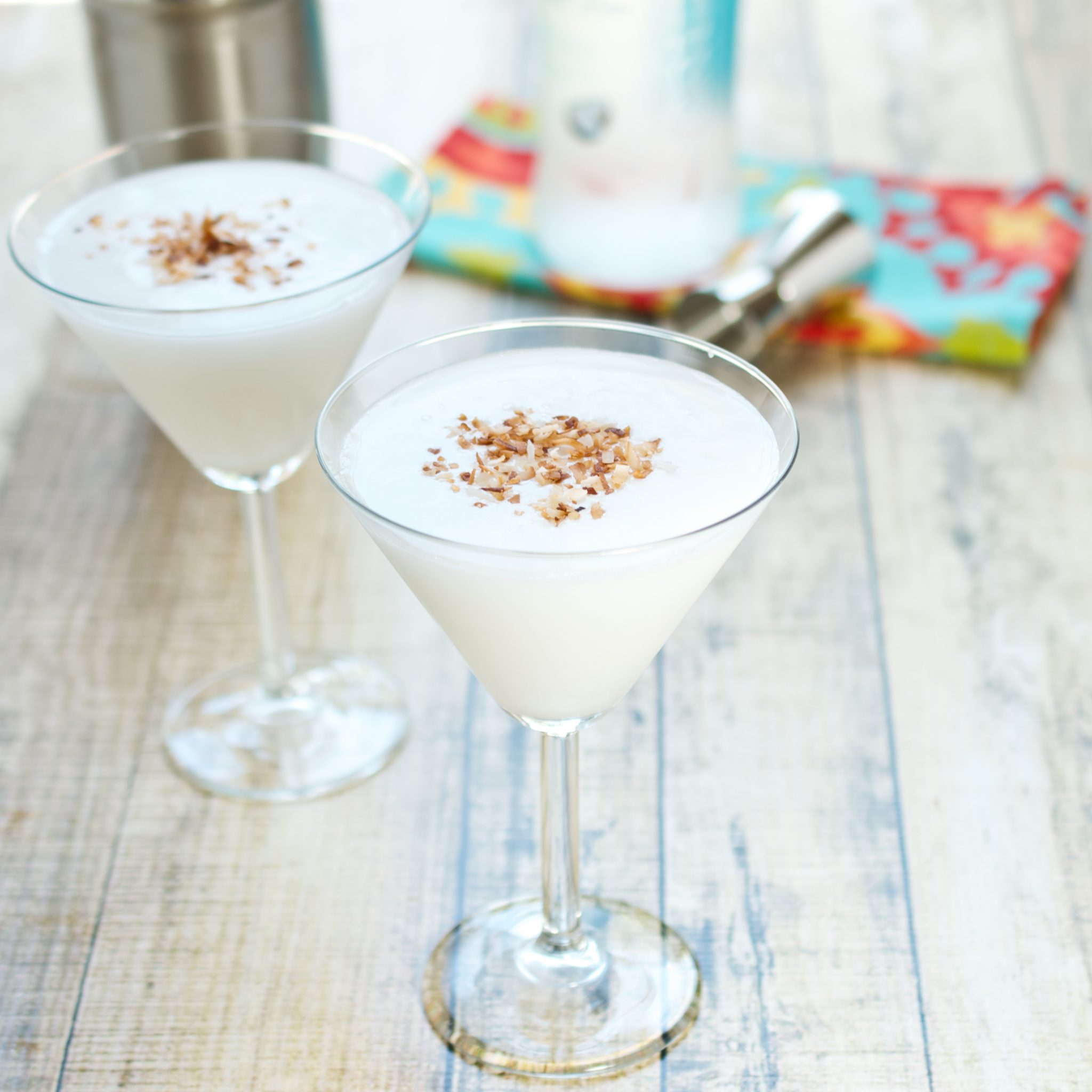 Whether you are hosting a fancy cocktail party or a low key event, this Creamy Coconut Martini is just what you need. It's made with rum, vodka, and cream of coconut to give you the perfect cocktail. This easy coconut martini is a crowd pleaser and makes a lasting impression. This refreshing, creamy drink is calling your name and is very simple to make.
Scroll to bottom for printable recipe card.
Coconut Cloud Martini
I've said it before, and I'll say it again…I love coconut! Coconut cookies, cake, pie, ice cream-I love them all! So when I first tasted this Coconut Cloud Martini at the Tommy Bahama Restaurant on the Big Island of Hawaii last October, I thought I had died and gone to heaven. I was determined to recreate that tropical cocktail in my own kitchen as soon as the weather warmed up.
This is bound to be one of your new favorite drinks. You will feel like you are relaxing on a tropical vacation without a care in the world. I recommend making enough to have 2 cocktails because they are so good you can't have just one. If you want to feel extra fun, pour the cocktails in a coconut instead of a glass. It's so adorable and tastes, even more, coconut flavored. Also, you don't want to forget the cute little drink umbrellas either.
This coconut cloud martini is great when you are hosting a game night or even if you are having friends over for a more elegant style meal. It goes well with all sorts of food and will please even the toughest crowd. Be sure to try out my Mini Pizza Bites Pretzels, Homemade Cripsy Potato Tots, and Crock Pot Buffalo Chicken Dip when you are hosting a party too.
Best Alcohol to Use For Coconut Martini
You will use a combination of white rum, coconut rum, and vanilla vodka. It's the best combination of alcohol for this homemade martini recipe. You can swap out the alcohols for each other. So, if you don't have white rum on hand, you can use coconut rum or vanilla vodka in its place. Play around with the flavors, depending on what you like.
You can also add a splash or two of some pineapple juice for a fun tropical flavor. We also like to garnish with a piece of coconut or pineapple too.
Can I Make Martini Ahead of Time
Yes, you can prepare the creamy coconut martini a day ahead of time. Just don't pour it over ice until you are ready to drink it. Keep the prepared martini in a glass or plastic container with a tight fitting lid. It will last up to 24 hours. Be sure to shake it before serving.
This drink is so quick and can be whipped up in under 5 minutes, so it's not necessary that you have to make it ahead of time if you don't want to.
Does This Recipe Double Well
Each recipe is for just one coconut martini. So you can simply make as big as a batch as you want to have enough drinks for everyone. You can keep it refrigerated until you are ready to pour it over some ice. After it sits, be sure to stir or shake it, so anything that settles to the bottom is mixed back into the coconut cloud martini. Pour over ice and enjoy!
How to Toast Coconut To Top Martini With
You can toast the coconut either on the stovetop or in the oven. For the stovetop, place the coconut in a non-stick skillet over medium heat. Stir it constantly until the coconut is toasted to the texture that you want.
You can also toast it by putting it on a baking sheet at 350 degrees for 10 minutes or so. Be sure to stir it halfway through and toast until it's a golden brown color.
Ingredients
With just four ingredients, you can make this tasty drink in minutes and add in extra ingredients if you want. It tastes really yummy with a little bit of pineapple juice too. I also like to add a slice or two of pineapple and add it to the rim of the glass or put the pieces inside of the glass too. It will be the best pineapple you will ever eat when it's soaked in the cocktail too.
1 part white rum
1 1/2 parts vanilla vodka
1 1/2 parts coconut rum
1/2 part Cream of Coconut
How to Make Creamy Coconut Martini
I'm so excited to be sharing this creamy coconut martini recipe with you today. I think you are going to love all the tropical and refreshing flavors. You aren't going to believe how easy it is to make. Here are the easy to follow steps so you can make this tasty coconut martini.
This Coconut Martini is super easy to make. Just pour White Rum, Coconut Rum, vanilla vodka, and cream of coconut into a cocktail shaker with ice, shake, strain, and garnish with toasted coconut. Just one sip will have you dreaming of white sandy beaches in no time! 😉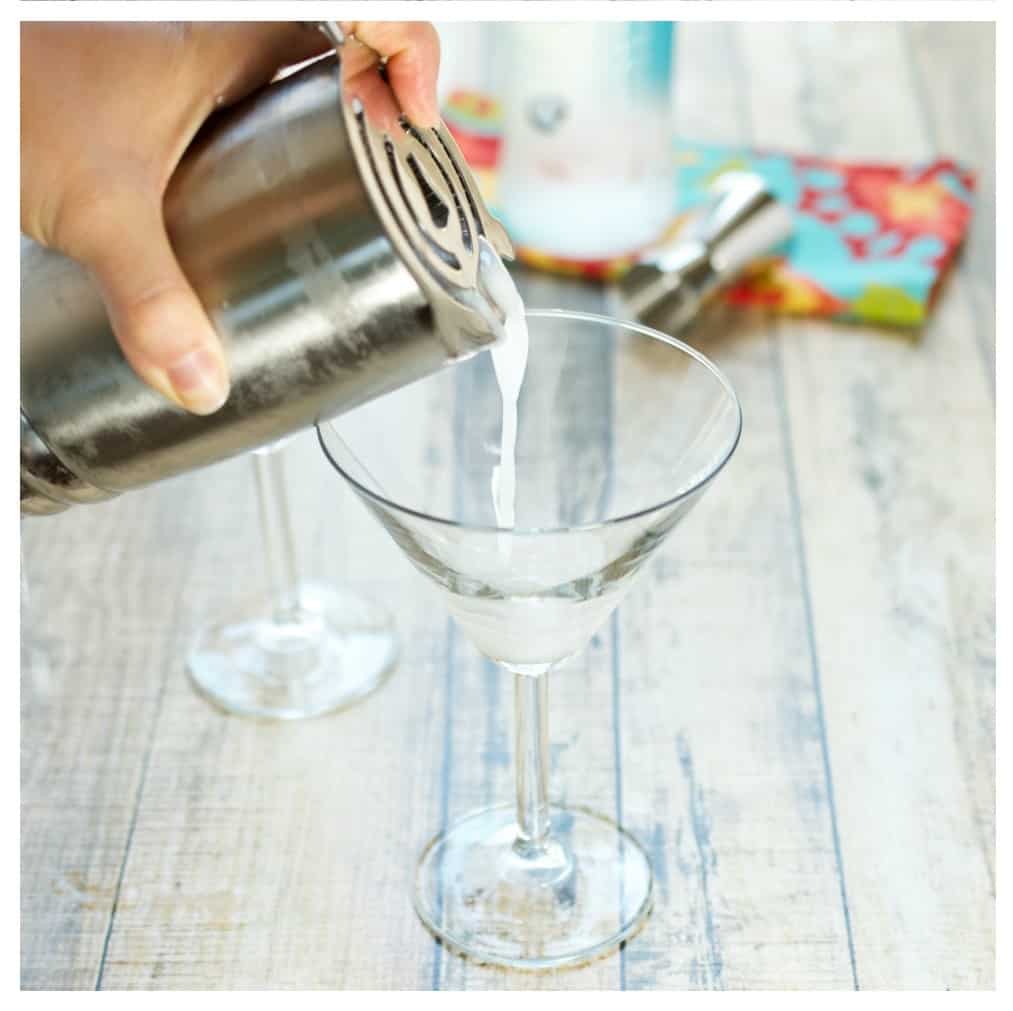 I have several drinks and cocktails I want to share with you as well. I think you will love each one of them for different reasons. Let's take a look to see what you like best.
Triple Berry Cocktail – It's refreshing, cool, and delicious. I think you will love all the fruity goodness it provides and will enjoy it. Make it for parties and watch it disappear.
Tipsy Luck of the Irish Cocktail – It's bright green and begging for you to make and drink it. When you are celebrating St. Patrick's Day, this drink is a must-have.
The Best M&M Boozy Milkshake – You will love drinking this creamy milkshake. It's so good; it's like an incredible dessert instead of an alcoholic beverage. Give it a taste to see if you love it as much as I think you are going to.
Easy Blackberry Vodka Smash – It's a festive and yummy drink that is going to steal your heart. The combination of blackberries and vodka is incredible together. Give it a try because I am sure you won't regret it.
Pin this recipe now to remember it later
Ingredients
1 1/2

parts vanilla vodka

1/2

part Cream of Coconut
Want to save this recipe? Enter your email below and we'll send the recipe straight to your inbox!
NOTE: By saving this recipe, you agree to join our weekly recipes newsletter.
Instructions
Fill a cocktail shaker with a handful of ice. Add white rum, vanilla vodka, coconut rum, and cream of coconut. Shake 20 times and strain into martini glass. Garnish with toasted coconut. Serve immediately.
Follow me on Pinterest for daily delicious recipes!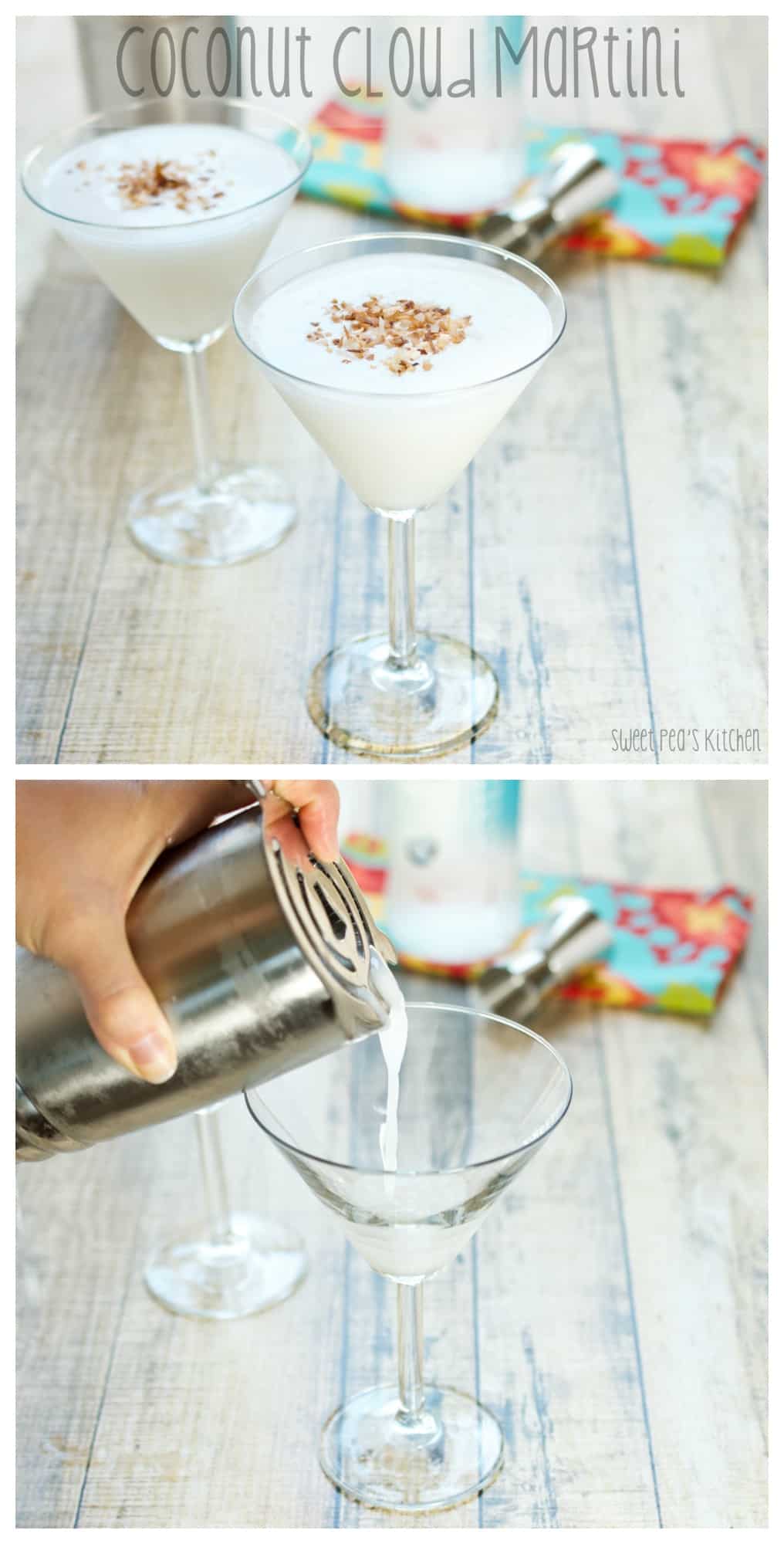 Get new recipes weekly plus our FREE ebook!