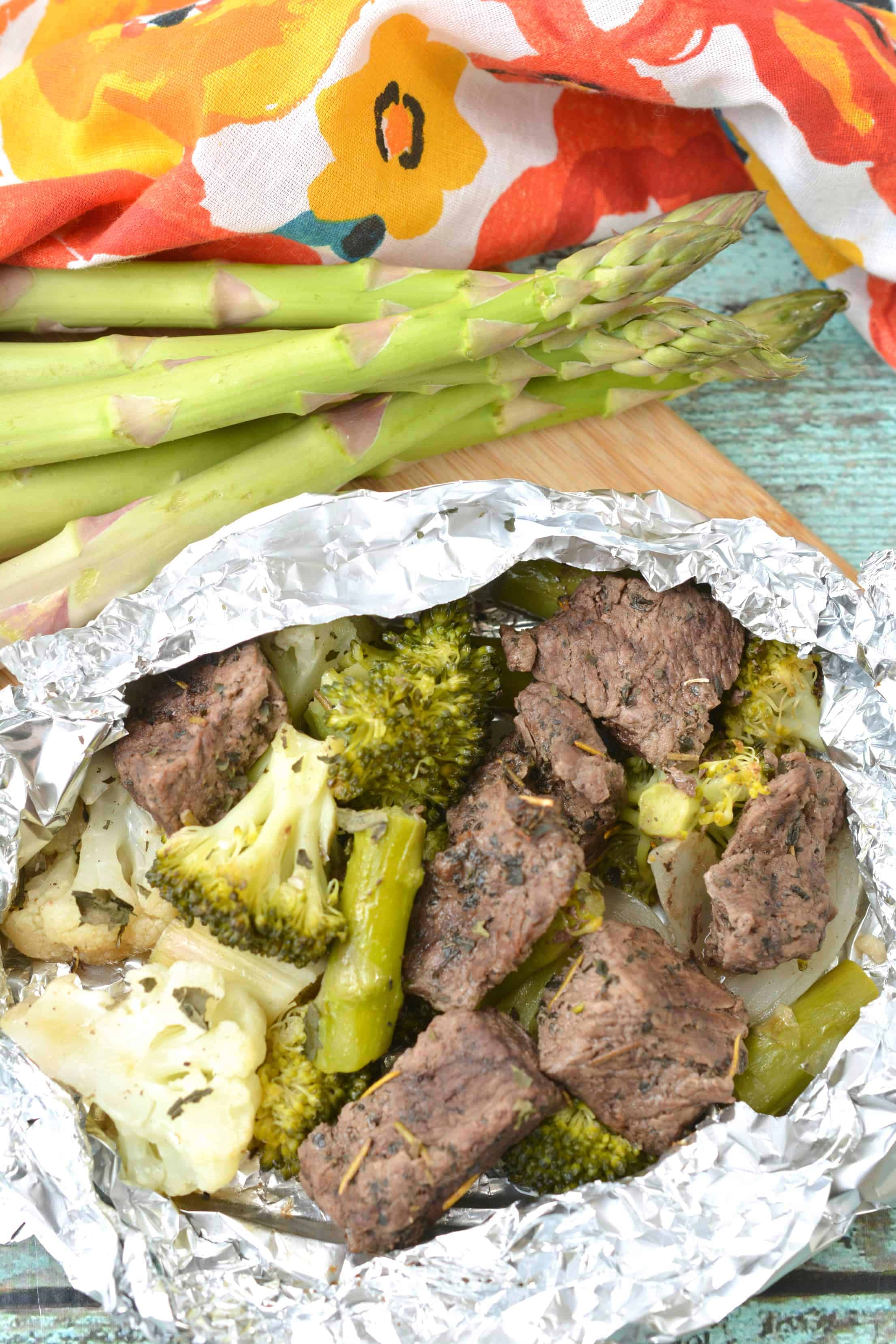 Looking for an easy keto dinner idea? This is a foil packet recipe featuring top sirloin steak with garlic and butter. Easy to make and absolutely delicious, you need to try this recipe!
Following keto can be challenging when it comes to making food for the whole family. Keto is typically a diet with high fat and low carb. That means that a lot of the keto meals have a lot of cheese, oils, and meat. But sadly that means no carbs like potatoes and bread. Goodbye mashed potatoes and gravy. That can be a struggle for carb lovers like me.
However, when it comes to focusing on healthy eating, these are the choices I have to make. When it comes to making family dinners, it needs to not only be healthy but it has to be tasty or else the family isn't going to eat it. As a bonus, it is easy to prepare.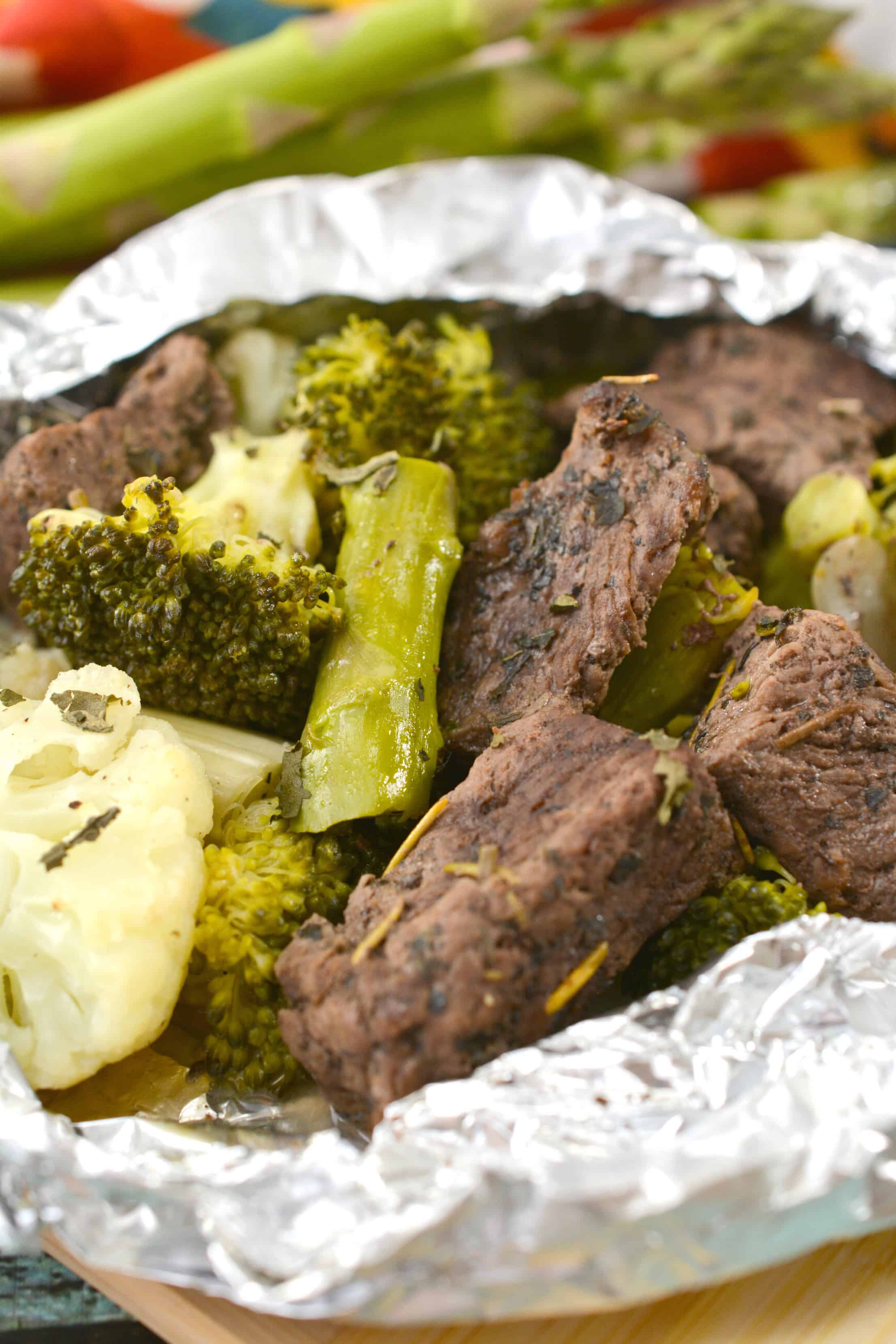 Scroll to bottom for printable recipe card.
What to Serve with Garlic Steak
When you make this garlic steak, you can make it only with the steak or you can add vegetables. I like to add cauliflower, broccoli, and asparagus in the foil packets. You can also so serve these side dishes to make it a complete meal. These are the perfect combination of low carb side dishes that are also family-friendly.
Variations to Grilling Steak Foil Packets
While I like to keep the seasoning simple with just a little rosemary, basil, and thyme with lots of garlic, you can add in whatever seasoning you like on your steak.
Vegetables: You can use whatever vegetables that you like with your diet. If you are not following keto or low carb, you can use different vegetables than someone who is eating low carb. For those who are not following keto, you can potatoes, corn, and carrots. No matter what diet you are following, whatever vegetables you decide to use, make sure to use fresh not frozen vegetables. Frozen vegetables will become mushy and unappetizing.
Is this an Easy Grilling Steak Recipe
When it comes to grilling steak, this recipe can not be easier. Since it is made in a foil packet, the steak cooks evenly and easily. I have found that using a foil packet is one of the easiest ways for grilling steak. The steak does not dry out like many grilling recipes.
Does this Use a Beef Steak Marinade
This steak comes out so flavorful and tender thanks to the ingredients and the foil packets. It doesn't call for a beef steak marinade because it isn't needed. However, you can certainly make a beef steak marinade to make this steak even more flavorful.
How to Make a Foil Packet
When you are making the foil packet, you start with a sheet of aluminum foil. Place the ingredients in the center. After all of the ingredients into the foil packet, you pull up the sides. After bringing the sides together, simply roll the foil down sealing the seams. It is important to close the foil together but you do not want to roll the foil down to far. Rolling it tightly and close will cause the vegetables to not steam properly.
How Long does Garlic Butter Steak Last?
If you have leftovers of this garlic butter steak you can store it in the refrigerator for up to 3 days. This is a great recipe for making ahead and having on hand for lunch or dinner for the next few days. Sometimes people have a hard finding meals that are good to heat up and eat. That is why many people choose foods that are not the best choice because they do not have something easy to grab. Make up extra foil packets and have an easy dinner or lunch.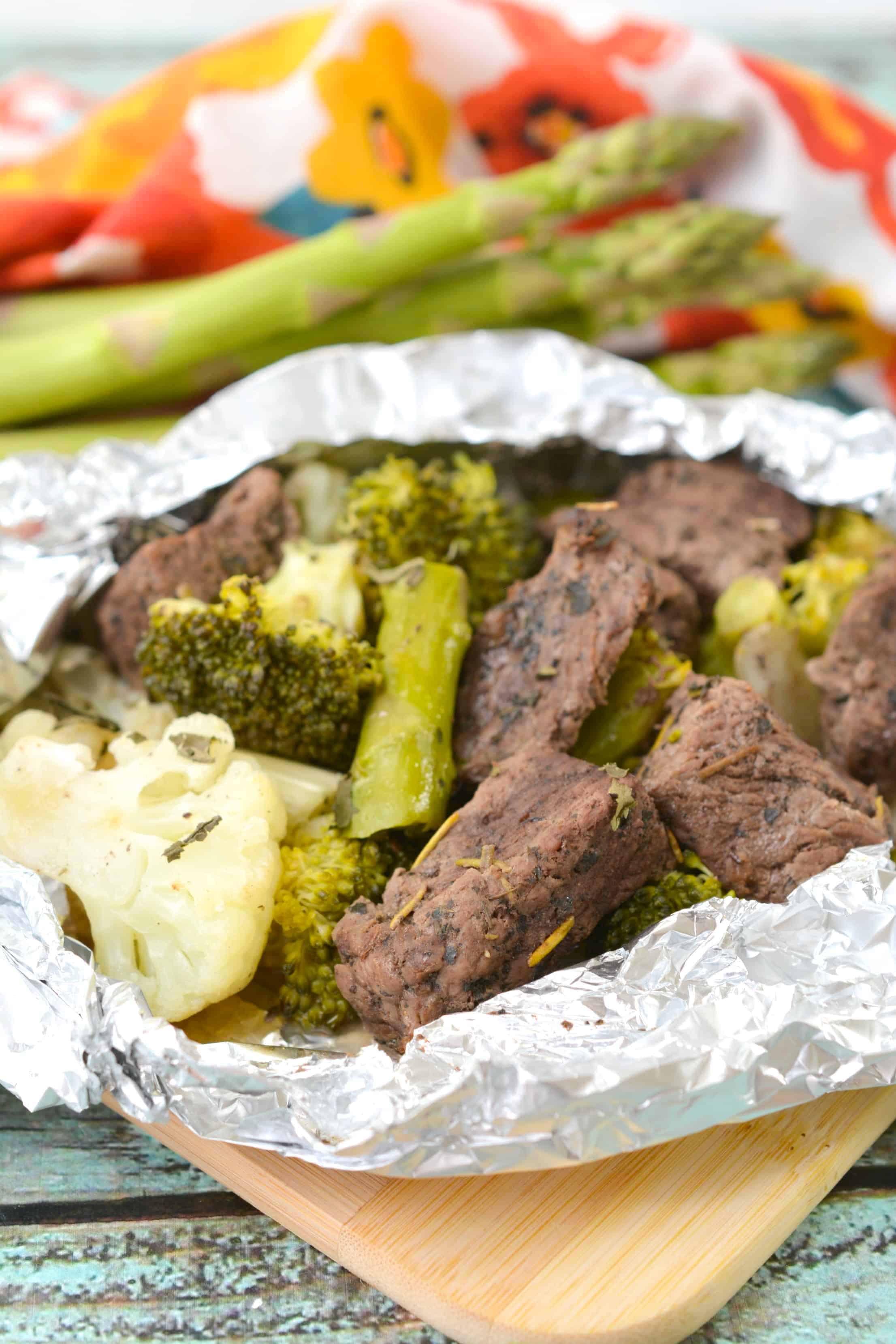 Ingredients in Garlic Butter Steak Foil Packets Recipe
Top sirloin steak cut into bite sized pieces
Olive oil
Cauliflower florets
Broccoli florets
asparagus
Onion
Basil
Thyme
Rosemary
garlic
Salt and pepper
Aluminum foil
How To Make Keto Garlic and Herb Steak Packets: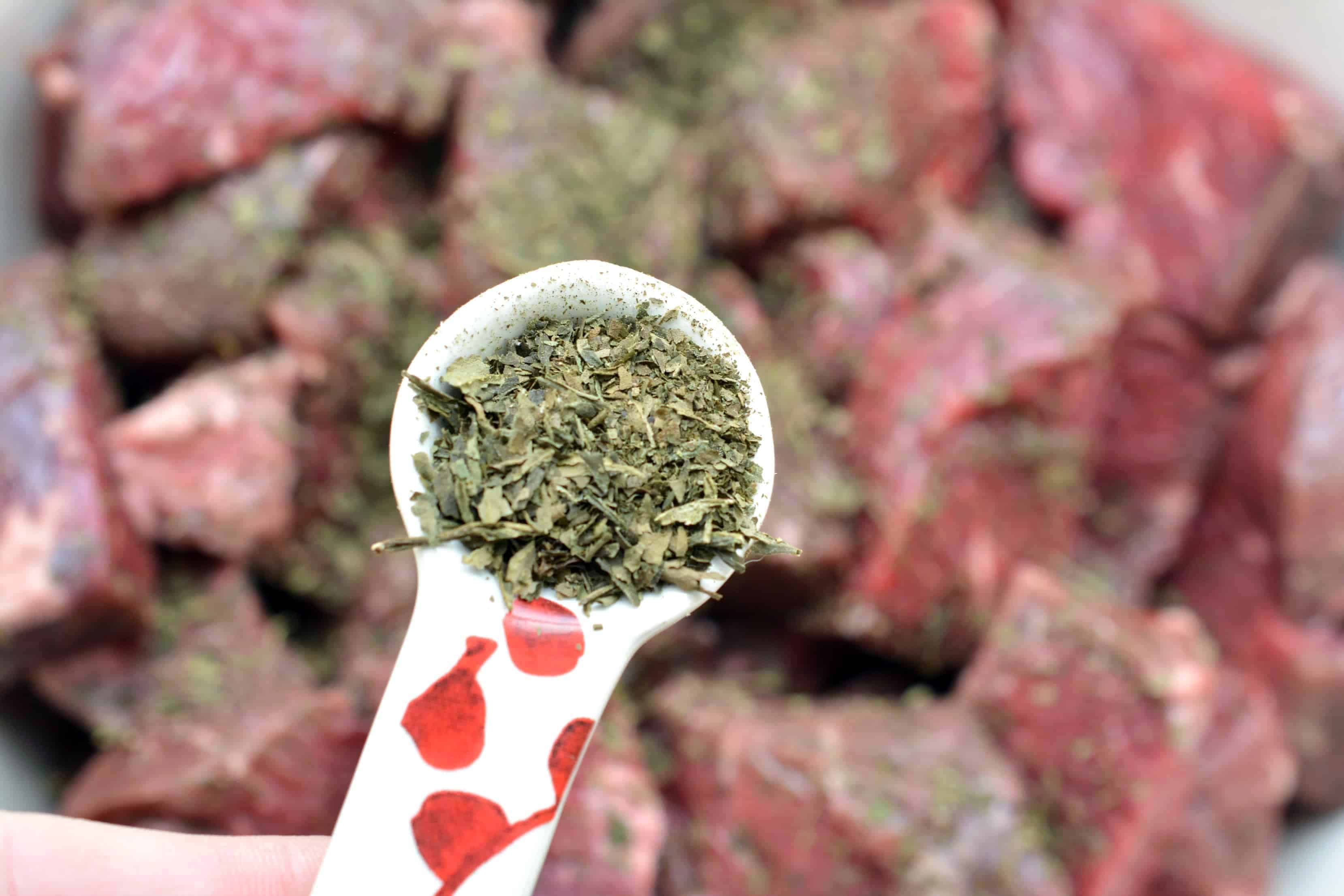 Season bite-sized pieces of steak with rosemary, basil, thyme and salt, and pepper. Sear steak on both sides in a pan.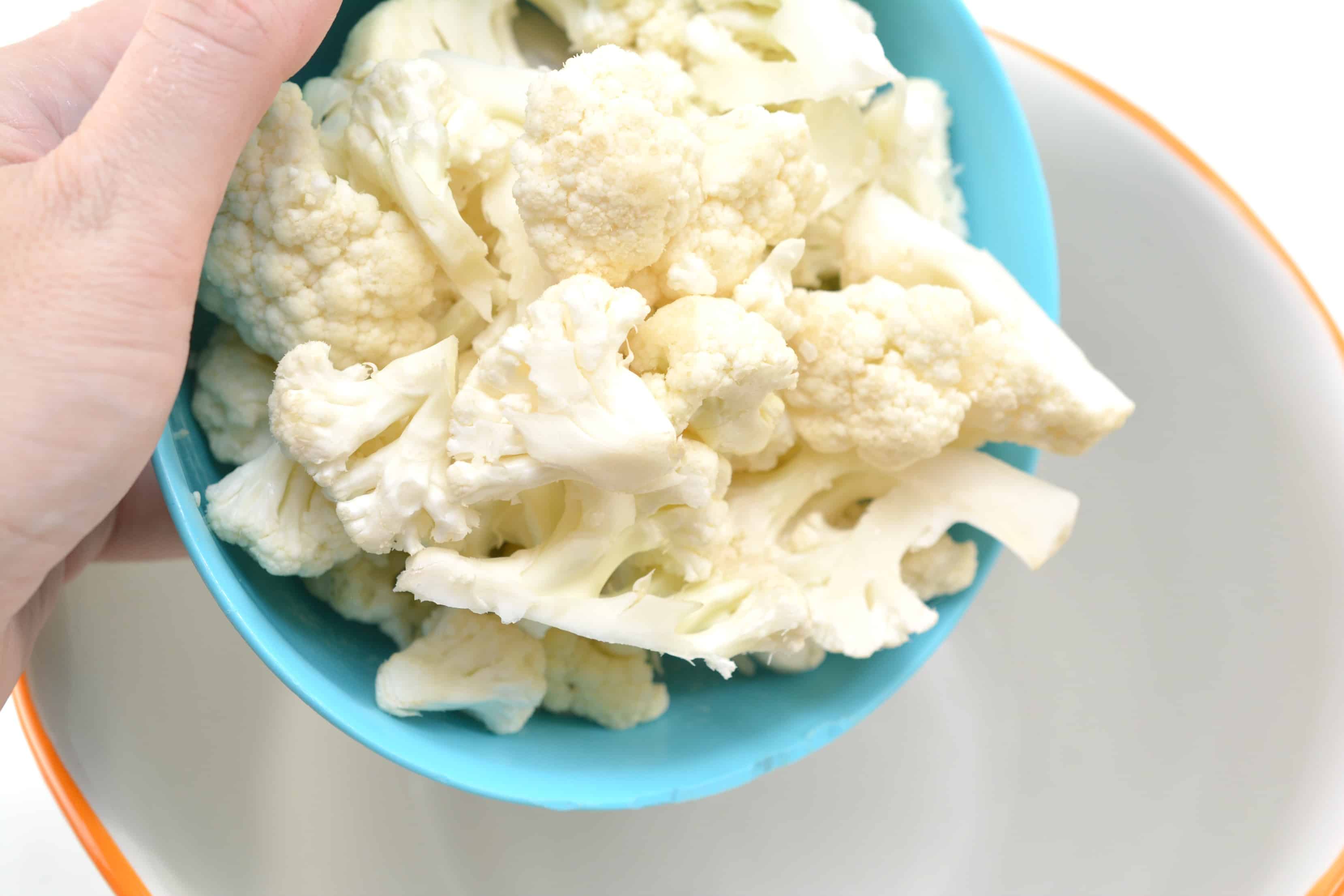 Cut broccoli and cauliflower into florets.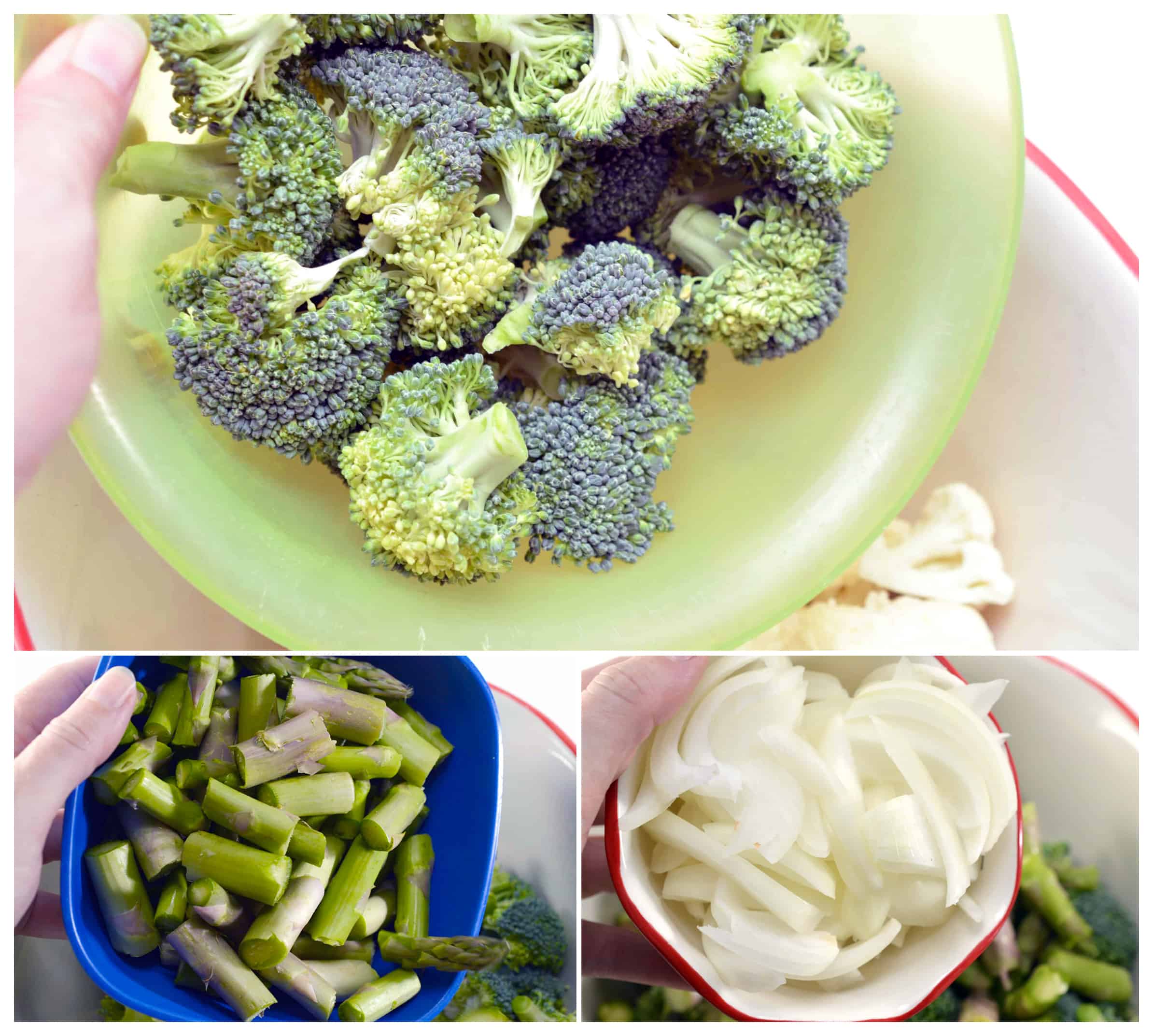 Cut all veggies into bite-sized pieces. Toss with olive oil and season with salt and pepper.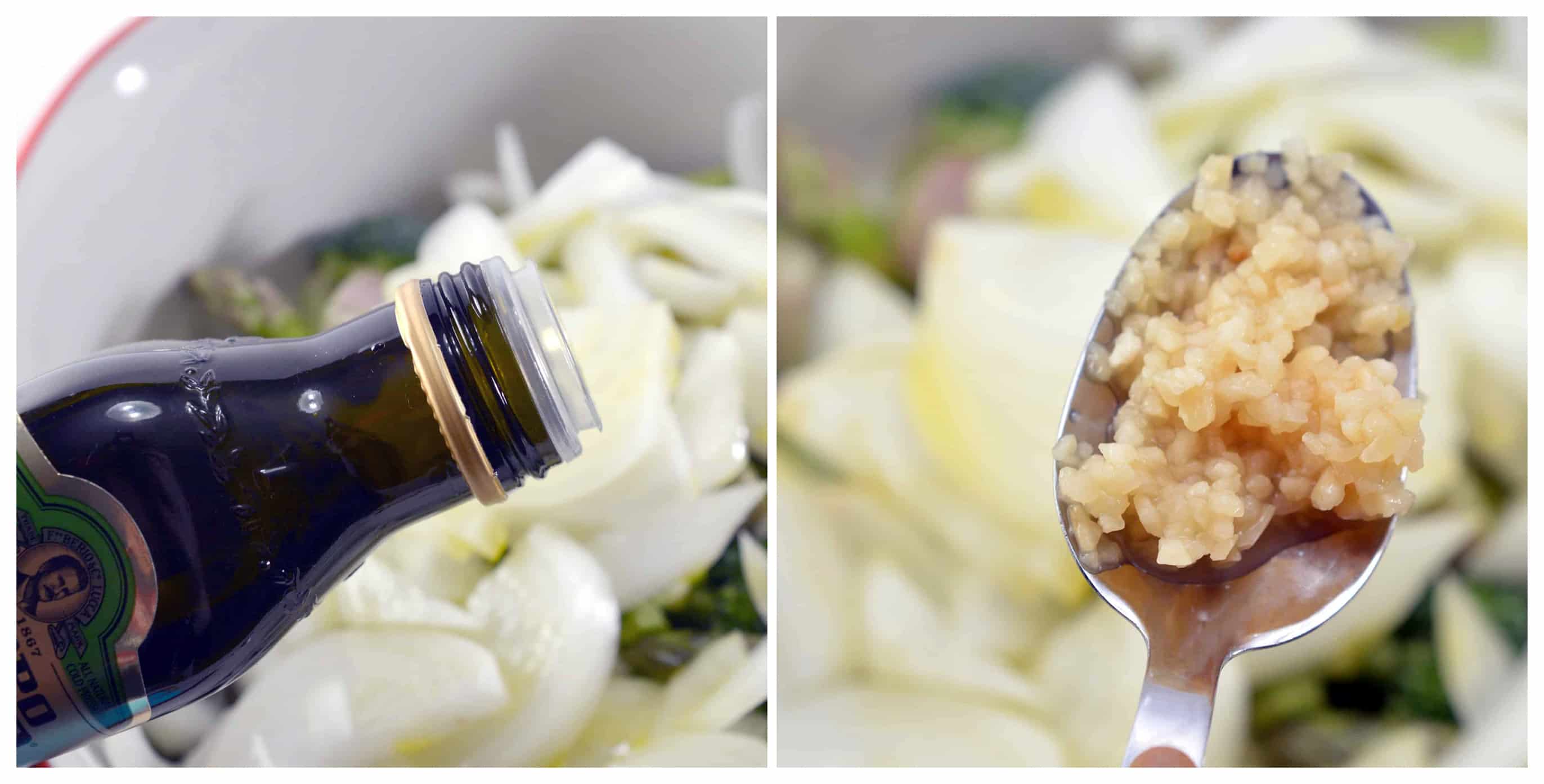 Add garlic to the mixture.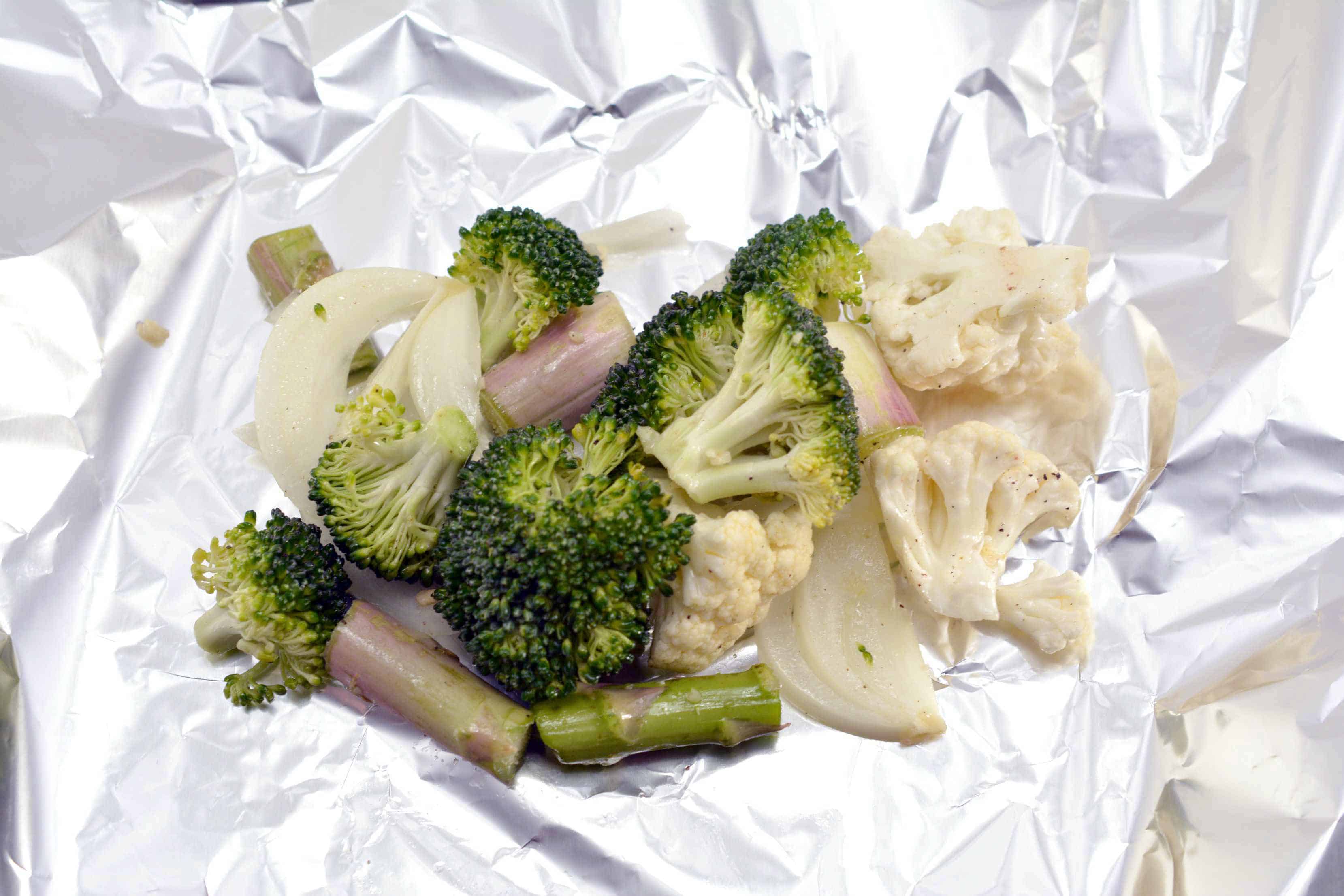 Spoon veggies into the foil packets.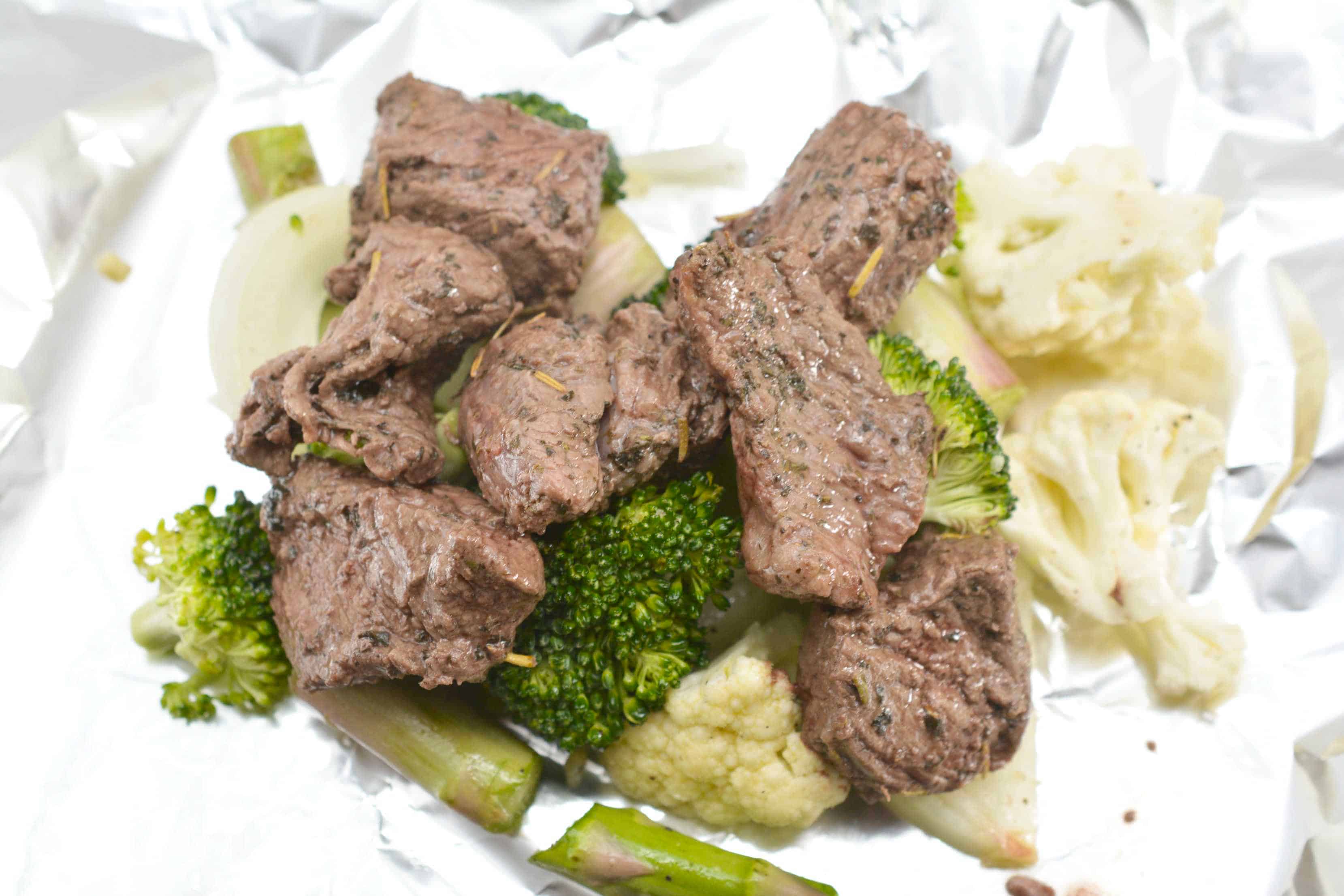 Add seared steak on top of veggies. Wrap foil packet, leaving room for air. Bake. Serve hot.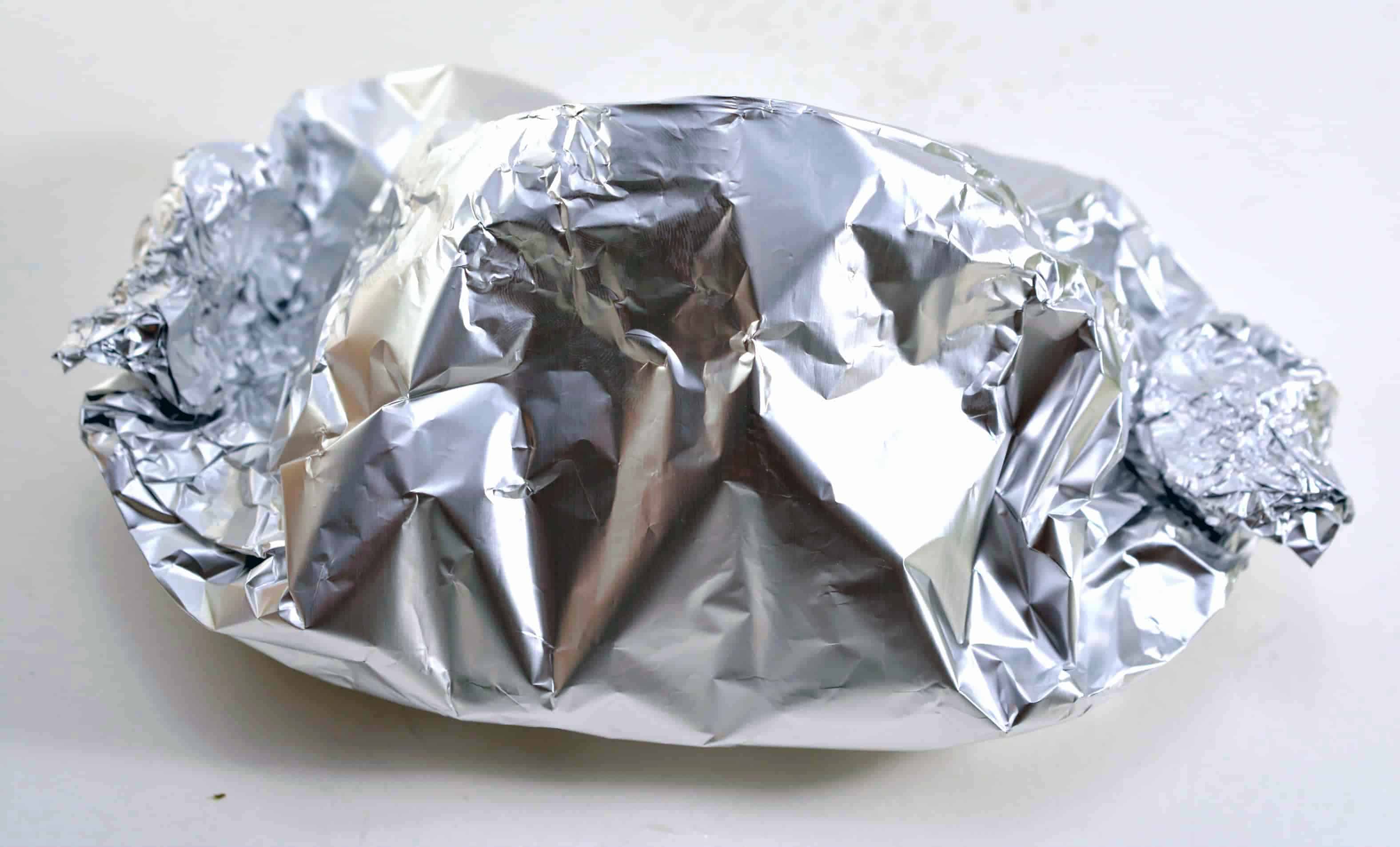 Enjoy!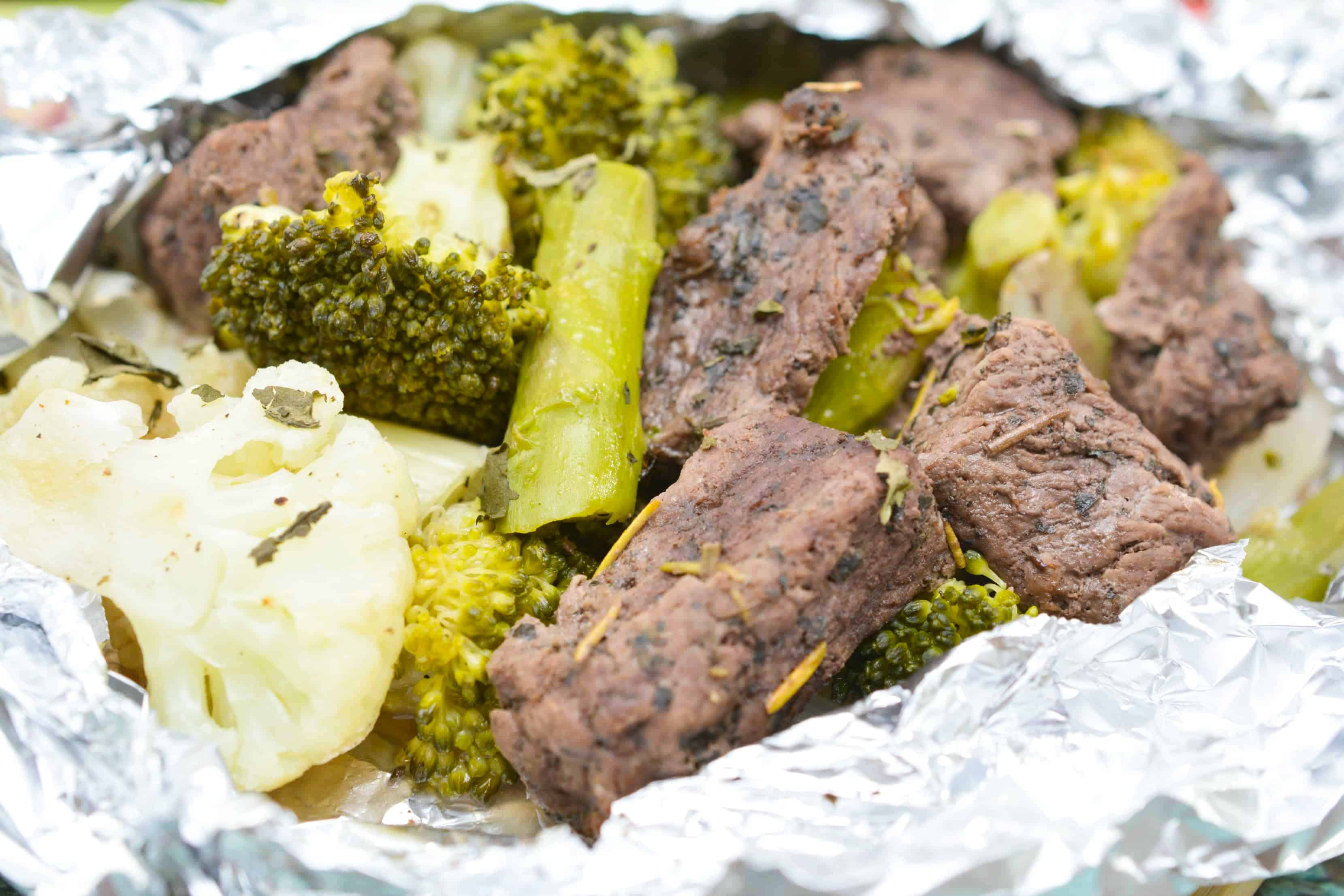 One note about making the foil packets – don't roll them tightly. You want there to be extra room to allow the veggies to steam while cooking.
Now, remember to save this recipe on Pinterest for later 🙂

Pin this recipe now to remember it later
Garlic Butter Steak Foil Packets
Looking for an easy keto dinner idea? This is a foil packet recipe featuring top sirloin steak with garlic and butter. Easy to make and absolutely delicious, you need to try this recipe!
Ingredients
2

lbs.

Top sirloin steak cut into bite sized pieces

12

Spears of asparagus cut into bite sized pieces
Want to save this recipe? Enter your email below and we'll send the recipe straight to your inbox!
NOTE: By saving this recipe, you agree to join our weekly recipes newsletter.
Instructions
Preheat the oven to 400 degrees.

Prep your meat and vegetables. Cut the florets off of the heads of cauliflower and broccoli, and cut the asparagus spears into bite sized pieces. You want to use fresh vegetables and not frozen. Cut the sirloin steak into bite sized pieces as well.

Place the sirloin steak pieces into a mixing bowl, and add in the rosemary, basil and thyme.

Mix in salt and pepper to taste, and toss the meat well to incorporate the seasoning.

Heat 1 tablespoon of oil in a skillet over medium-high heat. Once hot, add in the sirloin steak in a single layer, and quickly sear it on all sides. Remove it from the heat.

In a large mixing bowl, combine the cauliflower, broccoli, asparagus, and onion.

Pour a tablespoon of olive oil over the vegetables, and add salt and pepper to taste. Mix the vegetables together to coat them all well.

Place a large sheet of aluminum foil onto a flat surface. Place a handful or two of the vegetables onto the center of the foil.

Top the vegetables with some of the seared meat. Top with more salt and pepper to taste if desired.

Fold the two horizontal sides of the aluminum foil up, and roll them closed a few times at the top. Fold in the side of the foil to form a closed packet. This will allow your meal to steam when in the oven.

Leave some room for air in the packets, to not roll them too tightly.

Repeat steps 8-10 with the remaining packets, until you have six packets completed.

Bake for 15-20 minutes, remove the packets from the oven, open and serve.
Notes
One note about making the foil packets - don't roll them tightly. You want there to be extra room to allow the veggies to steam while cooking.
Nutrition
Follow me on Pinterest for daily delicious recipes!
Make sure you check My best Recipes:
Instant Pot Turkey Noodle Soup With Vegetables – Looking for some fantastically delicious comfort food that's easy to make? Then you are in luck because this turkey noodle soup is outstanding! It's full of soothing ingredients, takes minimal effort to create, and friends and family can't resist it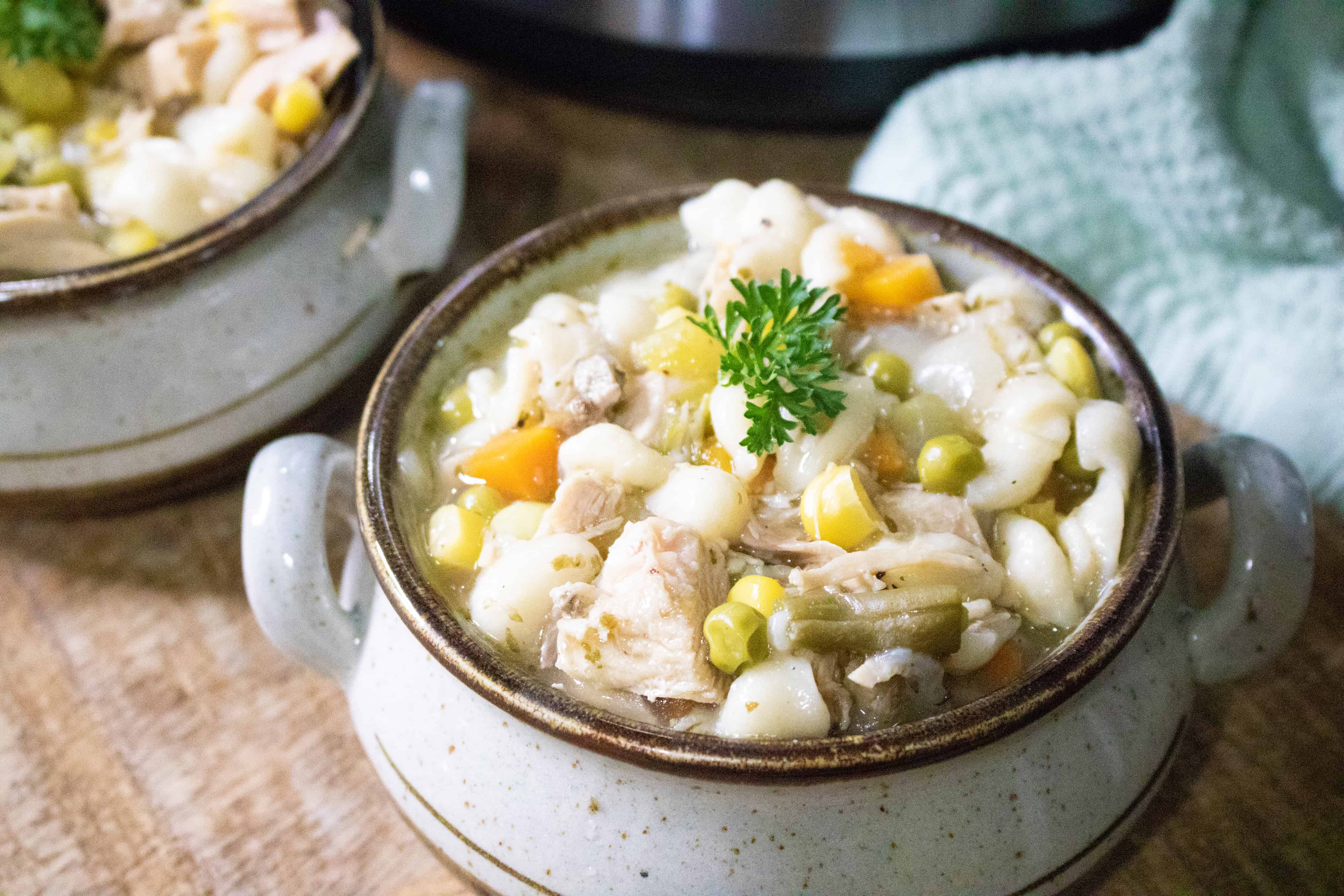 Meatballs and Potatoes Soup – This Meatball and Potato Soup will not only become one of your go-to hearty soup recipes for chilly nights but one of your favorite easy healthy soup recipes!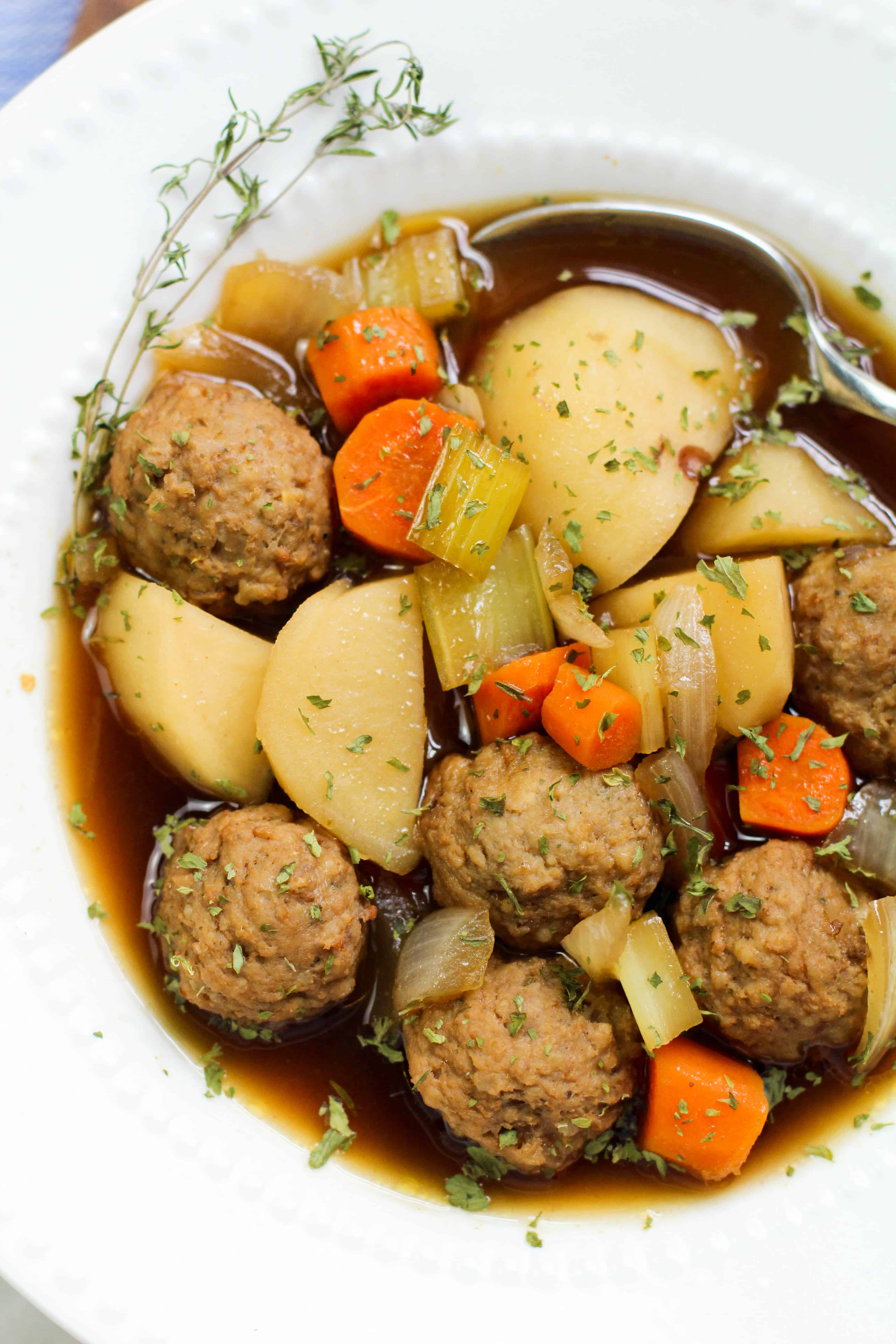 Weight Loss Vegetable Soup – Whether you're trying to lose a few pounds after the holidays or just want to give your body a healthy jumpstart, this Weight Loss Vegetable Soup is for you. Similar to the famous weight loss cabbage soup, this is a low-calorie soup for weight loss that can help you shed a few pounds when eaten daily.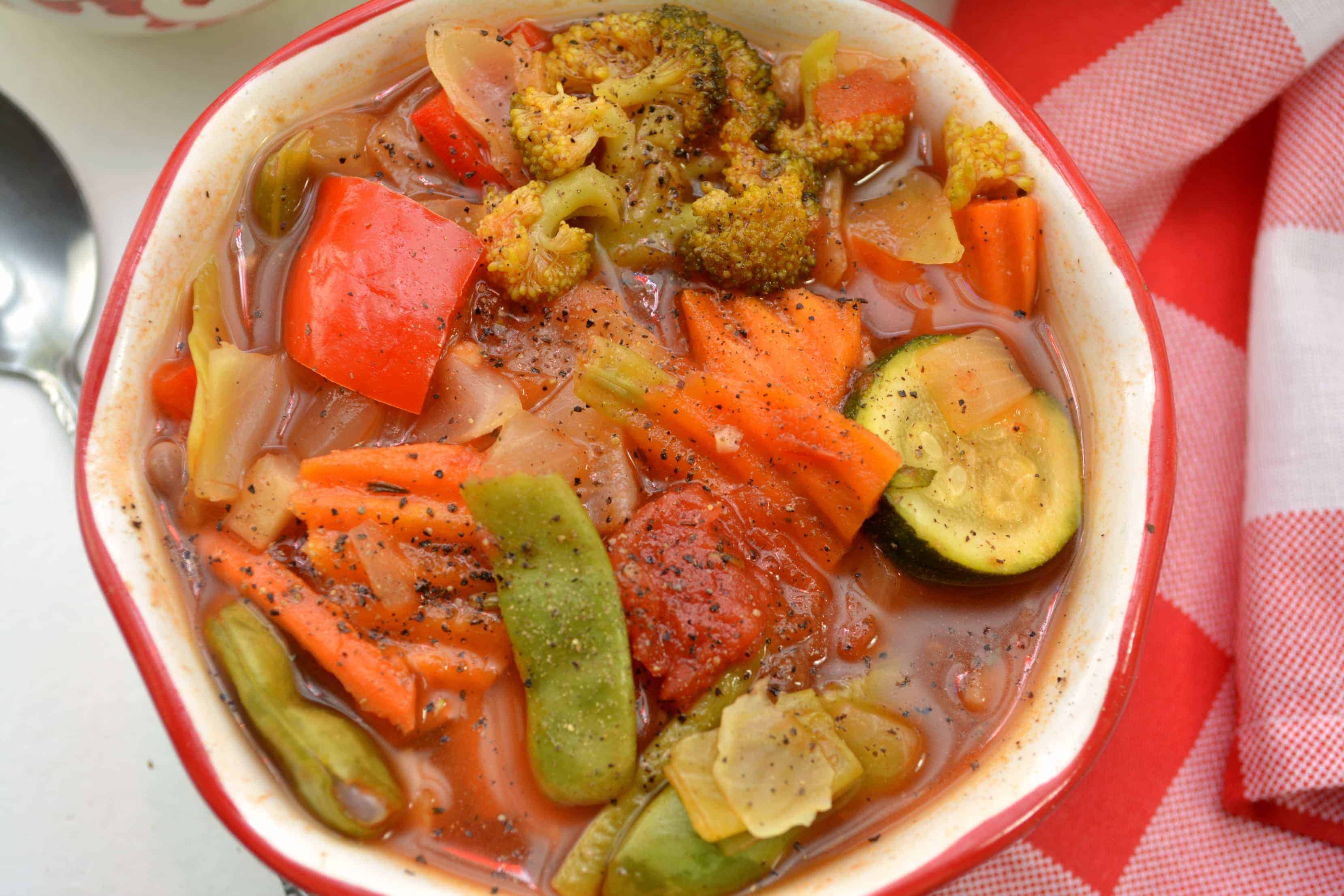 Instant Pot Smoked Sausage And Bean Soup – Oh, the amazing flavors in this Instant Pot smoked sausage and bean soup is out of this world. Perfectly smokey sausage with protein-packed beans is the hearty meal you are looking for.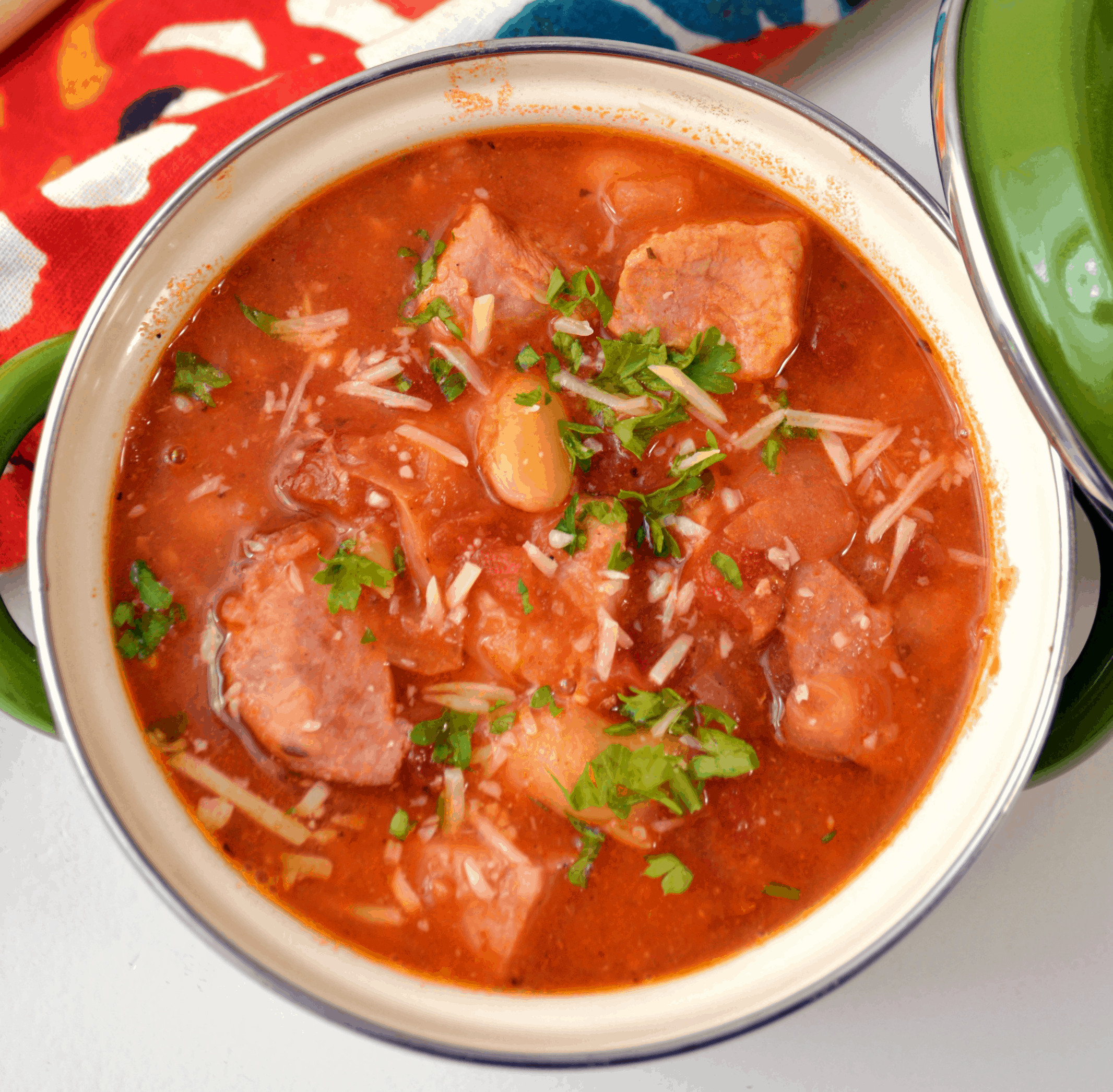 Potato Soup – This slow cooker potato soup is the best crockpot potato soup you will ever make! It's loaded with cheese for a deliciously creamy and filling slow cooker baked potato soup.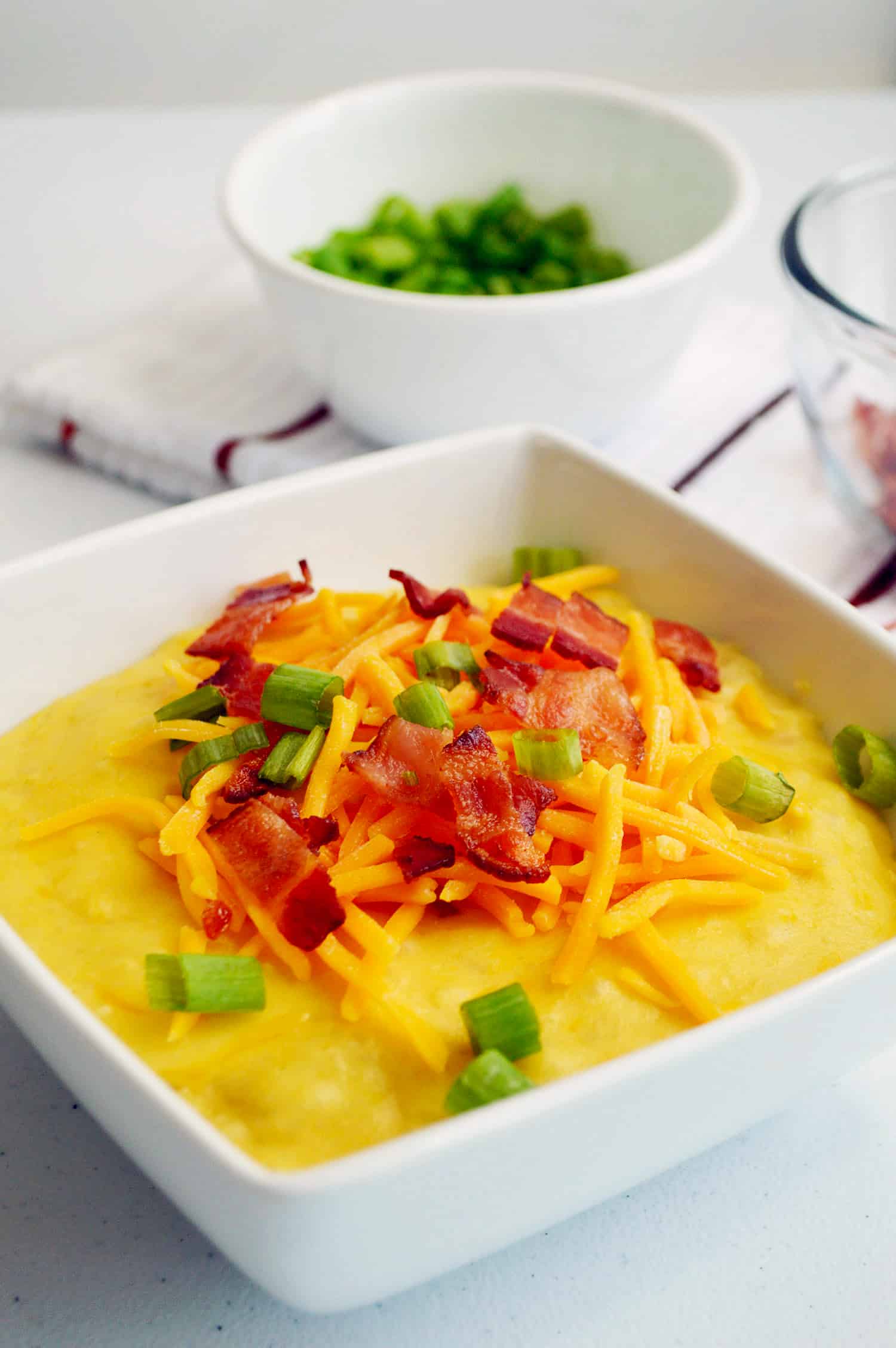 Easy Beef Stew – This Easy Beef Stew recipe is the ultimate easy comfort food dinner for cold weather. It's a beef stew with frozen vegetables which makes it one of the easiest homemade beef stew recipe you'll find. Easy stew recipes are a winter staple for many, and this beef stew is a crowd-pleaser.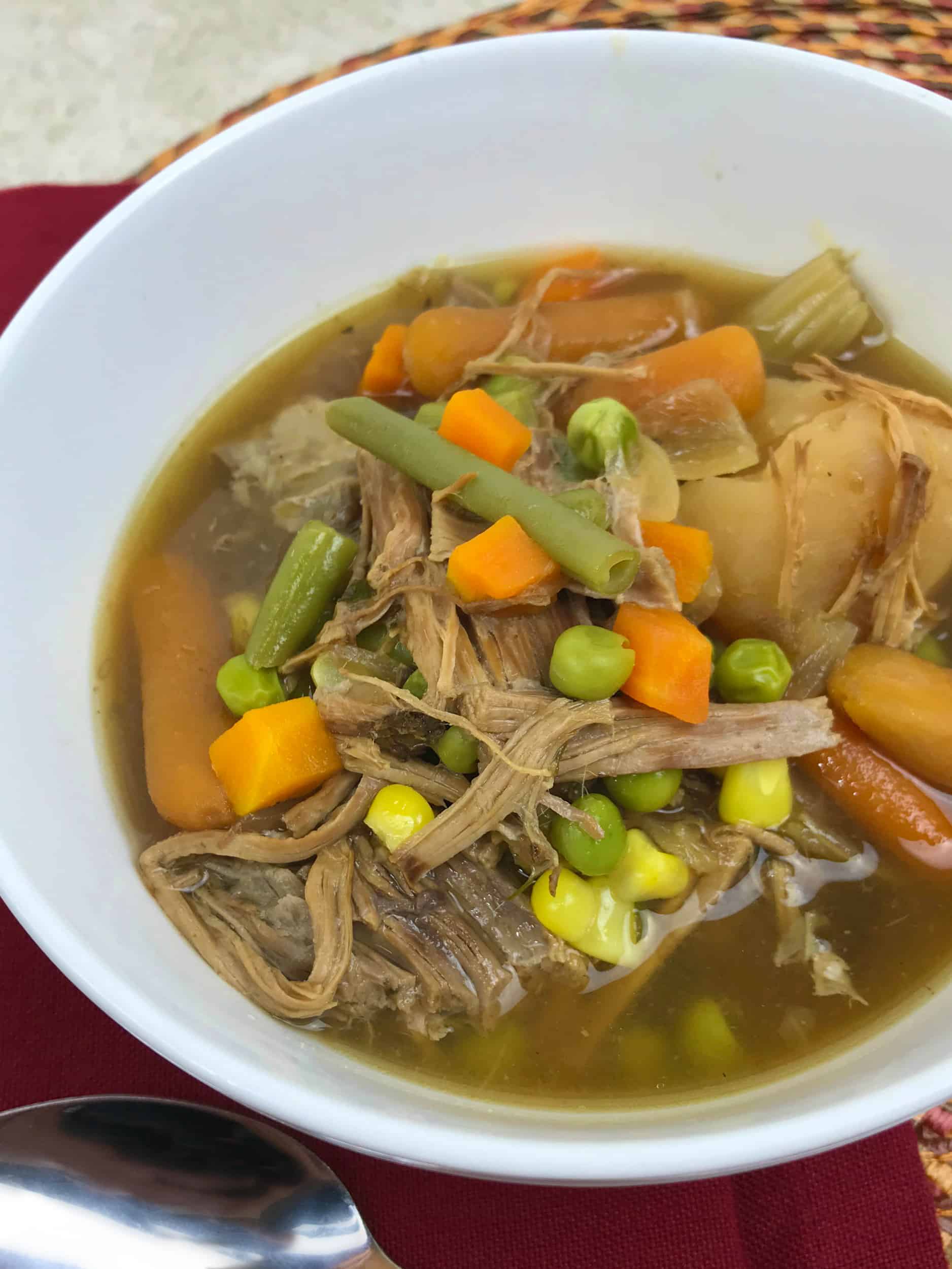 Instant Pot Chicken Noodle Soup – Instant Pot Chicken Noodle Soup is the easiest, most flavorful chicken noodle soup you'll ever make! With this chicken noodle soup Instant Pot recipe, there's no need to wait hours for a savory soup.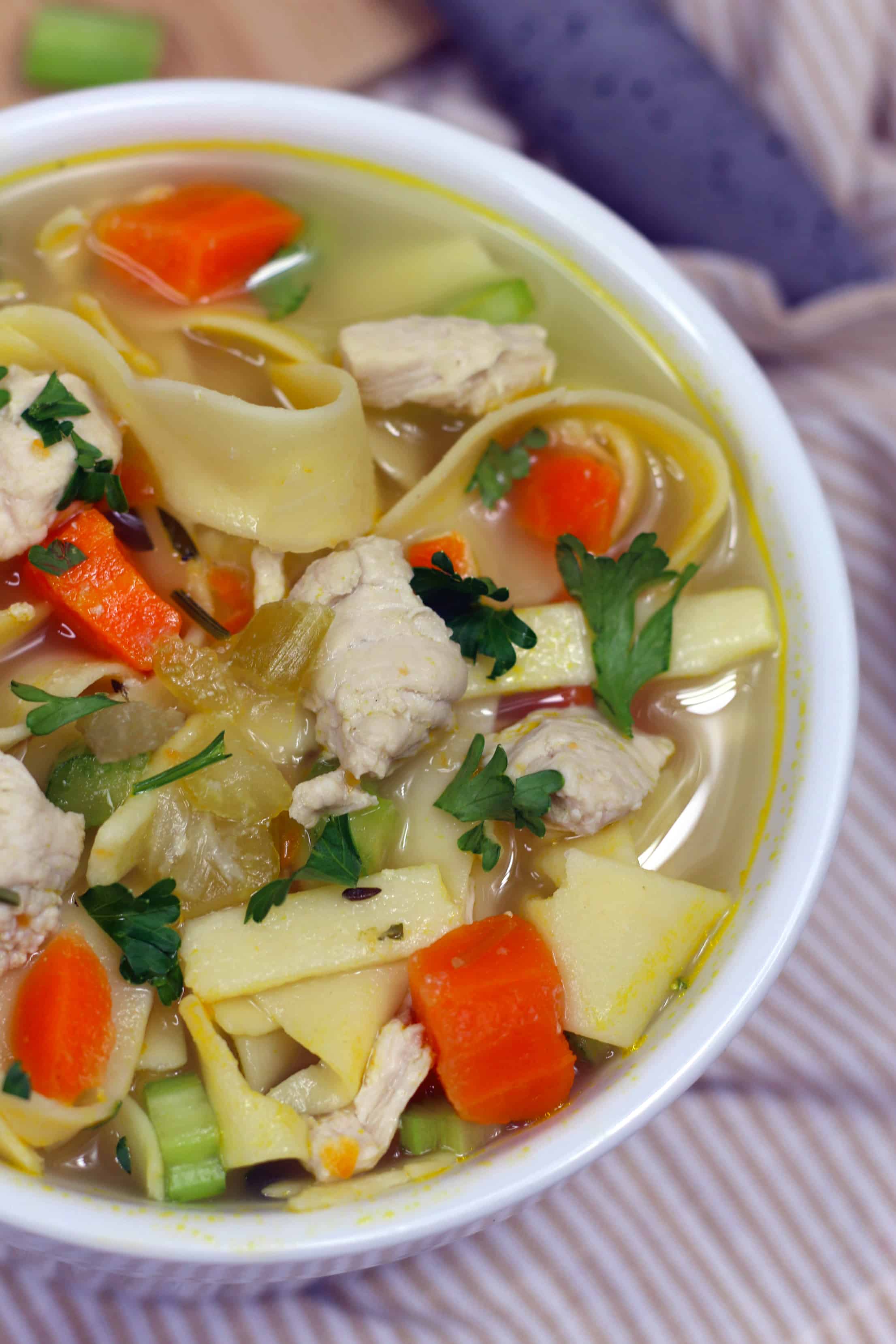 Get new recipes weekly plus our FREE ebook!