This Homemade Hot Spinach Artichoke Dip Recipe is better than you can get in any diner or restaurant! It's creamy, packed full of spinach and artichokes, and an effortless recipe to make. The best part is that this is one of the best spinach artichoke dip recipes, and you can make it yourself for less than buying it at a restaurant.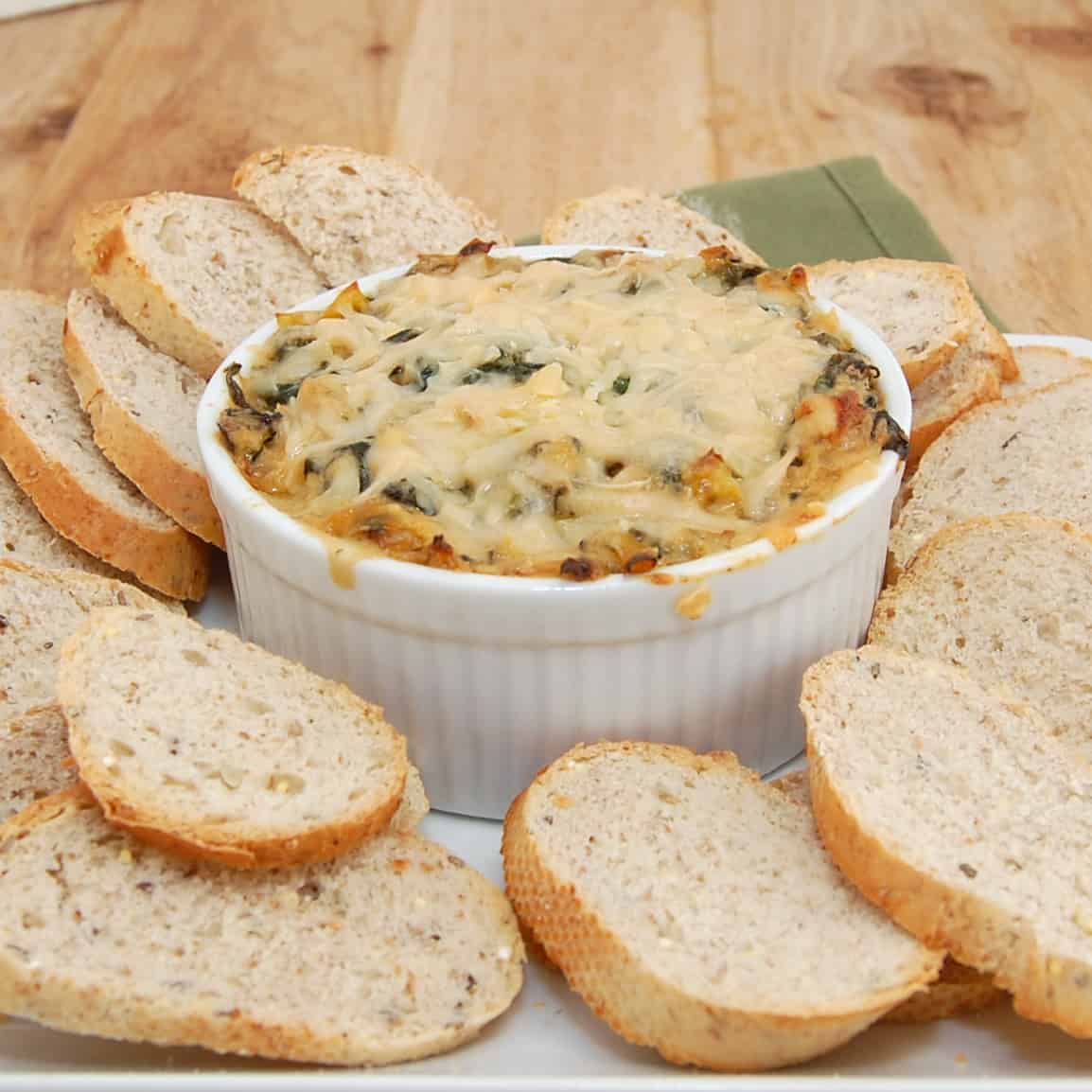 Scroll to bottom for printable recipe card.
Homemade Hot Spinach Artichoke Dip Recipe
11 ingredients and around 40 minutes, and you can be munching on this homemade spinach dip. I know a lot of recipes have cream cheese in them, but this easy spinach dip doesn't have any. It's all about preference, and I feel this is the best artichoke dip without any cream cheese.
Make this dip whenever you have dinner guests over, celebrating birthdays, or when you want a fun appetizer to start your dinner. Even if you don't especially care for spinach or artichokes, you will still enjoy this dip. I mean it's a dip, so it has to be amazing…right?
Hot Spinach Artichoke Dip Ingredients
Most of the ingredients for this baked spinach dip are things you most likely have. Nothing is too strange or difficult to find either. Whip up a batch or two of this easy dip recipe, and everyone is going to gobble up every last drop.
Unsalted butter
Onion
Artichoke hearts
Garlic cloves
All-purpose flour
Half-and-half
Parmesan cheese, divided
Lemon juice
Hot sauce
Salt
Frozen chopped spinach
How To Make Homemade Spinach Dip
This hot spinach dip is so good I could eat it by the truckload. It's rich, creamy, and flavorful. Plus, I know I am getting some nutrients in every bite too, so it's a win all around.
First Step: Warm the oven up to 450 degrees F.
Second Step: Melt the butter in a saucepan over medium-high heat. Add in the chopped onion and cook until it's softened, which takes about 5 minutes. Mix in the artichokes and cook for 5 additional minutes until they have browned lightly. Add in the garlic and cook for around 30 seconds or until it's fragrant. Put the artichoke mixture in a bowl and set aside.
Third Step: Put the remaining butter in the saucepan and heat it over medium heat. Mix in the flour and cook until it's golden brown for about 1 minute. Whisk in the half-and-half slowly, 1 1/4 cups of parmesan cheese, lemon juice, hot sauce, and the salt. Reduce the heat, so it's medium-low and simmer until it has thickened up for about 3 minutes. Remove the cheese mixture from the heat and add in the spinach and artichoke mixture stirring to mix.
Fourth Step: Using a 1-quart baking dish, pour the dip into it and top with any remaining cheese. Bake in the oven for 15 minutes until the top is golden brown and bubbly. Cool for 5 minutes then serve.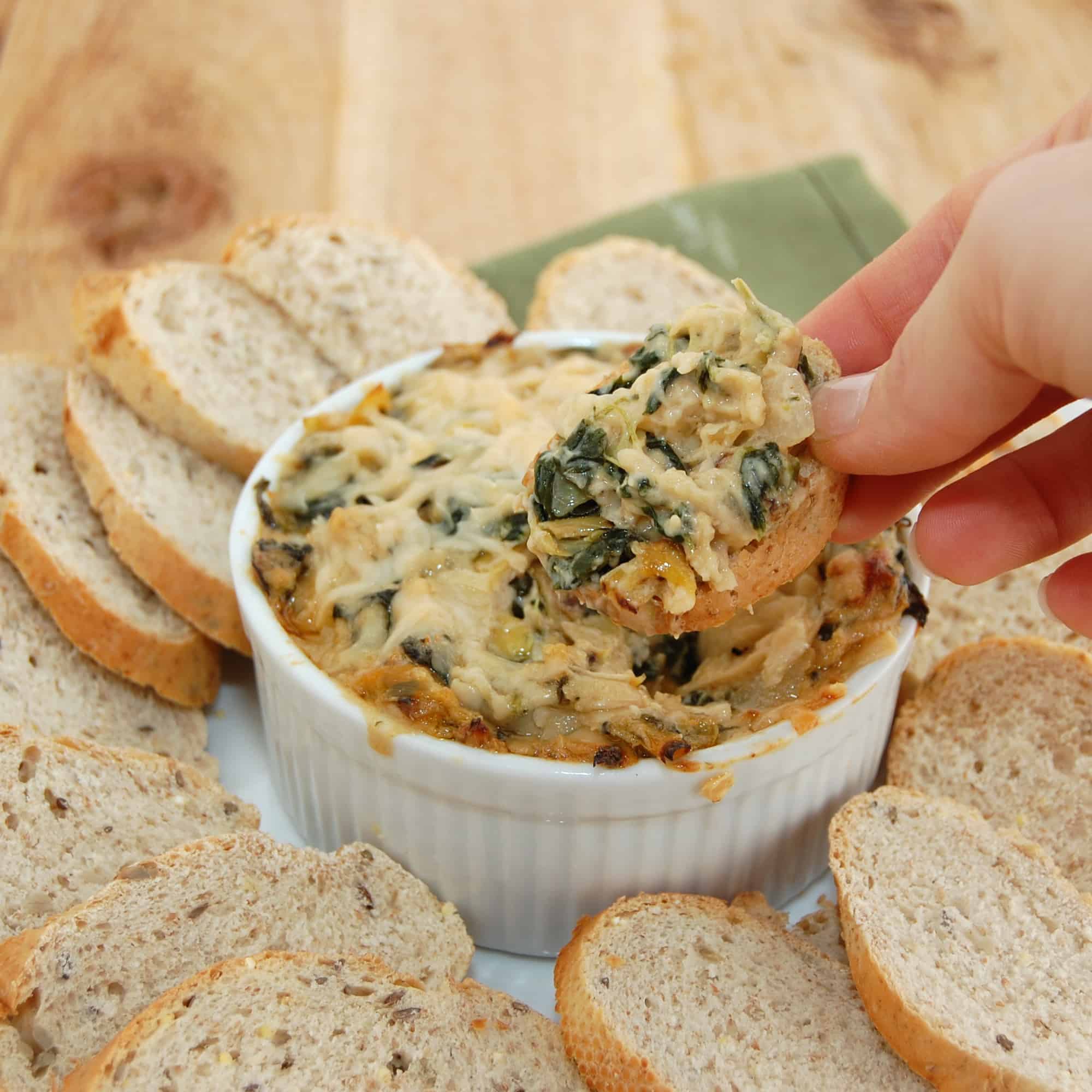 Artichoke Dip Variations
I can eat this dip with a spoon and never get tired of it. However, sometimes I do add in some extra ingredients to give it even more flavor. Try some of these ideas:
Bacon – Cook some bacon so that it's crisp, then crumble it and mix it in right before baking or sprinkle the pieces on top. Bacon makes everything taste even better.
Green Onions – Either before baking or right after you remove it from the oven, sprinkle some green onions on top. It adds some bright green color and tastes great too.
Sun-Dried Tomatoes – I love the flavor of sun-dried tomatoes, and they go beautifully with this artichoke dip. Mix some in and see what you think.
Cheddar Cheese – Sprinkle some cheddar cheese in the dip mixture as well as on top for something different. It's a great flavor and enhances the dish.
What Do You Serve With Spinach Dip?
The great thing about this artichoke dip is that you can serve it with a variety of items. And all of them are scrumptious when dipped in this tasty dip! Here are some of the things we have tried over the years:
Bread – Cut up a loaf of bread and dip the slices into the spinach artichoke dip. It's terrific and is super filling too.
Pretzels – I prefer those big pretzel rods or pretzel breadsticks. They are fantastic with the dip and make it pretty easy to eat too.
Tortilla Chips – We can never get enough tortilla chips and this spinach dip. This is what my taste buds crave regularly.
Veggies – This is a wonderful option if you are cutting back on eating as much bread! Vegetables are lovely with this dip.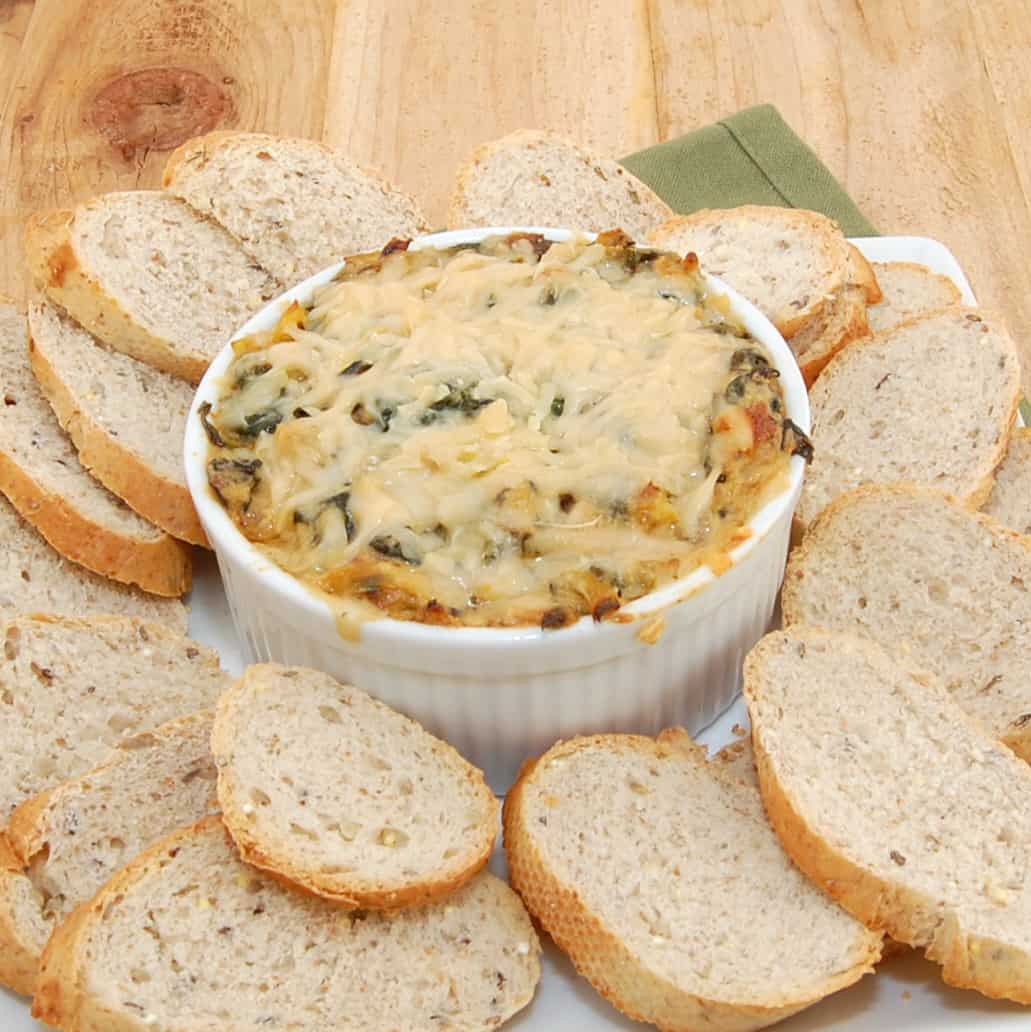 How Do You Store Spinach Artichoke Dip?
You should always let the spinach artichoke dip cool before putting it away. Keep it in a sealed container in your refrigerator, and it will last around 3 or 4 days.
If you happen to notice it seems too watery or it smells strange, it may be going bad. Keep a lookout for mold or other signs that it's started to spoil.
Reheat the dip in the oven by preheating it to 375 degrees F. Once the oven is hot, place the dip in an oven-safe dish or bowl and heat up until it's all the way, then serve.
Can You Freeze Hot Spinach Artichoke Dip?
Yes, technically, you can freeze hot spinach dip; however, it doesn't reheat or age very well. It tends to get very watery due to the spinach breaking down and makes it hard to warm up. Keep in mind if you do decide to freeze it that it will not taste near as good as it does fresh.
While you are looking, you should see some of our other popular appetizer recipes. Each one is going to make you drool!
Now, remember to save this recipe on Pinterest for later 🙂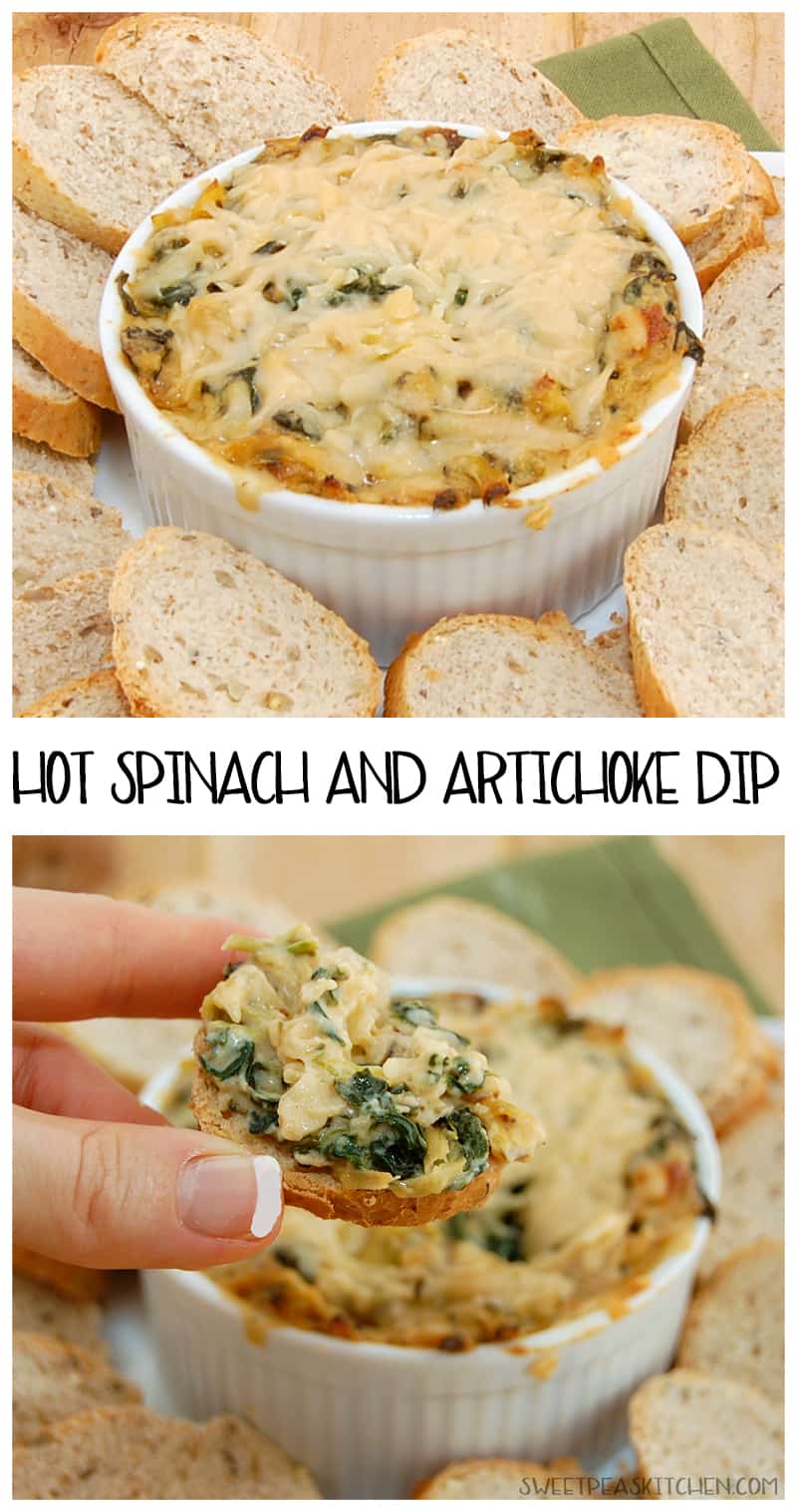 Pin this recipe now to remember it later
Homemade Hot Spinach Artichoke Dip Recipe
This Homemade Hot Spinach Artichoke Dip Recipe is better than you can get in any diner or restaurant! It's creamy, packed full of spinach and artichokes, and an effortless recipe to make.
Ingredients
4

tablespoons

unsalted butter

,

divided

2

10-ounce jars artichoke hearts, drained, squeezed dry, and chopped

1/4

cup

all-purpose flour

1 1/2

cups

grated Parmesan cheese

,

divided

1

10-ounce box frozen chopped spinach, thawed and squeezed dry
Want to save this recipe? Enter your email below and we'll send the recipe straight to your inbox!
NOTE: By saving this recipe, you agree to join our weekly recipes newsletter.
Instructions
Heat oven to 450 degrees F.

In a large saucepan over medium-high heat melt 2 tablespoons butter. Cook onion until softened, about 5 minutes. Add artichokes and cook until lightly browned, about 5 minutes. Stir in garlic and cook until fragrant, about 30 seconds. Transfer artichoke mixture to a small bowl; set aside.

Melt remaining butter in now empty saucepan over medium heat. Stir in flour and cook until golden, about 1 minute. Slowly whisk in half-and-half, 1 1/4 cups Parmesan, lemon juice, hot sauce, and salt. Reduce heat to medium-low and simmer until thickened, about 3 minutes. Remove from heat and stir in spinach and reserved artichoke mixture.

Transfer to 1-quart baking dish and sprinkle with remaining cheese. Bake until golden brown and bubbling, about 15 minutes. Cool 5 minutes before serving.
Follow me on Pinterest for daily delicious recipes!
Make sure you check my best recipes below:
Pumpkin Caramel Latte Cupcake – With pumpkin and caramel, this cupcake is topped with cinnamon frosting and drizzled with caramel.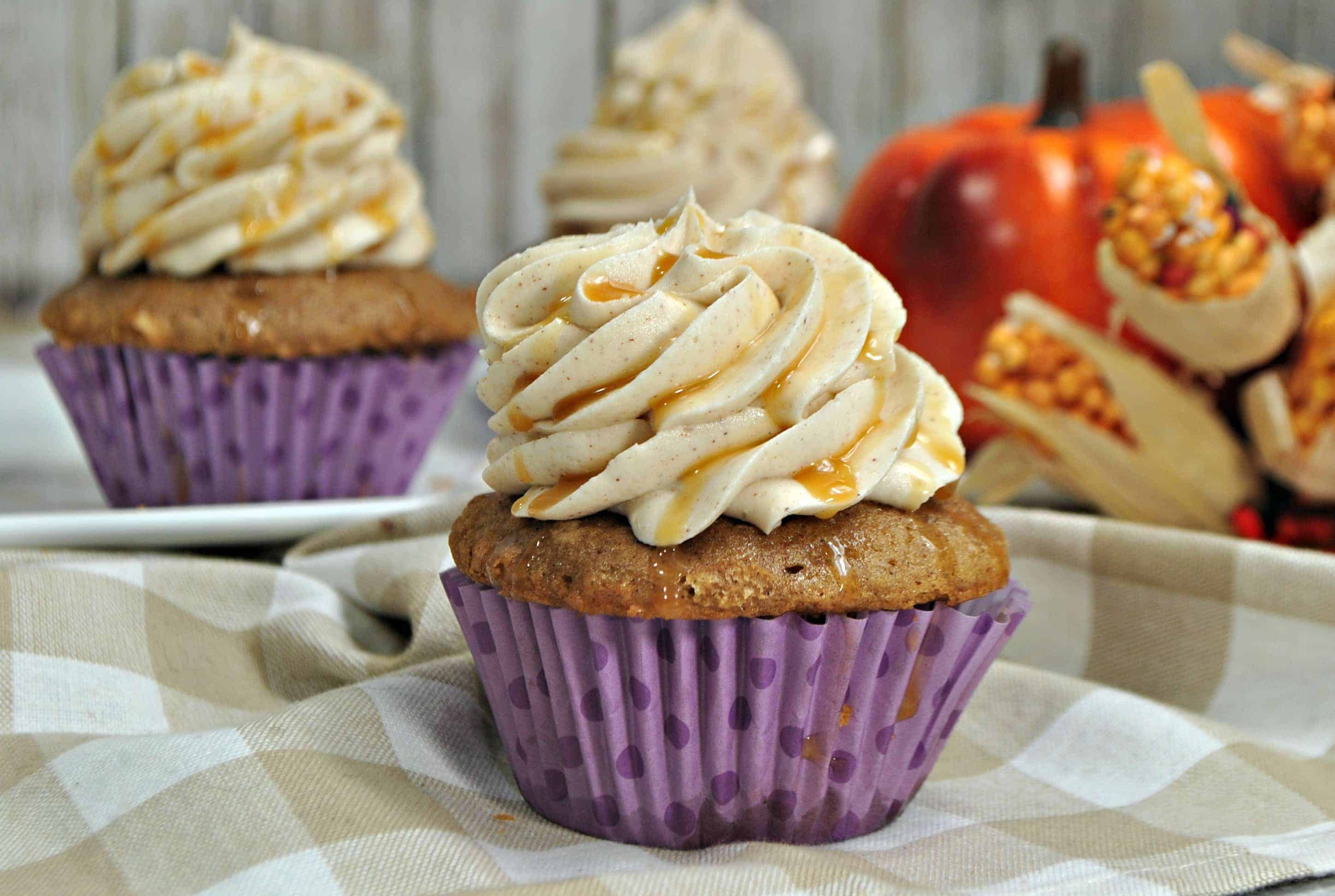 Pumpkin Meringue Pie Recipe – This is a twist on the classic pumpkin pie.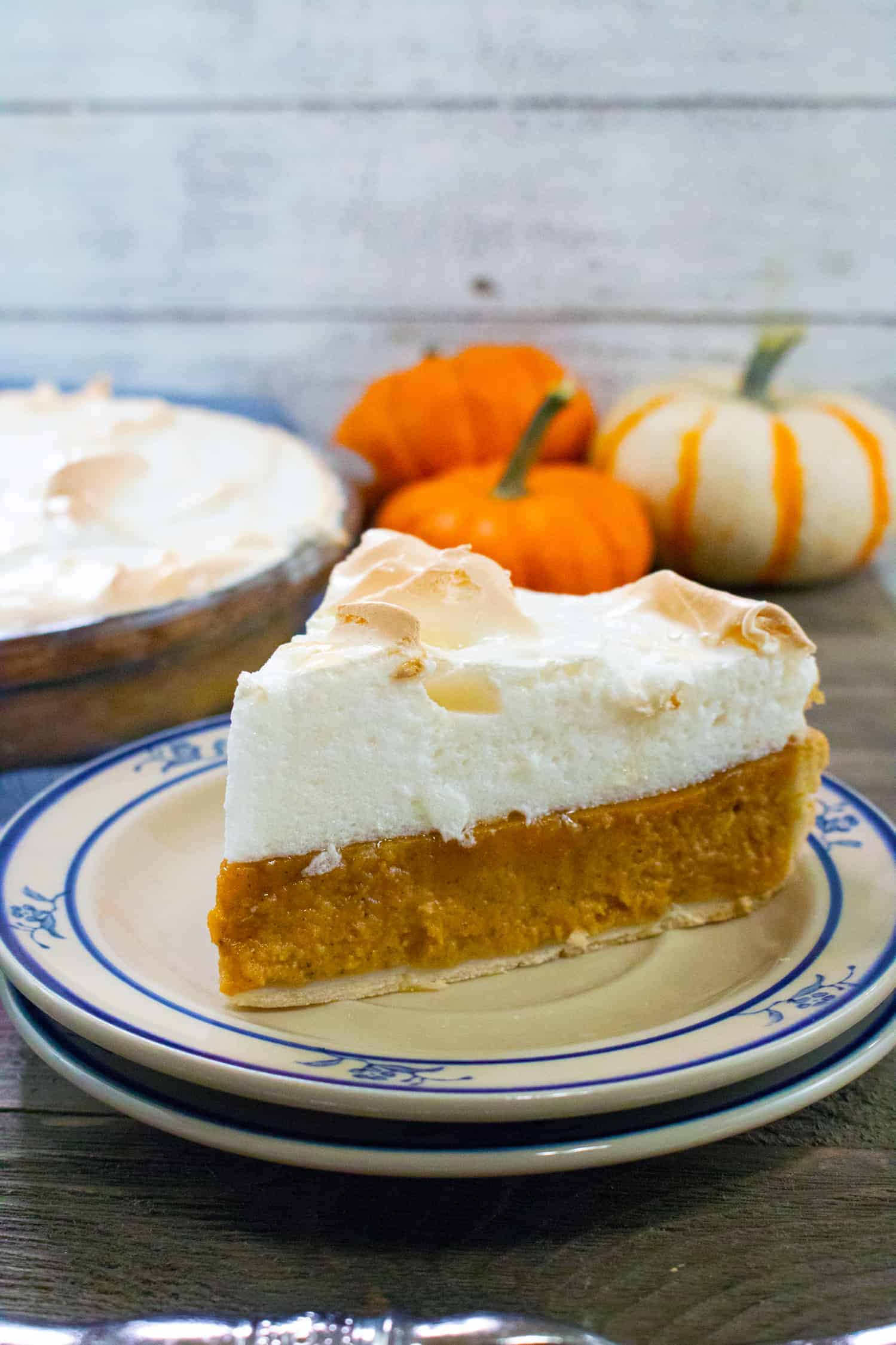 Starbucks Gingerbread Loaf – Don't pay $4 a slice for Starbucks' Gingerbread Loaf. Use this recipe to make Gingerbread Loaf at home anytime the craving hits.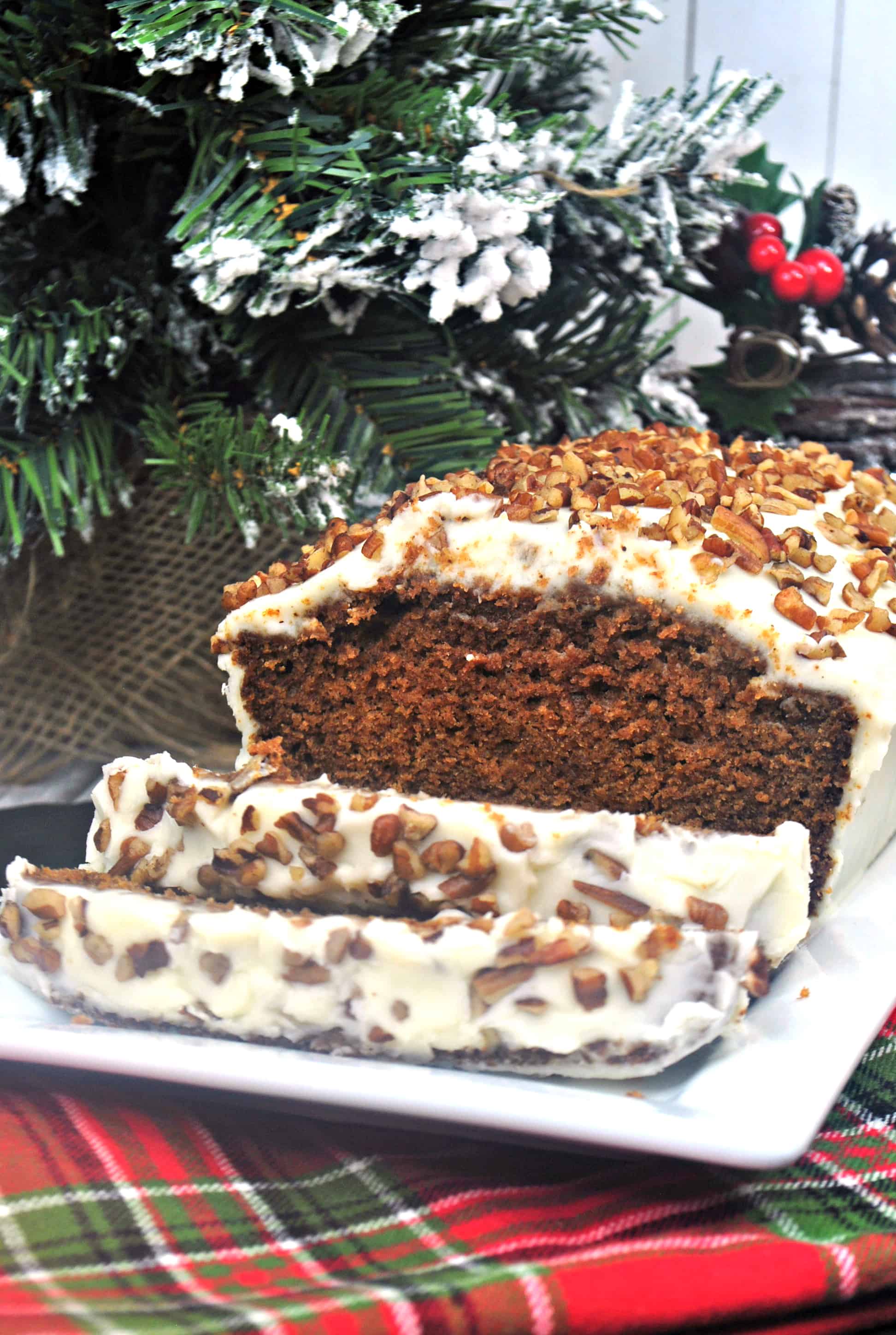 Pumpkin Cream Cheese Bundt Cake – Pumpkin Cream Cheese Bundt Cake is one of my favorite bundt cake recipes and it is perfect for fall.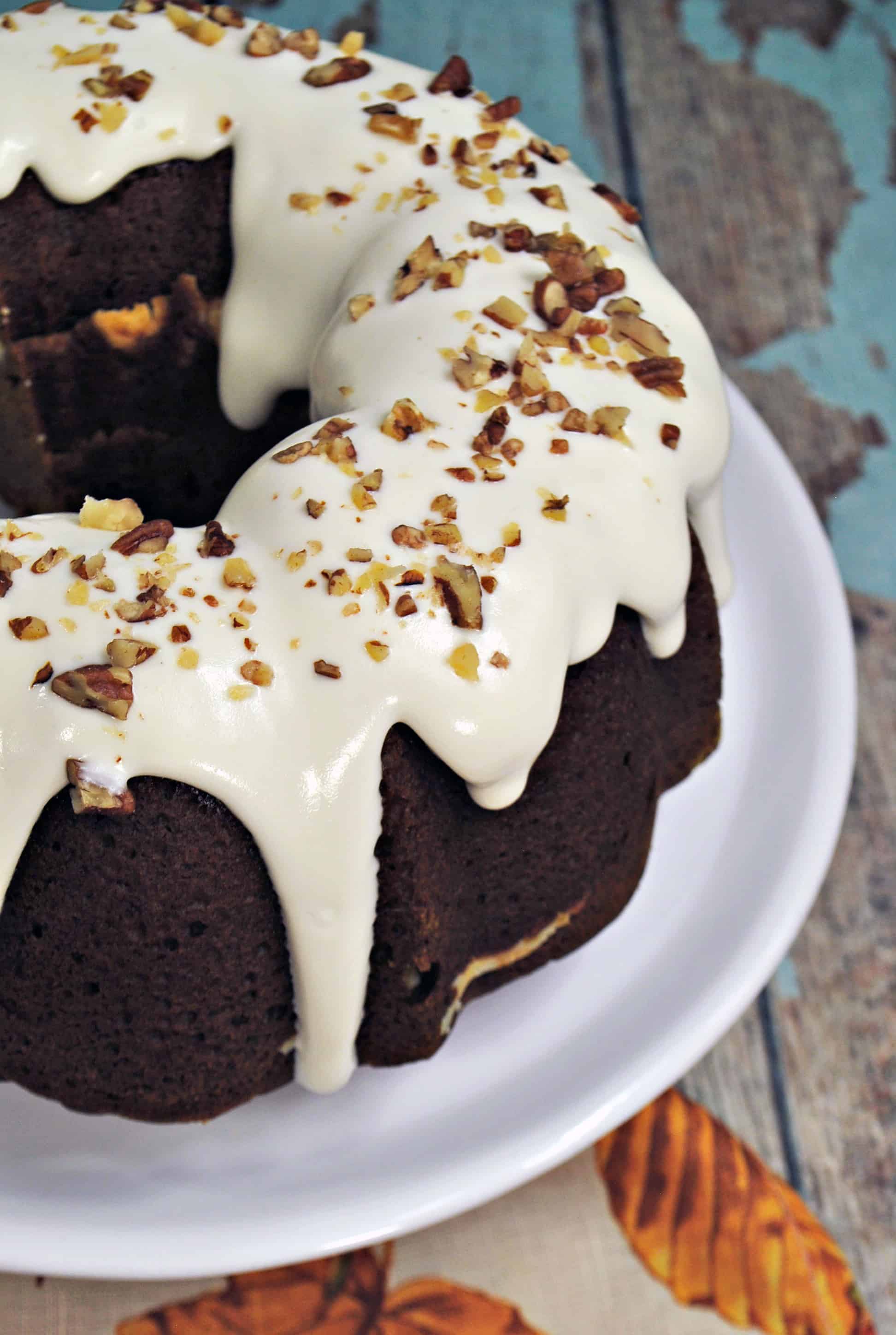 Pumpkin Cheesecake Bars Recipe – Rich and creamy, the bottom of these bars are graham crackers, next comes the pumpkin layer and then on top is the cheesecake layer.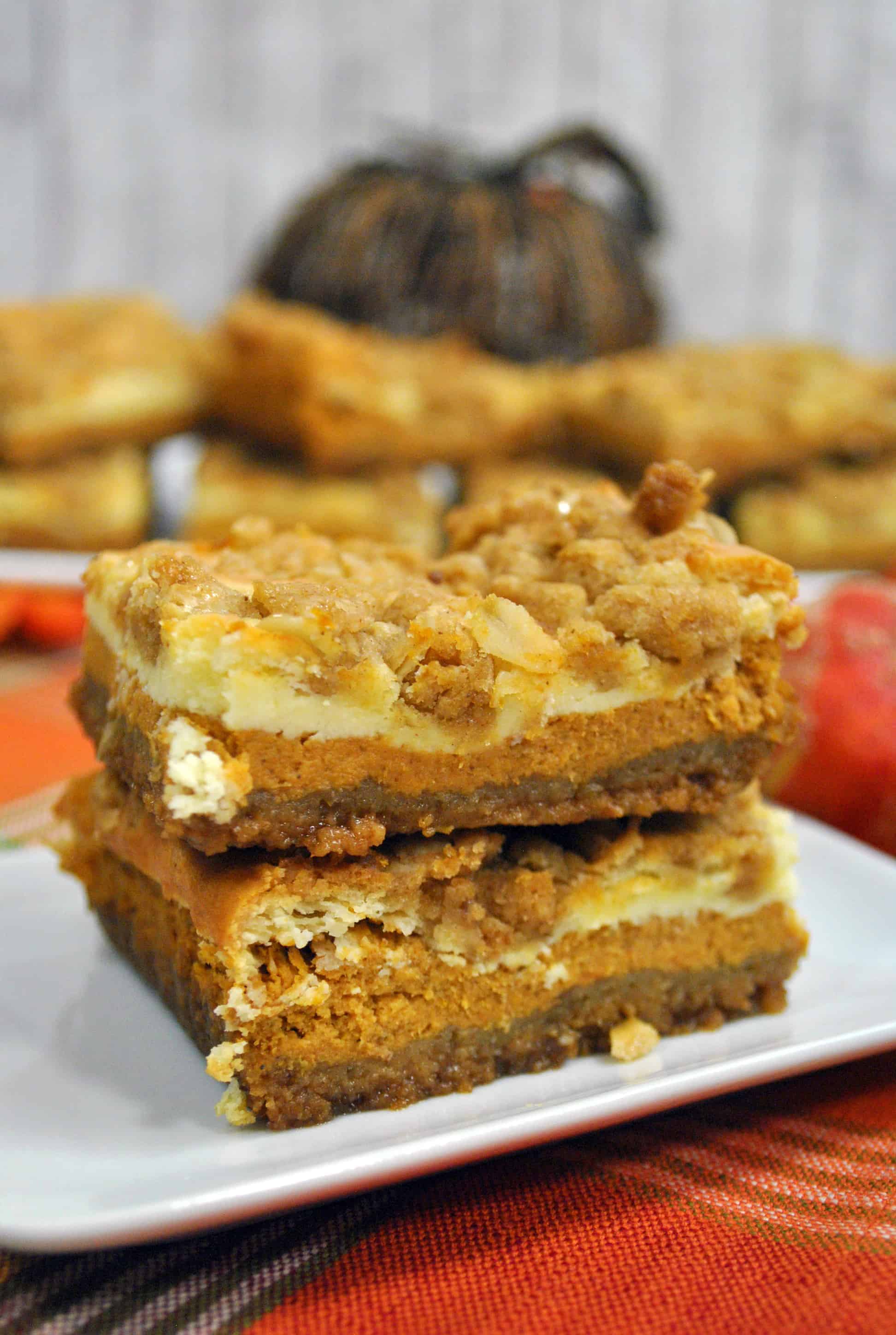 Get new recipes weekly plus our FREE ebook!