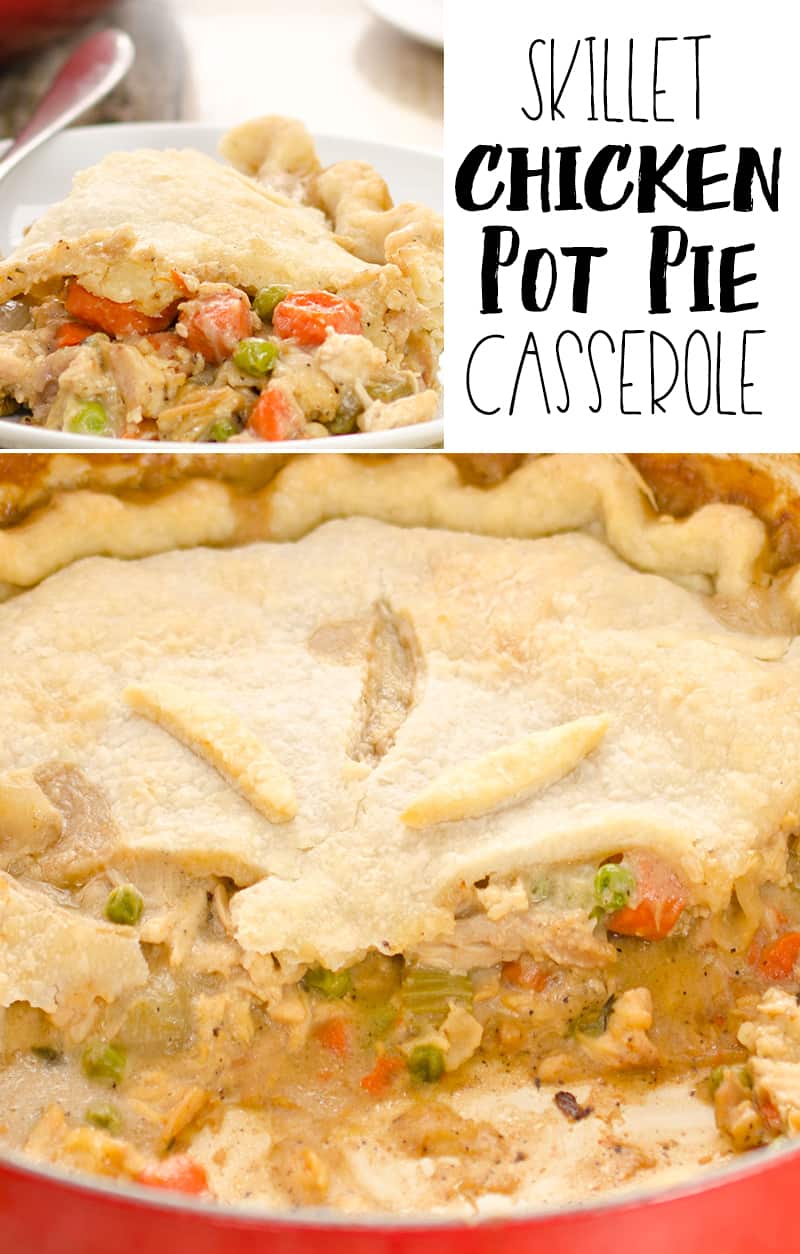 Nothing says cold weather "comfort food" quite like this Chicken Pot Pie Casserole. A hearty pie filled with roasted chicken, savory vegetables, and fresh herbs. Absolute perfection on a cold winter day.
By cooking the chicken and vegetables, building the creamy sauce, and even baking the pie all in the same skillet, every drop of flavor makes it into the final dish.
If you like casseroles, you'll love this chicken and spinach casserole recipe!
Chicken Pot Pie Casserole
This is a perfect warm casserole for fall and winter, but admittedly, I adore this recipe year round. I've been known to make this instead of my Instant Pot chicken noodle soup when I am feeling unwell. The crust soaked in the creamy chicken base just satisfies me when I am both hungry, and not feeling great.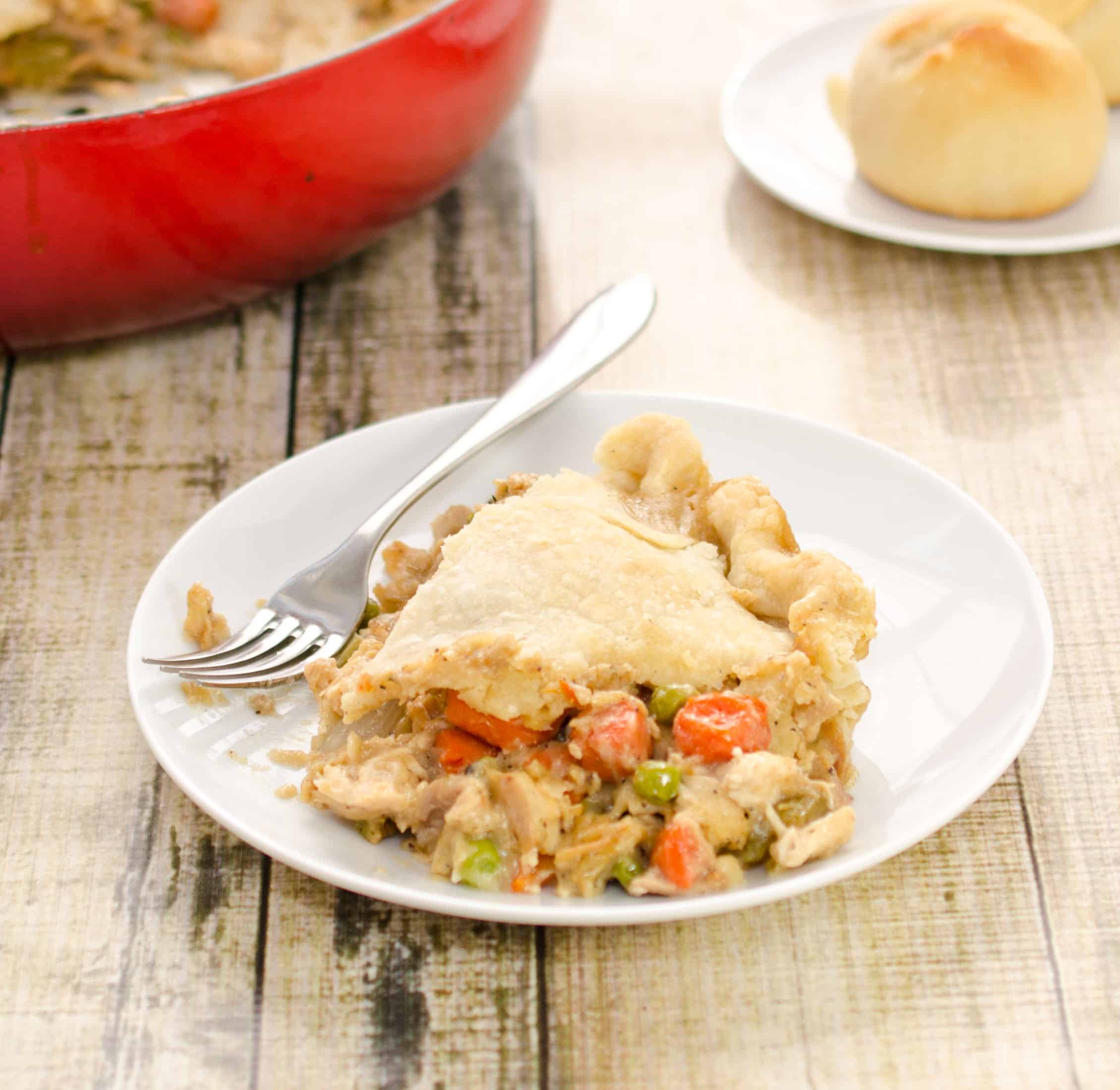 Another reason why I love this recipe is that it is one that is a meal in itself. I don't have to worry about making side dishes or a bread for this meal. A bowl of it is all I need to serve for a complete balanced meal.
What Vegetables Are Best for Chicken Pot Pie?
Traditionally, diced potatoes, carrots, celery, and green peas have been what I see most often in a chicken pot pie casserole. That doesn't mean you can't enjoy tons of other vegetables in a chicken pot pie.
My family has been known to add bits of parsnips or rutabaga inside a pot pie. Diced mushrooms can also be added to the mix for more protein, or even in place of the chicken.
You could even use diced broccoli and cauliflower with a sprinkle of cheddar cheese in the mix for a different version.
Can I Use a Store Bought Pie Crust?
One easy way to lessen your preparation time for this casserole is to use a ready-made pie crust. Of course, homemade is my favorite for any recipe, but when you are in a hurry or feel pressed for time, pie crust can be subbed with one from the store.
Other options that are delicious on top of chicken pot pie casserole is using biscuit dough, or even phyllo dough. All give different textures and end results, but are equally delicious.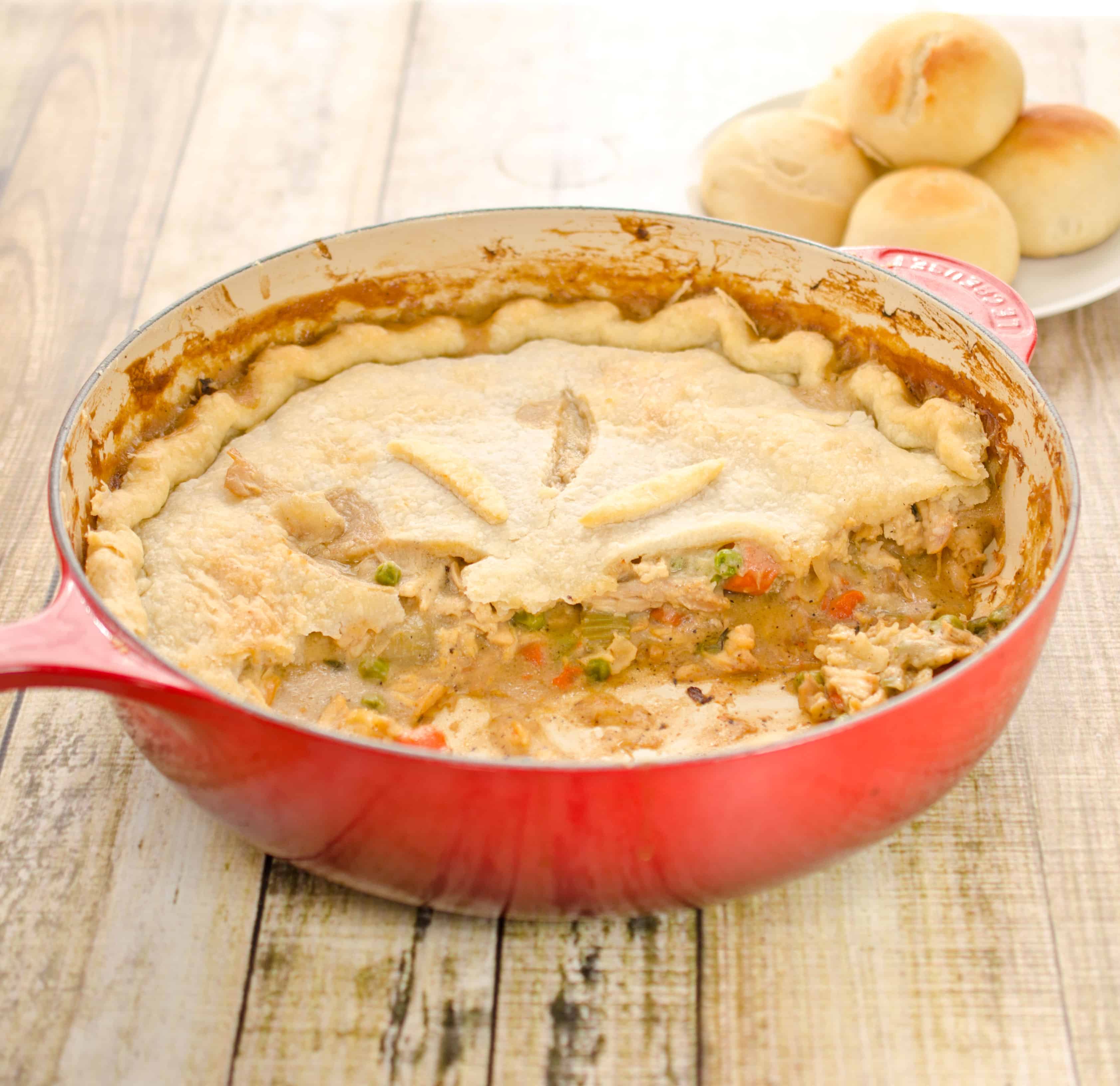 Ingredients for Chicken Pot Pie
Ingredients for pot pie crust
Flour
Salt
Unsalted butter
Sour cream
Ice Water
Ingredients for chicken and vegetable filling
Vegetable oil
Whole chicken
Pearl onions
Yellow onion
Carrots
Celery
Salt
Black pepper
Ingredients for chicken pot pie sauce
Chicken broth
Butter
All-purpose flour
Heavy cream
Frozen peas
Lemon juice
Parsley
Thyme
How to Make a Chicken Pot Pie Casserole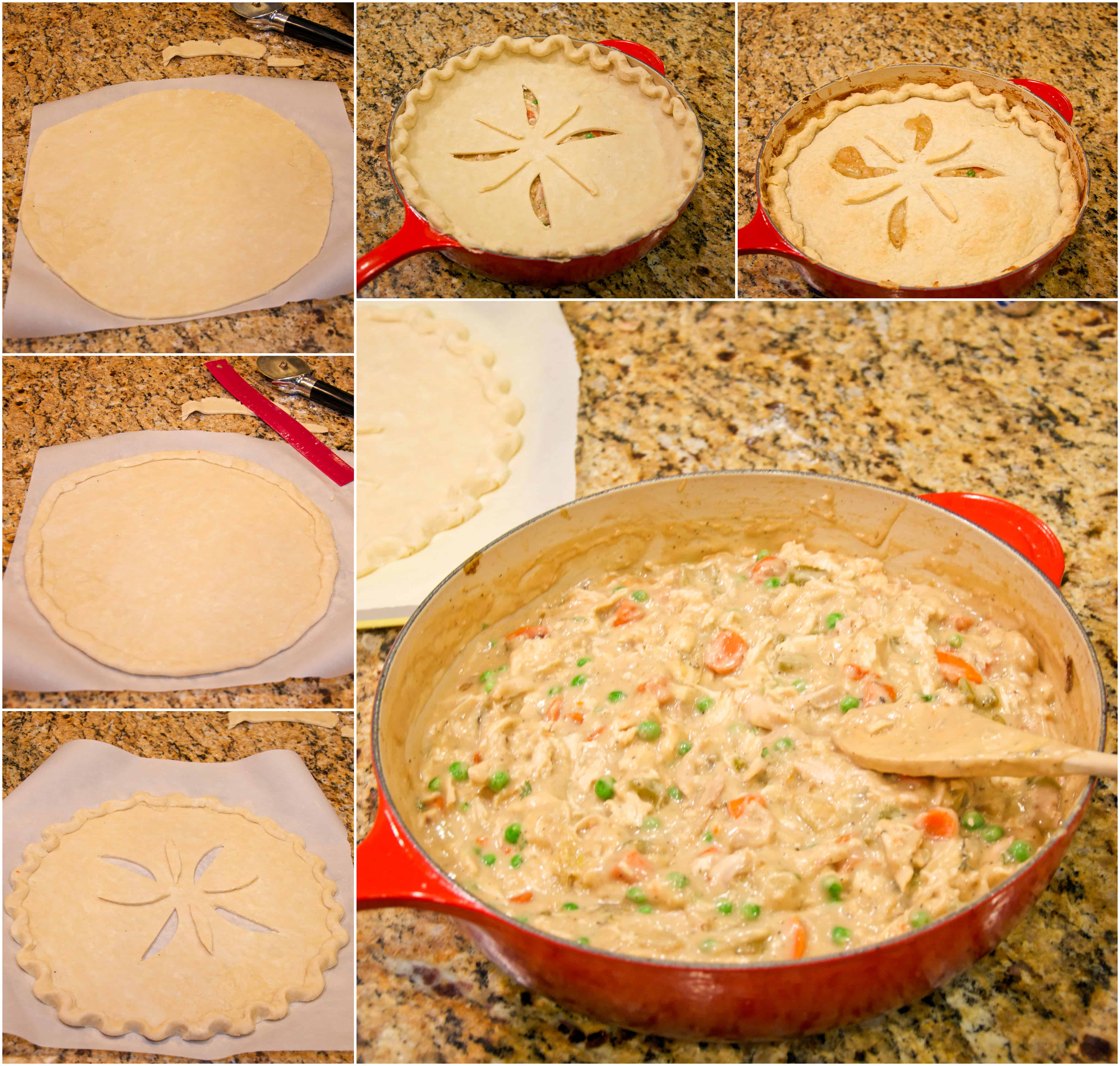 Step 1: To begin making this pot pie casserole, you will want to gather all of your ingredients and make sure they are all on hand.
Step 2: Next, you will need to preheat your oven, and begin searing your chicken for use in the filling. Once the chicken is seared, you will add it and the vegetables to the oven, as directed to brown.
Step 3: While the chicken and vegetables are cooking, you will prepare your chicken pot pie sauce.
Step 4: Begin this with brining your broth to a simmer, breaking up any bits of chicken from when you seared it before.
Step 5: You will continue to make a roux using butter, cream, and then add your remaining vegetables, and diced chicken to the sauce.
Enjoy!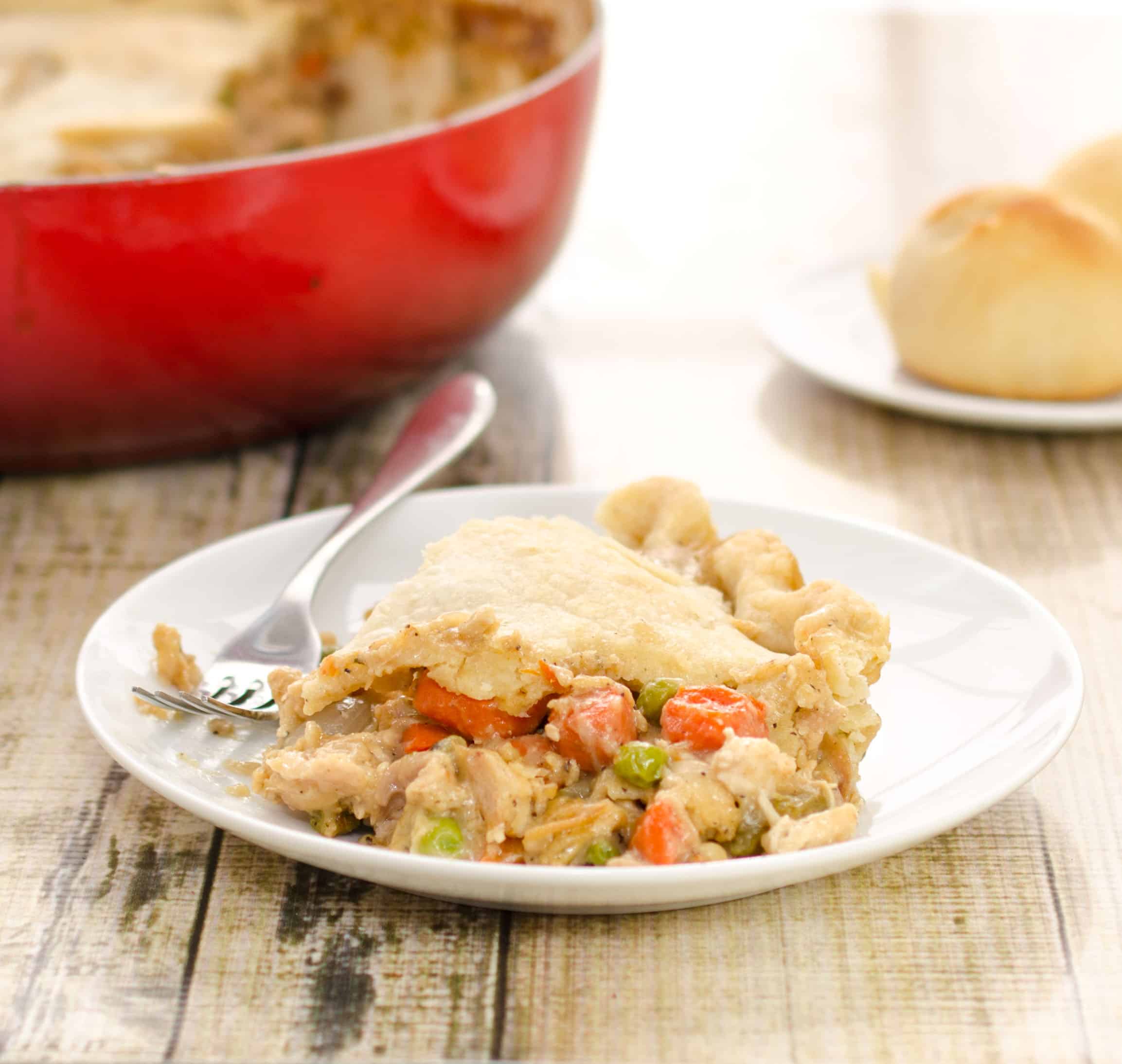 Now, remember to save this recipe on Pinterest for later 🙂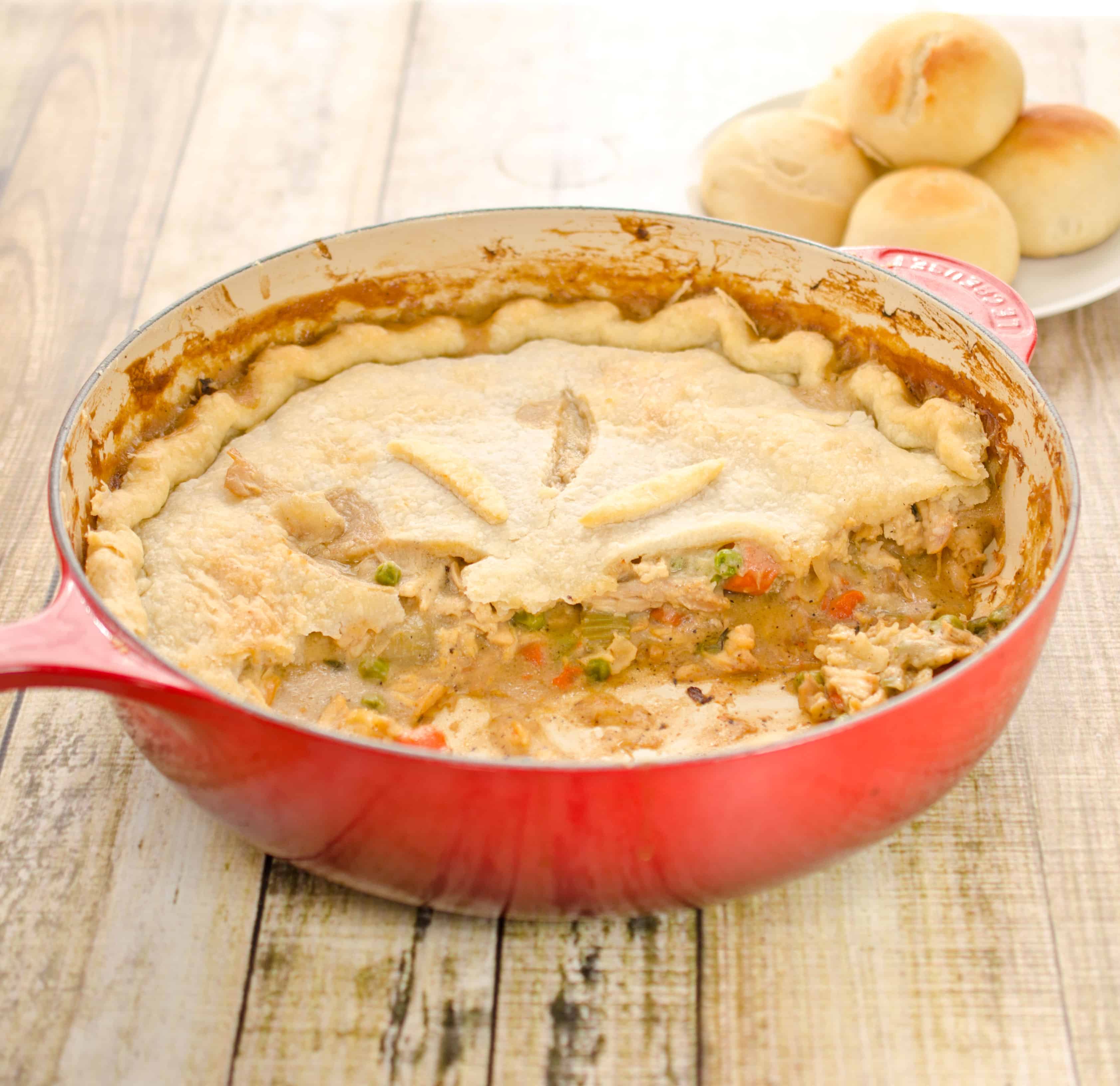 Skillet Chicken Pot Pie Casserole
Prep Time:
1 hour
25 minutes
Total Time:
2 hours
25 minutes
A delicious Skillet Chicken Pot Pie Casserole is chock full of chicken, vegetables, a rich sauce and topped with your own homemade flaky pie crust. 
Ingredients
For the Dough:
1 2/3 cups unbleached all-purpose flour, plus additional for work surface3/4 teaspoon table salt10 tablespoons unsalted butter, cold, cut into 1/2-inch pieces and frozen for 10 minutes2 tablespoons sour cream4 – 6 tablespoons ice water
For the Chicken and Vegetables:
1 teaspoon vegetable oil1 whole chicken (about 4 1/2 pounds), cut into 4 pieces (2 breast pieces, 2 leg quarters, wings discarded) and trimmed of excess fat24 frozen pearl onions, thawed, drained, and patted dry, about 1 cup1 medium onion, cut into 1/2-inch pieces (about 1 cup)4 medium carrots, cut into 1/2-inch pieces (about 1 1/2 cups)3 medium ribs celery, cut into 1/2-inch pieces (about 1 cup)Salt and ground black pepper
For the Sauce:
4 1/4 cups low-sodium chicken broth4 tablespoons unsalted butter1/2 cup unbleached all-purpose flour3/4 cup heavy cream3/4 cup frozen peas, unthawed2 teaspoons fresh lemon juice1 teaspoon minced fresh parsley leaves1 teaspoon minced fresh thyme leaves
Instructions
To Make the Dough: In the bowl of a food processor, process flour and salt together until combined, about 3 seconds. Add butter and pulse until size of large peas, about six to eight 1-second pulses.
In small bowl, mix sour cream and 4 tablespoons ice water until combined. Add half of sour cream mixture to flour mixture and pulse for three 1-second pulses. Repeat with remaining sour cream mixture. Pinch dough with fingers; if dough is floury, dry, and does not hold together, add 1 to 2 additional tablespoons water and process until dough forms large clumps and no dry flour remains, three to five 1-second pulses.
Turn dough onto work surface and shape into ball. Flatten into a 5-inch disk and wrap in plastic. Refrigerate until firm but not hard, 1 to 2 hours. (Dough can be refrigerated overnight.)
To Roast the Chicken and Vegetables: Heat oven to 450 degrees. In heavy-bottomed 12-inch ovenproof skillet, heat oil over medium-high heat it just begins to smoke; swirling to coat evenly with oil. Brown chicken pieces skin side down until deep golden, 3 to 4 minutes; turn chicken pieces and brown until golden on second side, 3 to 4 minutes longer. Transfer chicken to large plate; drain all but 1 tablespoon fat.
Set skillet over medium heat. Add pearl onions and cook, stirring occasionally, until browned, about 3 minutes. Increase heat to medium-high and add onion, carrots, celery, and salt and pepper to taste; cook, stirring occasionally, until vegetables begin to brown, 2 to 3 minutes. Return chicken pieces to skillet skin side up and place in oven. Roast until thickest part of breast registers about 160 degrees on instant-read thermometer and thickest part of thigh and drumstick registers about 175 degrees, 18 to 25 minutes. Using an oven mitt, remove skillet from oven. Transfer chicken to platter and let rest 1 hour. Set skillet with vegetables aside.
To Roll Out the Dough: Allow dough to stand at room temperature for 15 minutes before rolling if dough has been chilled longer than 2 hours. Dust 16 by 12-inch sheet of parchment paper liberally with flour. Roll out dough to rough 14-inch round on parchment. Mark center of top, bottom, and side arcs with knife. Connecting the marks, trim dough into a 14-inch circle.
Fold dough to form 1/2-inch perimeter rim.
Crimp folded dough between knuckle and forefingers to form 12-inch round with fluted edge. Cut four oval-shaped vents, 3 inches long and about 1/2 inch wide. Decorate dough with cutouts.
Transfer parchment and dough to baking sheet; chill in freezer until ready to use, at least 30 minutes (or refrigerate for 1 hour).
To Make the Sauce and Assemble the Pie: While chicken rests, return skillet with vegetables to medium-high heat. Add chicken broth and any juices from chicken platter and bring to simmer. Scrape sides and bottom of skillet with wooden spoon to loosen any browned bits. Pour contents of skillet through medium-mesh strainer set over large bowl; transfer vegetables from strainer to a separate medium bowl and refrigerate. After fat rises to surface of the broth, about 15 to 20 minutes, skim with a large spoon and discard. (You should have about 3 1/2 cups broth.)
After the chicken has rested, remove and discard skin. Using your fingers, pull chicken off bones into 2-inch shreds and 1-inch chunks; refrigerate until ready to use (you should have about 4 1/2 cups chicken).
Wipe skillet clean and melt butter over medium-high heat until foaming. Stir in flour and cook, stirring constantly, until mixture darkens slightly and becomes fragrant, about 1 minute. Slowly whisk in broth and cream and bring to boil; reduce heat to medium and simmer, stirring constantly, until sauce is thickened and coats back of spoon, 8 to 10 minutes. Turn off heat, add chicken, reserved vegetables, peas, lemon juice, parsley, thyme, and salt and pepper to taste; gently stir to combine.
Remove dough from freezer, lift off the parchment paper, and place dough on top of filling.
Bake on upper-middle rack at 450 degrees until crust begins to brown around edges, about 15 minutes; reduce heat to 375 degrees and continue to bake until crust is golden brown and filling bubbles, 15 to 20 minutes more. Let cool 15 minutes before serving.
Recipe Notes: Substitute 3 to 3 1/2 pounds of bone-in, skin-on chicken parts for the whole chicken, if desired. The dough and the chicken and vegetables can be prepared the day before and refrigerated.
More Comfort Food Recipes:
Turkey noodle soup with vegetables is a perfect comfort food dish that you can make in the Instant Pot with leftover turkey after a holiday, or your own roasted turkey breast.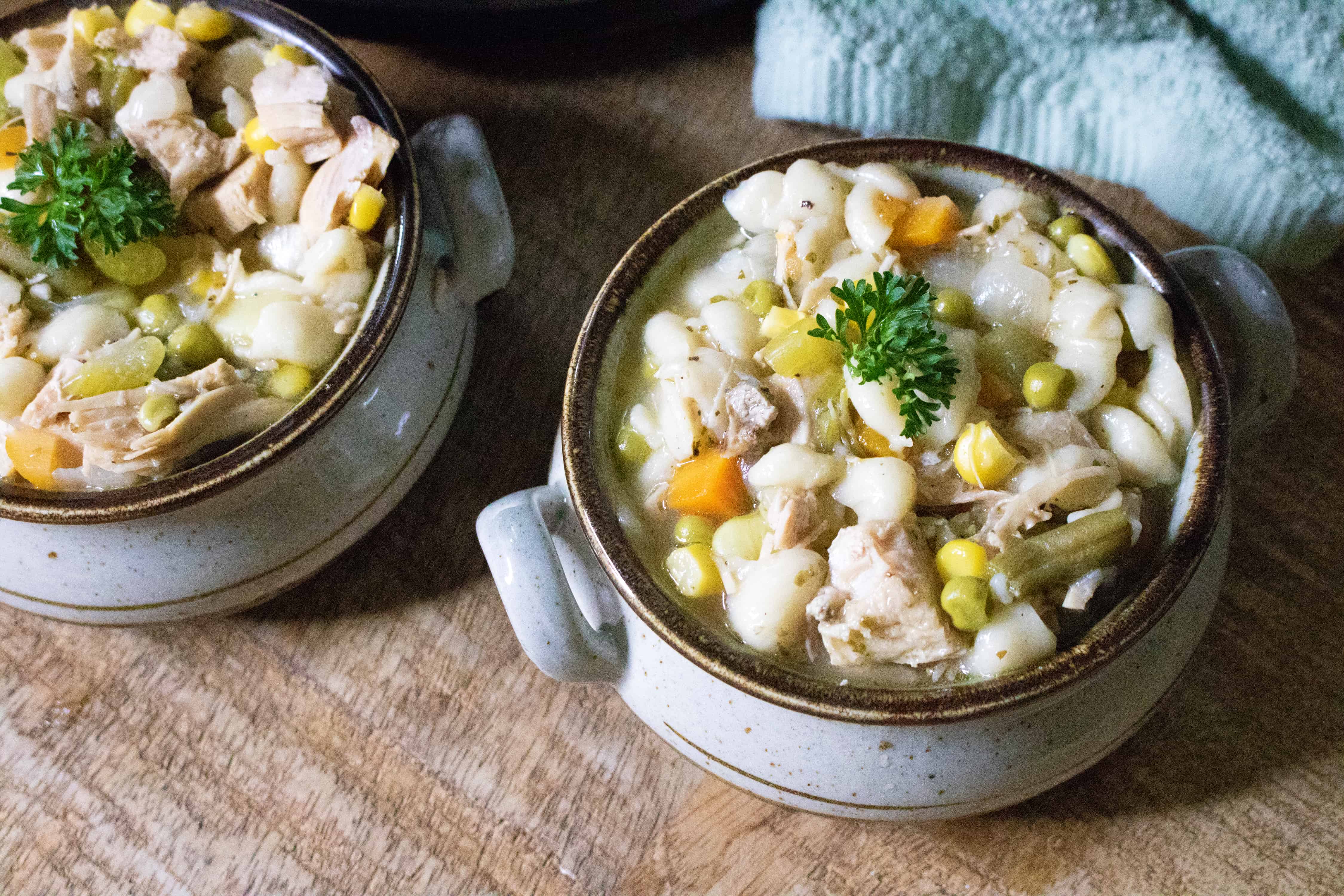 Garlic butter steak with zucchini noodles is another meal that I find comforting. It is full of flavor and an easy meal to prepare that everyone will love.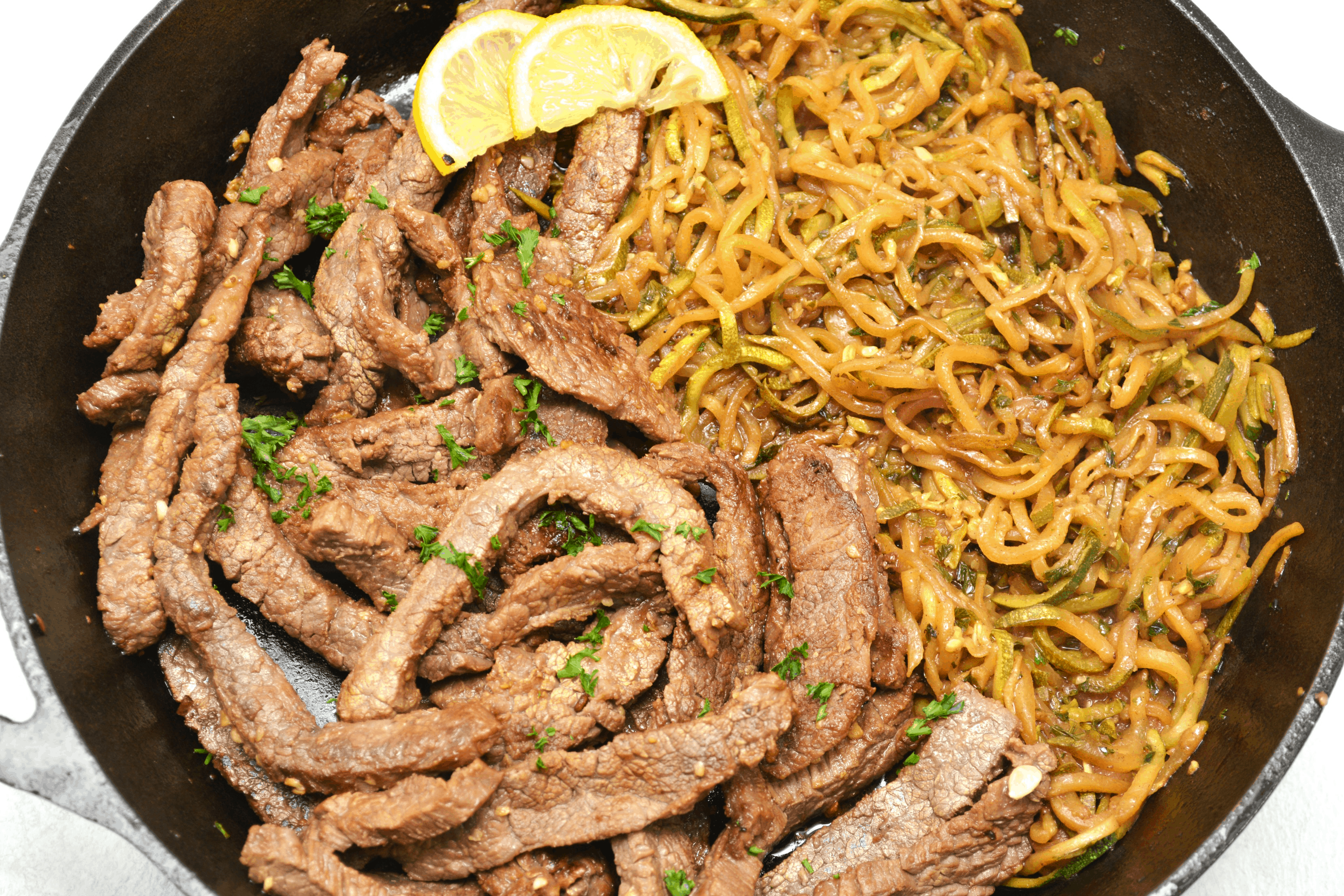 Potato soup is one of my all-time favorite options for comfort food soup. I love topping this with some crumbled bacon, chopped chives, and shredded cheddar.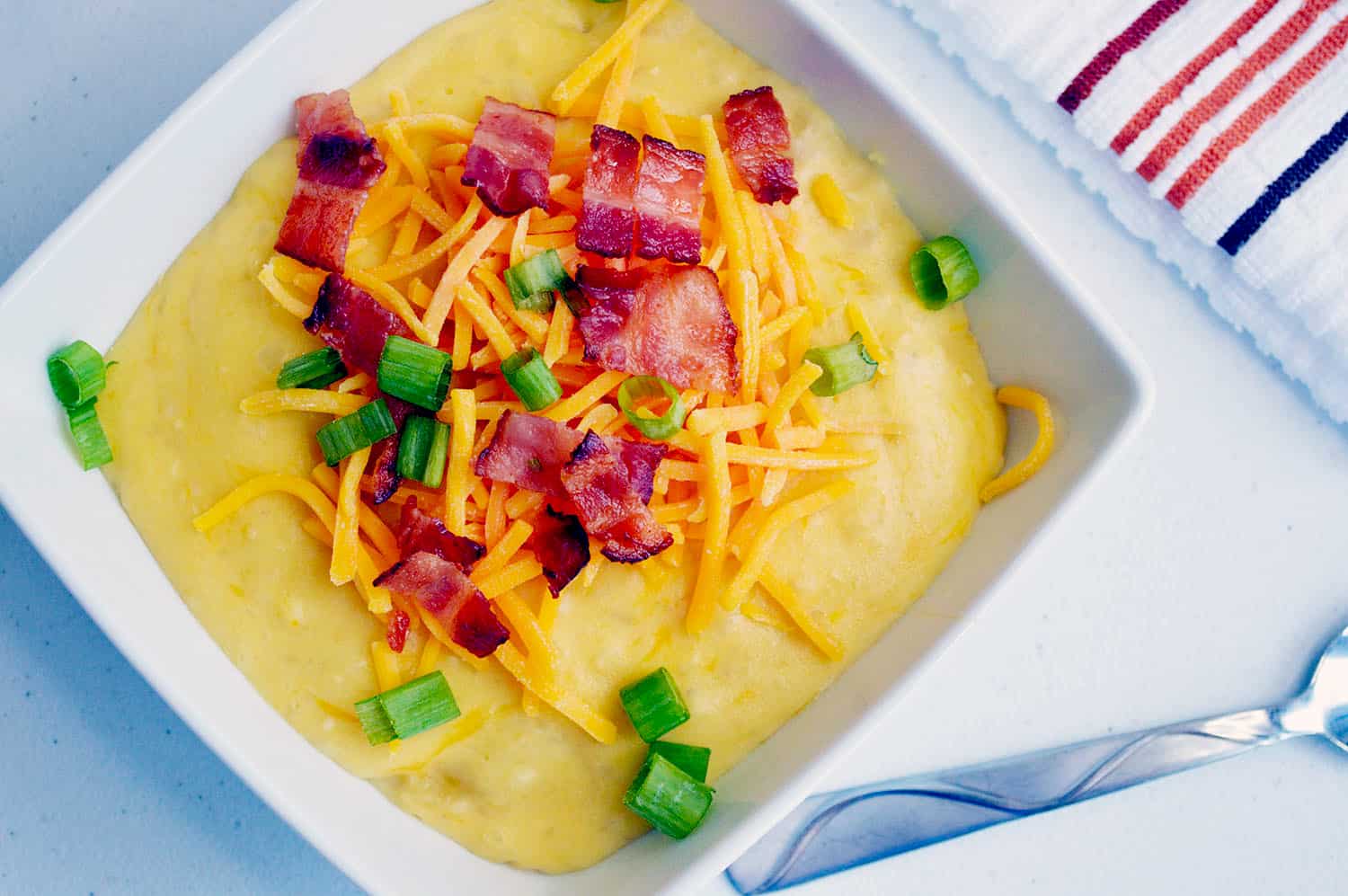 Easy beef stew is another great comfort food recipe that you can throw together and let simmer to create rich flavors. It's perfect alongside some homemade cornbread.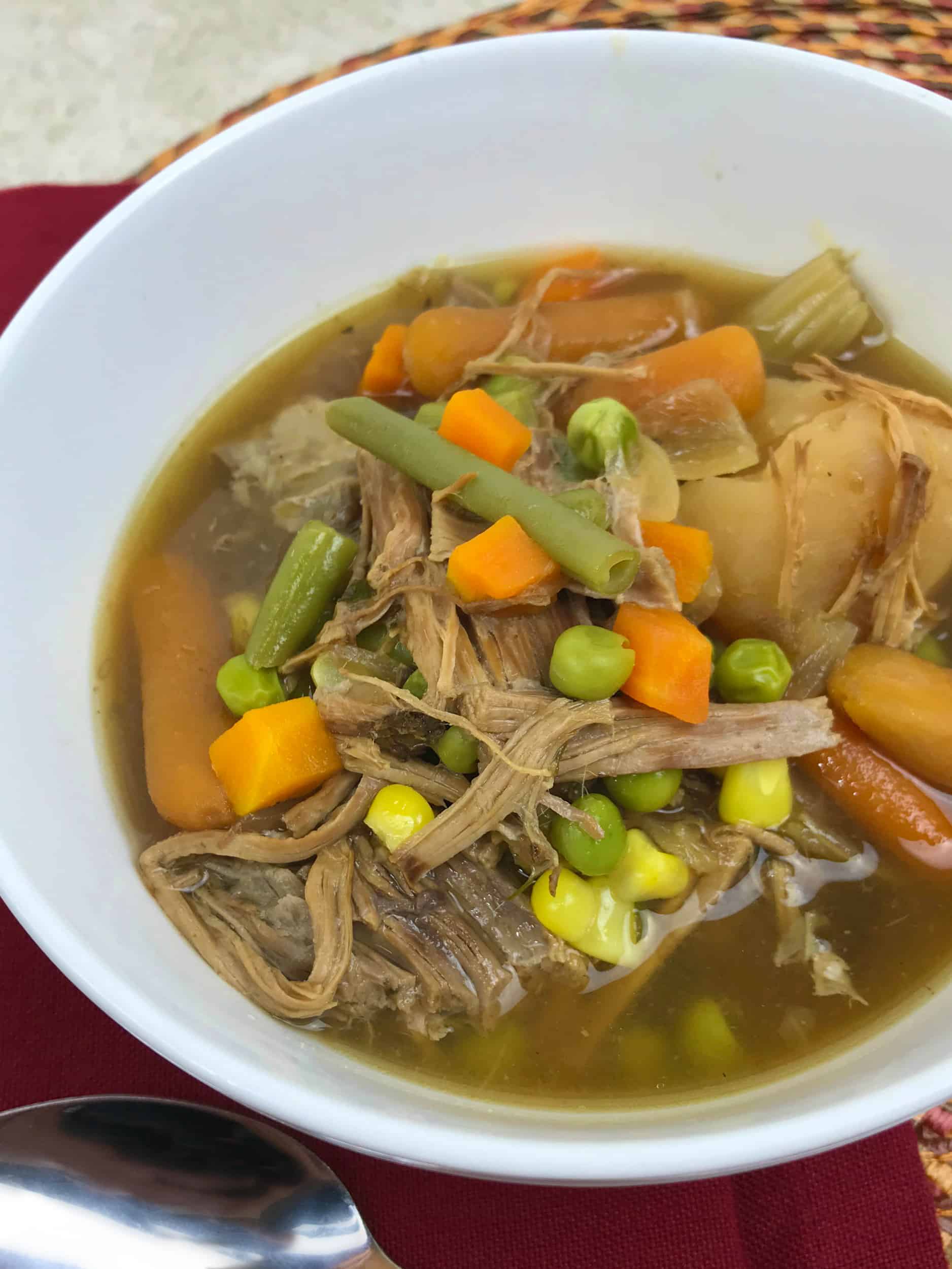 Ham and asparagus casserole is one of my favorite recipes that works well for breakfast, brunch, lunch, or dinner. Tons of flavor and easy to throw together.